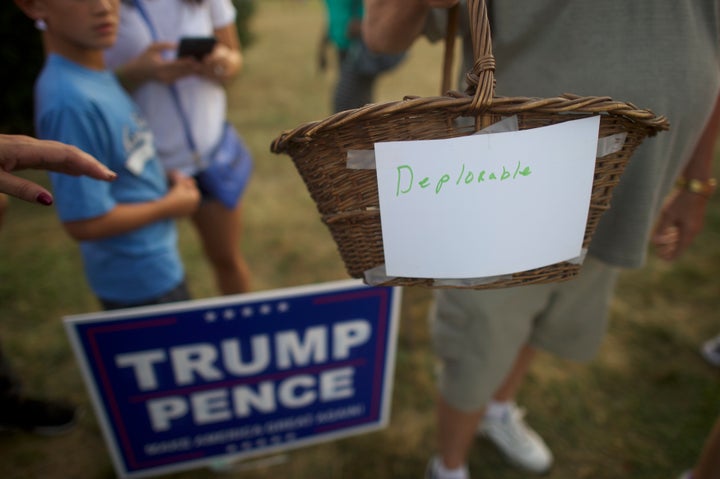 Donald Trump is not viewed as civil or compassionate by a large majority of American voters. There's not much evidence for a "shy Trump" vote. And some Americans think the media has been too easy on the candidates. This is HuffPollster for Friday, September 23, 2016.
TRUMP VIEWED AS MORE 'DEPLORABLE' THAN CLINTON - Lisa Lerer and Emily Swanson: "When Hillary Clinton said that half of Donald Trump's supporters belonged in a 'basket of deplorables,' Republicans thought they just might have found her campaign-crushing-blunder…. But a new Associated Press-GfK poll finds that Clinton's stumble didn't have quite the impact that Trump and his supporters wanted. Instead, it's Trump who's viewed as most disconnected and disrespectful…. Sixty percent of registered voters say he does not respect 'ordinary Americans,' according to the poll. That's far more than the 48 percent who say the same about Clinton…. Nearly three in four do not view him as even somewhat civil or compassionate. Half say he's at least somewhat racist. Those numbers are largely unchanged from the last time the AP-GfK survey was conducted in July.... Most American voters don't see his backers as deplorable. Seven percent say Trump's supporters are generally better people than the average American, 30 percent say they're worse, and 61 percent consider them about the same. But Clinton's comments resonate with the voters her campaign must turn out to the polls in large numbers on Election Day. Fifty-four percent of Democratic voters think that Trump's backers are generally worse people than the average American." [AP]
CLINTON LEADS IN NATIONAL PRE-DEBATE POLL - A new McClatchy/Marist survey, like NBC/WSJ, gives Clinton a 7-point lead over Trump. Sean Cockerham and Lesley Clark: "Hillary Clinton heads into the first presidential debate with a 7-point lead over Donald Trump, but doubts among voters about about her trustworthiness and stamina are keeping Trump in the race, according to a new McClatchy-Marist poll….She leads in a two-way matchup with Trump by 48-41. She leads in a 4-way contest 45-39, with Libertarian Gary Johnson drawing 10 percent support and Green candidate Jill Stein getting 4 percent….The weakness she's been unable to shake is the public's view of her honesty and trustworthiness. While voters don't trust Trump either, skepticism of Clinton runs deeper and provides an opening for Trump to potentially tighten the race in the final month and a half." [McClatchy]
Clinton's lead is remaining stable - Additionally, an AP/GfK poll out Thursday shows Clinton up by 6 points. The Democratic nominee lost about a point in the HuffPost Pollster aggregate after a week that included the "deplorables" comment and nearly collapsing at the 9/11 memorial. But the decline has stopped, and her lead appears to be stable ― and possibly increasing again.
Battleground polls show close race in Florida, mixed results in other states - Quinnipiac finds Clinton ahead by 2 points in Colorado and 6 points in Virginia, but lagging Trump by 7 points in Georgia and Iowa. Another Virginia poll from Roanoke shows Clinton up by 7, while another Colorado poll from Franklin and Marshall College/Colorado Mesa University gives Clinton a much wider 9-point lead. Suffolk shows an effectively tied race in Florida. And Goucher confirms that Maryland still definitely isn't a swing state.
IS THERE A 'SHY TRUMP' VOTE? - Amy Walter: "The theory is that there are lots of voters out there who are embarrassed to admit they'll vote for Trump because it is a socially unacceptable position to hold. So, the theory goes, they tell pollsters and even friends and family they are either 'undecided' or 'not voting' but, in the privacy of a voting booth, will pull the lever for the GOP nominee…. [I]f we were to pick up a 'social desirability' bias, the best way to do that is to look to see if voters who choose their candidate anonymously on-line are more apt to say they support Trump than those who are called on the phone and have to tell another human being who they are voting for. Phillip Bump of the Washington Post finds that since the conventions concluded, Trump has actually been doing better in 'live' polls than in 'online' surveys…. At the end of the day, as my colleague Charlie Cook has said, there are more 'conflicted' voters than 'shy' voters. A recent Survey Monkey survey found that while an 'overwhelming majority of voters like one of the two candidates better,' 24 percent of voters viewed Clinton and Trump as equally bad. These voters aren't secretly contemplating a vote for Trump or Clinton, but are honestly torn over a choice between the lesser of two evils." [Cook Political Report]
AMERICANS DON'T THINK THE MEDIA HAS BEEN TOO HARD ON CANDIDATES - Jeffrey Gottfried: "Throughout the 2016 presidential race, the Donald Trump and Hillary Clinton campaigns have decried the news media for treating them too harshly. Americans, however, don't seem to agree…. In fact, more Americans say the media are too easy on Trump than said so of the Republican nominees in both 2012 and 2008…. Almost three-in-ten Americans (27%) feel that Trump is treated too easily by the media, according to a Pew Research Center survey of 1,000 adults conducted Sept. 15-18, 2016. That's more than said so of Mitt Romney in 2012 (20%), and nearly twice the share who said so of John McCain in 2008 (15%). A third (33%) also say this of Clinton, slightly more than felt the media were too easy on Barack Obama in 2012 (28%) but about in line with views of his treatment in 2008 (31%).... The greater sense that Trump is being treated too easily by the press compared with previous Republican nominees largely comes from Democrats. About four-in-ten Democrats and Democratic-leaning independents (43%) perceive the media coverage as too easy on him." [Pew] 
HUFFPOLLSTER VIA EMAIL! - You can receive this daily update every weekday morning via email! Just click here, enter your email address, and click "sign up." That's all there is to it (and you can unsubscribe anytime).
FRIDAY'S 'OUTLIERS' - Links to the best of news at the intersection of polling, politics and political data: 
-Religiously unaffiliated Americans make up a growing share of the populace, but haven't kept pace in voter registration. [PRRI]
-Gregory Smith writes that many evangelicals back Donald Trump simply because he's not Hillary Clinton. [Pew]
-Milo Beckman finds that religion and education help explain the white vote. [538]
-Jennifer Victor previews Monday's presidential debate. [Vox]
-Bethany Albertson explains to Tom Jacobs why she expects fears of terrorism to benefit Clinton more than Trump. [PSMag]
Calling all HuffPost superfans!
Sign up for membership to become a founding member and help shape HuffPost's next chapter