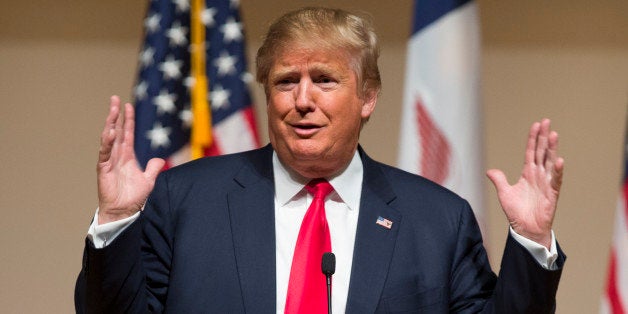 I know the fact that Iowa gets to be first in presidential politics is somewhat controversial. Why should this little state in the middle of the country with very few people, relatively speaking, get the first word? I get it... but I'm also happy with the current arrangement. We've been inundated with political candidates, commercials, mailings and the stealing of yard signs -- and it's all good.
Everywhere I go conversations are happening, people are talking -- sometimes arguing -- but most of it is good-natured. Besides, Iowa isn't as homogeneous as people think. I grew up in Mason City, Iowa -- a largely Catholic and Democratic town. Sure, I grew up in a family that tends to have a pinkish hue, but I was also opened up to a broad diversity of political perspectives.
For the past 10 years I've been a professor at Dordt College in Sioux Center, Iowa. The very same Dordt College where Donald Trump recently made a controversial comment -- something about shooting people on 5th ave. I'm not sure because I wasn't there -- I purposely stayed away.
What bothers me about Trump's speech isn't that he was allowed to speak -- an open invitation has been given to every candidate -- it's that the name "Dordt College" is now forever linked with Donald Trump and his asinine statement. Look, I'm no expert in marketing, but this type of publicity can't be good. It presents Dordt in a particular way, one that does not fully represent what makes Dordt College a good place to be a professor and a student.
This is why it's important that I make it clear: Donald Trump does not speak for me.
I realize that most people can make this distinction. What worries me is that there are people who don't know much about Dordt, or who already have certain stereotypes about educational institutions in this part of the country. My purpose isn't to justify my place of employment to the world of social media; it's to make sure that people know about the good people that live in Sioux Center and work at Dordt College.
When people ask me about teaching at Dordt my first response is to talk about my colleagues. The faculty are creative, insightful and diverse. Some of them are politically on the left, and some are politically on the right. Doesn't matter -- we have thoughtful, lively discussions in the hallways, on the sidewalks, and sometimes over beer at The Fruited Plain.
These are people who take seriously the task of engaging their various fields of study within the context of what it means to live as a Christian. They advocate for the poor and provide counsel for young people who are struggling. They help meet the needs of people in the community. They serve in local positions of city leadership, on church councils, and community organizations that promote the arts. They care for creation by cultivating sustainable forms of practice, and they teach students to seek justice. I can't imagine a better group of scholars, teachers and friends.
Along with the faculty, I also talk about our students. Graduates from Dordt College are a diverse bunch, engaging a variety of careers and involved in many different social and political causes. I remember when we lived in Saint Paul, MN, the Dordt grads we knew were living in the heart of their communities, seeking to live out their faith in the various parts of life to which they have been called. What saddens me is that Trump's comments have the potential to overshadow the commitment and work of many Dordt graduates who faithfully demonstrate their love for God by loving their neighbors.
Donald Trump doesn't speak for me, and his statements do not represent the Dordt College I'm committed to. If you don't believe me, come find us at The Fruited Plain -- you won't be disappointed.
REAL LIFE. REAL NEWS. REAL VOICES.
Help us tell more of the stories that matter from voices that too often remain unheard.