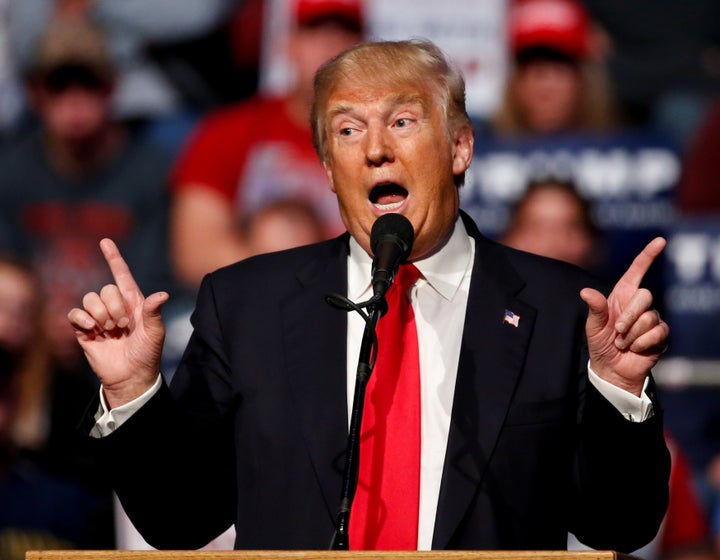 If he wins the Indiana primary on Tuesday, as polls indicate he will, Donald Trump will have all but clinched the Republican presidential nomination. GOP officials and even the rival campaign of Sen. Ted Cruz (R-Texas) have begun to see the writing on the wall, preparing for the prospect of a toxic candidate at the top of the ticket.
Down-ballot candidates in both parties are likewise trying to figure out what a Trump nomination will mean for their own electoral chances. With Trump as the presumptive GOP nominee, Democrats are feeling increasingly confident that they'll be able to flip as many as 10 seats in the GOP-controlled Senate. They also say that Trump could put the House of Representatives in play -- though this would be a tall order, given the large Republican majority there. But Trump's approval ratings among general-election voters, which are almost unprecedentedly low, could make that scenario possible.
Democrats are already trying to associate down-ballot GOP candidates with some of Trump's more controversial remarks. Conner Eldridge, a Democrat challenging Sen. John Boozman (R-Ark.), posted a video to YouTube on Monday that excoriates Trump for his various statements about women. The video goes on to call Boozman a "Trump enabler" for vowing to support the businessman if he becomes the nominee. It's most likely a preview of what's to come this fall if Trump secures the nomination and faces former Secretary of State Hillary Clinton in the general election.
Top Trump adviser Paul Manafort over the weekend said that Trump will help Republicans in the House and Senate raise campaign funds if he becomes the party's presidential nominee. But it's doubtful that vulnerable Republicans in swing states, like Sens. Rob Portman (Ohio) or Sen. Mark Kirk (Ill.), would even want to be seen in the same room as the real estate mogul. In fact, Kirk has said he plans to skip the GOP convention in Cleveland this summer, and Portman -- who, as an Ohio senator, can't exactly avoid the proceedings altogether -- told reporters that he plans to spend "very little" time there.
The bare-knuckle clash between Trump and Cruz is also having an effect on down-ballot Republican races. An ad posted to YouTube on Monday for Mike Pape, who is running for Kentucky's 1st Congressional District, presents him as a candidate on whom Trump fans and Cruz supporters can agree. In the spot, a voter wearing a Trump hat and a voter wearing a Cruz T-shirt bond over their admiration of Pape, describing him as "a trusted conservative" who'll "make America great again." (Get it? Because Cruz's slogan is "TrusTed," and... yeah.)
The ad is Pape's second attempt at bridging the divide between the two polarized camps. In April, he released a spot that described him as the candidate who can "help Trump build the wall" and also "help Ted Cruz repeal Obamacare." It's a unique way of trying to consolidate support in Kentucky, where Trump fended off Cruz in March's caucus by nearly 10,000 votes. 
Calling all HuffPost superfans!
Sign up for membership to become a founding member and help shape HuffPost's next chapter
BEFORE YOU GO
PHOTO GALLERY
Scenes Of Hate At Donald Trump Rallies