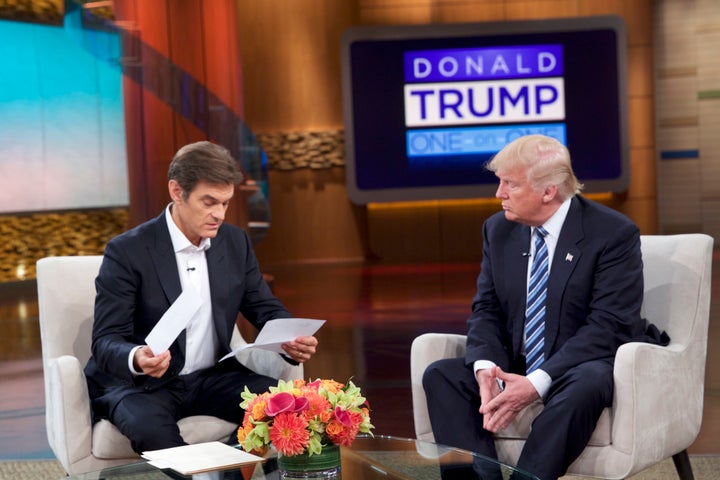 NEW YORK ― Reporters hoping to glean details about Donald Trump's health turned Wednesday to an unlikely source: the audience of "The Dr. Oz Show."
Even for an election season full of reality show theatrics, the Dr. Oz gambit stands out. Here was the 70-year-old Republican nominee, known to exercise little and indulge regularly in fast food, giving more information about his health to a celebrity doctor than the press that has long been requesting it. News organizations were left scrambling Wednesday afternoon to reach audience members about what Trump revealed, including his weight (which differed depending on the source).
"Trump said he currently weighs 236 pounds, according to two audience members," Politico reported, while noting that "other reports had audience members giving conflicting readouts, with some saying Trump put his weight at 267 pounds."
Daniel Sinasohn, an audience member, offered his recollections during an appearance on MSNBC.
Sinasohn said Trump described his hand movements at rallies as a form of exercise, and explained that he opts for fast food on the road because he expects consistency from chain restaurants. Sinasohn found the moment in which Trump dramatically pulled out the results of his physical onstage to come off as scripted.
"I think he knew what he was doing," Sinasohn said.
The only medical details provided before Wednesday came in the form of a four-paragraph letter from Trump's longtime physician Harold Bornstein. The doctor said he only spent five minutes on Trump's letter, which lacked objective details despite proclaiming the candidate's health to be "astonishingly excellent."
Democratic nominee Hillary Clinton, 68, by comparison, has disclosed decades of tax returns and has also been more forthcoming than Trump when it comes to providing medical information.
Neither Trump nor Clinton have gone as far in releasing medical details as Sen. John McCain (R-Ariz.), who was 71 while running for president in 2008 and faced questions about his health. But Clinton released a more detailed two-page letter last year from her doctor stating she was in "excellent physical condition and fit to serve as president of the United States."
Hours after Trump appeared on Dr. Oz's show, the Clinton campaign disseminated a new letter from her doctor covering a recent bout of pneumonia that caused her to nearly faint Sunday and sidelined her from the campaign trail for a few days. The campaign released the information publicly rather than having the candidate brandish it before a celebrity doctor.
Support HuffPost
The Stakes Have Never Been Higher
Related
Popular in the Community