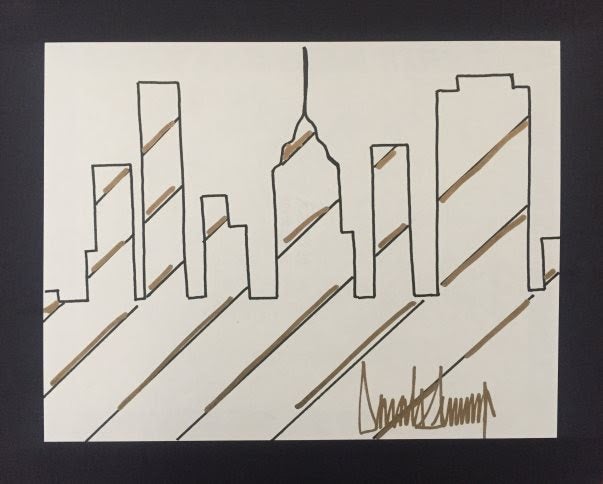 In July, a cursory sketch of the Manhattan skyline sold at auction for nearly $30,000. Why? Because Donald Trump made it.
Trump created the Sharpie-style drawing in 2005 for a charity auction benefitting global literacy. It depicts ― rather crudely ― the New York City skyline with a single, telling adjustment. In reality, Trump Tower is the 64th tallest skyscraper in Manhattan, but in Trump's artistic interpretation, it dominates the view.
Last month, the drawing was auctioned off by the Los Angeles company Nate D. Sanders. It sold to an anonymous bidder for over three times its starting price of $9,000. Since the sale, the owner of a rather similar drawing, also signed by Donald Trump, submitted the piece to Barnebys, an auction search and evaluation service, to see whether any auction houses would be interested in selling the drawing and what, approximately, it was worth.
The answer to the first question was a resounding "yes." The second was a bit more complicated.
Barnebys describes itself as the "Google of the art world." People can use its database to search through works for sale at over 2,000 auction houses worldwide. They can also use the site's resources to determine or estimate the value of certain works before they hit the auction block. As you might imagine, it is particularly difficult to appraise the value of a drawing like Trump's.
"These kinds of things are hard to put a value on," Pontus Silfverstolpe, co-founder of Barnebys, told HuffPost on the phone. "It's not like Trump is Picasso."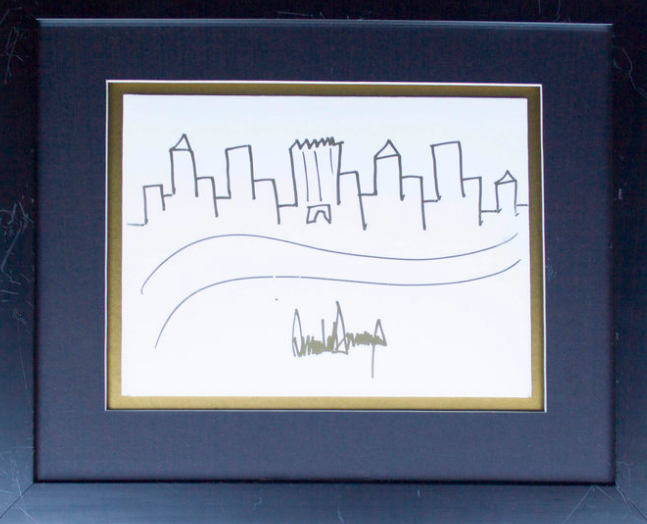 Sure, Trump lacks Picasso's artistic acumen. But more practically, he lacks a rich historical oeuvre which could help give context to the valuation of his work. When appraising a piece by an artist like Picasso, Silfverstolpe and his colleagues can base its price on the success of his other works, as well as with the prices of artworks made in a similar movement, era or set of conditions.
For Trump's artistic endeavors, however, there is hardly any frame of reference whatsoever, which leaves a looming question mark. "It's hard to know before the auction," Silfverstolpe said. "It can be a wild guess." The only real comparison, he explained, is that other Trump drawing, which sold for $29,184. That's the general ballpark Silfverstolpe imagines the sketch in question will sell for, although it could go for far more.
This is not to say that Trump is on the same creative level as other emerging and established contemporary artists whose work sells in the $30,000 range. "It's not about the quality of the painting, but the person who made it," Silfverstolpe said. "If it was made by someone else, it would cost, best case, not even a hundred dollars. To be honest, the quality is not that good."
However aesthetically unexceptional it may be, though, the drawing was made by one of the most powerful men in the world. And its subject matter, a city that is intimately connected with Trump's persona and narrative, bodes well for the work's value.
"If he would have painted an apple, there wouldn't be the same interest," Silfverstolpe said. "It wouldn't be so him."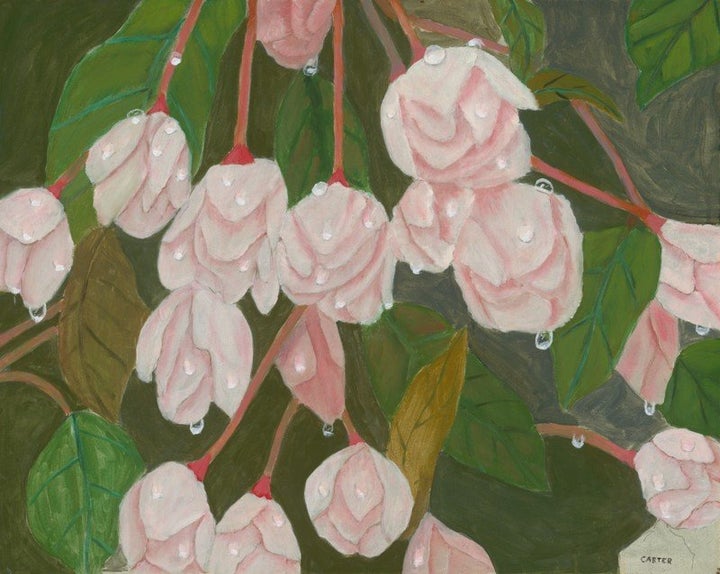 Trump is far from the first politician to dabble in the fine arts. Former President George W. Bush painted portraits of 98 wounded veterans of the Afghanistan and Iraq wars for his book Portraits of Courage.
According to Barnebys, a painted called "Butterflies" by former President Jimmy Carter sold for $525,000 at auction earlier this summer. In 2016, a similar Carter painting depicting crabapple blossoms sold for $750,000, a record for the 39th commander-in-chief.
Similarly, a signed painting by Sir Winston Churchill, titled "A View From Marrakech," sold at Christie's in 2008 for $752,000. The work was estimated to sell for between $556,000 and $834,000. Another Churchill piece, titled "Villa on the Nivelle," went for $702,000 three years later.
Trump's black-and-white sketches are significantly less involved than the oil paintings of his political predecessors. In fact, Silfverstolpe specified that Trump's drawings align more so with the collectible market than the art market, comparing the image to a baseball signed by Joe DiMaggio. "It's interesting to see how much we're willing to pay to get a glimpse into that celebrity life," he said.
Although Silfverstolpe guesses the piece will sell for around $30,000, if not more, the high price tag doesn't suggest that Trump should pursue a future in the arts by any means.
In the art expert's professional opinion: "It's not that good."
Popular in the Community