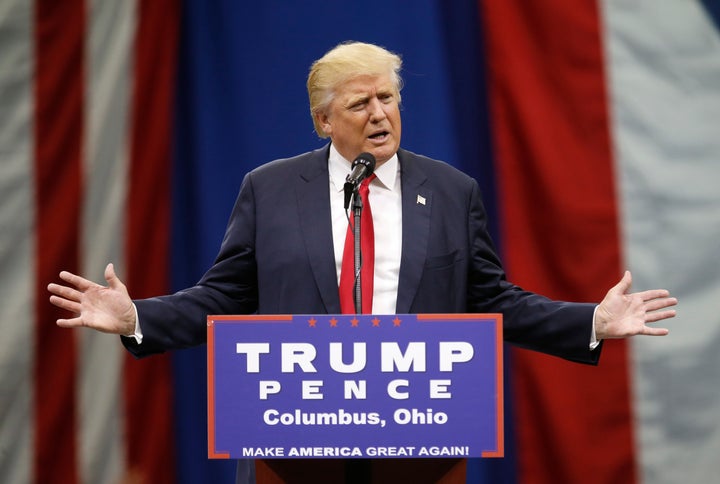 Prepare for a meltdown from Republican presidential nominee Donald Trump if he loses the election.
He told supporters on Monday that he fears the election could be rigged, an indication that even if Democratic nominee Hillary Clinton wins, Trump might not accept it. He made the comments while talking about Sen. Bernie Sanders (I-Vt.), who lost the Democratic nomination to Clinton and whose supporters Trump has openly courted.
"First of all, it was rigged," Trump said of the Democratic primary during a rally in Columbus, Ohio. "And I'm afraid the election is going to be rigged, I have to be honest."
After sowing seeds of mistrust in the election results, Trump quickly turned to praising himself for his "guts" to enter the GOP field and the number of votes he received in the primary, against what some called the greatest field of candidates in history.
The rally came as Trump, as usual, faces multiple other controversies. He avoided taking more jabs at a Muslim mother and father whose son died in combat, but did weigh in on criticism of his recent comments on Russia's annexation of Crimea and his relationship with Russian President Vladimir Putin.
Trump insisted that his comments on ABC's "This Week" on Sunday had been misinterpreted and that he was unaware that Russia in 2014 marched into the Crimean peninsula of Ukraine. The Russian claim to Crimea is not recognized by international bodies.
Trump insisted he "gave a good answer" on Russia and that he did know about the annexation, but that it happened under President Barack Obama's watch.
He added that it "would be really nice if we got along with Russia and others that we don't get along with right now," and teamed up to combat the Islamic State, also known as ISIS.
"Putin said some very good things about me," Trump said. "People say, 'Oh, Trump's going to be weak with Putin,' because Putin is saying nice things about me. OK, all right. And I said he's a strong guy, they immediately say, 'Trump likes Putin.' Look, I don't like or dislike."
Before You Go
Best Photos From The Republican National Convention
Popular in the Community