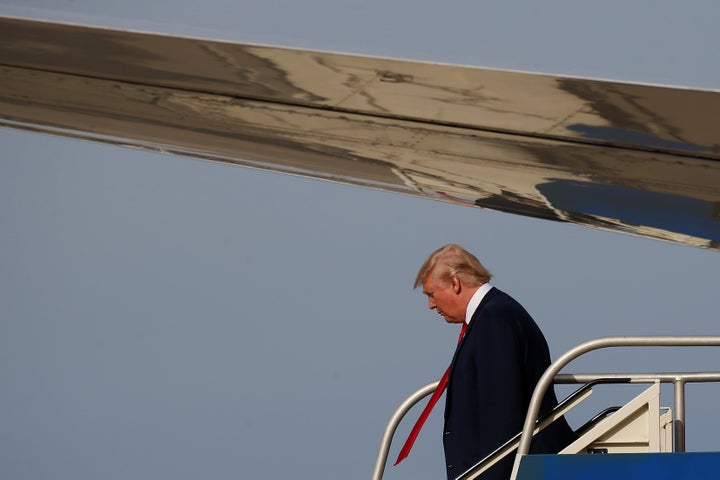 Allen Raymond wrote the book on rigging elections. Literally.
"It's impossible," Raymond said of rigging a presidential election. "The stuff he is talking about, it is ridiculous ― if it wasn't so dangerous." But Trump's claims are dangerous: They're "an existential threat to the republic."
Mark Braden has worked in the legal trenches during close electoral contests. For a decade, he was chief counsel at the Republican National Committee. He also was chief counsel to the Ohio Elections Commission and election counsel for the Secretary of State in Ohio. So if anyone would know whether Trump has a legal basis for arguing that the election is rigged, he does.
"Nationally to do it, in the sense of trying to do some national conspiracy, is fantasy," Braden said. "Our system works extremely well, and election fraud, though it occurs, isn't a significant problem in the United States."
"What Donald Trump is doing is he is committing 'republicide.' He is killing not just the Republican Party but the republic."
Braden and Raymond are among a growing number of Republicans who have begun airing concerns with the conspiratorial tone that their party nominee has adopted about the election. It's a list comprising primarily GOP operatives and lawyers, with only a scattering of lawmakers so far.
Their fear is that Trump's claims will cause damage that far outlasts his candidacy ― which seems increasingly likely to come to a crashing end on Nov. 8. Trust in the legitimacy of elections is a bedrock of American democracy. What Trump is doing, they fear, is taking a mason's chipper to it.
"He is doing more damage than he realizes," said Raymond. "What Donald Trump is doing is he is committing 'republicide.' He is killing not just the Republican Party but the republic."
Braden has a theory on why Trump is going down this road: The real estate mogul has never run for office before. So he is unfamiliar with how elections work and lacks "respect for the system and the institutions."
To that point, Trump certainly seems to have an antiquated view of what actually happens during elections. Recently, he contradicted his own surrogates ― who have insisted that his talk of a "rigged election" is solely about the overwhelmingly negative media coverage he is facing ― by directly arguing that Democrats will engage in shenanigans "at many polling places." Before that, he strongly insinuated that voters in inner cities would use illegal methods to get Clinton elected.
"He is in the wrong century," said Raymond. "This isn't Boss Tweed. I cut my teeth in New Jersey, and the legends and lore was they would sit back and wait to see what margins they needed in Jersey City and they would make results come in late. ... But that doesn't happen anymore. It is just not the technology anymore."
"The system itself has earned and deserved the trust and belief that it is fair."
To get a sense of just how hard it would be for a candidate to rig a presidential election, I asked both Braden and Raymond how they would go about it. They came up blank.
As Braden noted, Clinton would have to send a huge number of people to a huge number of counties ― pinpointing in advance where the critical margins might be ― while simultaneously keeping the Trump monitors in the dark and avoiding the type of irregularities that could be detected when the vote was counted. Even then, there could be recourse in the form of a recount.
"The system itself has earned and deserved the trust and belief that it is fair. Because it is. The winners win and the losers usually lose," Braden said.
Raymond had more of a bare-knuckled operative's perspective on how an election could be stolen (let's just say it involved paying people with money and various forms of barter to go and vote). But his advice to Clinton was not to even try, since the votes bought would not be determinative and there were better uses of her cash.
"I would instead just give money to Donald Trump and tell him to tweet more," Raymond said.
Both men stressed that elections aren't flawless. There are sporadic errors and attempts at corruption. But those instances happen predominantly at the local level and only rarely have affected state races. Presidential contests in the modern age aren't the type of thing that can be hacked by one side or the other. And for Trump to argue otherwise is dangerous.
"What I wish is that Donald Trump would focus his campaign on what he is going to do if he gets elected and the bad things that Hillary Clinton would do if she got elected, and not attack the system," said Braden. "The better angels, I'm hoping, get to his ears about the importance of the system because, in the end, any democratic system is pretty fragile and it is based upon trust."
HUFFPOST READERS: What's happening in your state or district? The Huffington Post wants to know about all the campaign ads, mailers, robocalls, candidate appearances and other interesting campaign news happening by you. Email any tips, videos, audio files or photos to scoops@huffingtonpost.com.
Sign up for the HuffPost Must Reads newsletter. Each Sunday, we will bring you the best original reporting, longform writing and breaking news from The Huffington Post and around the web, plus behind-the-scenes looks at how it's all made. Click here to sign up!
Popular in the Community