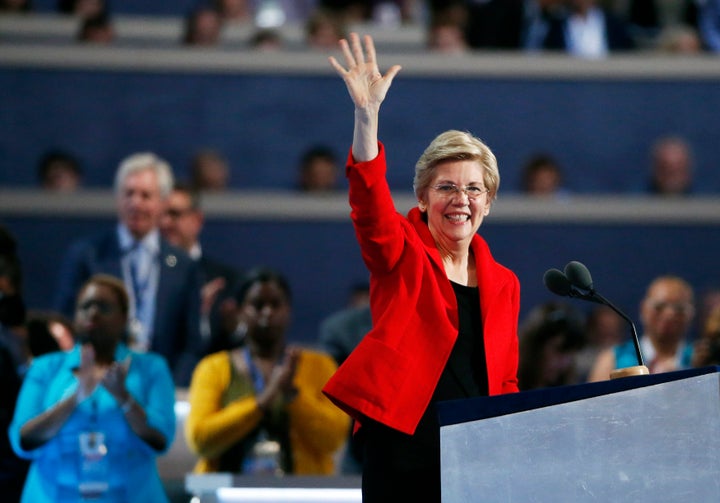 A cardinal rule in politics is that the candidate should never punch down. Better to fight it out with the opposition than be dragged into the mud by his or her surrogate.
In the aftermath of an appearance by presumptive Democratic presidential candidate Hillary Clinton and Sen. Elizabeth Warren (D-Mass.) in Ohio on Monday, Trump chose to attack Warren rather than the former secretary of state herself.
"Elizabeth Warren is a total fraud," he told NBC's Hailey Jackson, apparently unable to contain himself. "I know it. Other people who work with her know it. ... She made up her heritage, which I think is racist. I think she's a racist, actually, because what she did was very racist."
For those unfamiliar with the backstory, Trump's obsession here is Warren's decision to tout her Native American heritage while she was a tenured faculty member at Harvard Law School in the mid-1990s. Warren says her family has long identified this way, though there is not much evidence to substantiate the lineage.
Warren's heritage was a heavily litigated issue in her campaign against Scott Brown for the Senate in 2012. Since she is now in the Senate and Brown isn't, voters clearly didn't care about it all that much. Yet for some reason, the issue remains an irritant for Trump, who seems to revel in calling Warren "Pocahontas" -- which, of course, isn't racist at all.
The truth is, it's harming Trump more than it's harming Warren, by throwing the real estate mogul off his game. And after Warren's appearance with Clinton in Ohio, Trump had two options: frame Clinton as insincere in her economic populism, or generate a gaudier headline by taking another sophomoric jab at Warren. He chose the latter -- and in doing so, derailed not just his own campaign's message for the day, but the rest of the party's too.
After the Ohio event, the Republican National Committee held a conference call featuring Brown that was meant, ostensibly, to target Warren for selling out in endorsing Clinton. Instead, the ex-senator was peppered with questions about whether his former opponent was the "real" racist. His response may have only made things worse: Brown challenged Warren to take a DNA test and called on Harvard and the University of Pennsylvania, where she taught, to release records about her employment.
"As we all know, she is not Native American. She is not 1/32nd. She has no Native American background, except for what her family told her," Brown said. "The easy answer on that, as you all know, is that Harvard and Penn can release the records. She can authorize the release of those records. She can take a DNA test. She could release the records herself. But there has never been any effort."
Calling all HuffPost superfans!
Sign up for membership to become a founding member and help shape HuffPost's next chapter