The move could diminish the EPA budget as much as 24 percent, according to a report by E&E News, the environmental and energy news service that has cranked out a steady stream of scoops on the new administration.
The cuts should come as no surprise. Trump has assembled the most openly polluter-friendly Cabinet in recent history, putting climate science skeptics and fossil fuel executives in key posts with environmental powers. He named Myron Ebell, a once-fringe conspiracy theorist who shares the president's view that global warming is a hoax, to lead the EPA transition team. He also nominated Scott Pruitt, a former Oklahoma attorney general who sued the EPA 13 times and has deep ties to oil and gas companies, as EPA administrator. Pruitt was narrowly confirmed by the Senate this month.
On Saturday, Pruitt said that proposals to abolish the EPA were "justified" because of the agency's actions under the Obama administration.
"I think people across this country look at the EPA much as they look at the IRS," Pruitt said during an appearance at the Conservative Political Action Conference in Maryland. "There are going to be some big steps taken to address some of those regulations."
Eliminating environmental protections and climate change research alone won't free up enough money to cover the military spending. The EPA's $8 billion budget made up just 0.22 percent of federal spending last year. Climate change funding across all agencies comprised $11.6 billion in 2014, according to data from the Government Accountability Office.
In the 2016 fiscal year, the Department of Energy spent more than $2 billion on energy efficiency and renewable energy ― money that the White House plans to redirect to oil, gas and coal, an energy lobbyist who served as a top aide to the president's transition team told Time. The agency spent $1 billion on nuclear energy and more than $600 million on fossil fuels.
Republican lawmakers have made a federalist argument for shrinking the EPA, insisting that environmental protection is a matter best handled at the state level. And it's true that the EPA has sometimes failed to address local concerns. Some emailed complaints to the agency, requesting help on issues of drinking water safety, illegal oil dumps, ozone pollution and potential asbestos exposure, went unread for more than a year, according to a report published Monday by Bloomberg BNA.
"For six years in the legislature, I had a front-row seat to the failures of the federal government in protecting the environment," Rep. Matt Gaetz (R-Fla.), the freshman congressman who introduced a bill to "completely abolish" the EPA, said earlier this month in a Facebook video. "The question isn't whether to protect the environment. The question is, who is better equipped to actually do that?"
However, that argument fails to address the key role the agency plays in policing cross-border issues ― a topic that came up during Pruitt's confirmation hearing when a senator asked the nominee about air pollution blown on the wind from one state to another.
"Under your vision for EPA, it sounds like states would be left on their own to deal with this very complex problem," Sen. Tom Carper (D-Del.) said during Pruitt's confirmation hearing. "How do states address this pollution, this kind of pollution you see demonstrated here, without the assistance of the EPA?"
To be sure, the EPA has weathered administrations critical of its mission before. The Sierra Club accused President George W. Bush's EPA of undoing "decades if not a century of progress on the environment" with such brazen moves as refusing to implement the 1992 Kyoto climate deal. Anne Gorsuch, President Ronald Reagan's EPA chief and the mother of Supreme Court nominee Neil Gorsuch, presided over what The Washington Post described as "a steep decline in cases filed against polluters and a scandal over the mismanagement of the Superfund cleanup program that ultimately led to her resignation in 1983."
The push to kneecap the EPA could prove unpopular. In December, 59 percent of U.S. adults said stricter environmental laws and regulations are worth the cost, versus just 34 percent who said such rules cost too many jobs and hurt the economy, according to a survey conducted by the Pew Research Center. A Reuters/Ipsos poll released in January found 61 percent of Americans would like to see the EPA preserved at the same size or expanded, compared to 19 percent who said it should be weakened or eliminated.
During a hometown rally near Pensacola, Florida, last week, Gaetz took a question from a voter who said she previously worked at the Florida Department of Environmental Protection. She described an agency that could not execute its mission alone.
"Air, land, water, they don't know boundaries," said the woman, whose remarks were captured in a live stream of the event. "Please just consider withdrawing the bill."
Support HuffPost
The Stakes Have Never Been Higher
Before You Go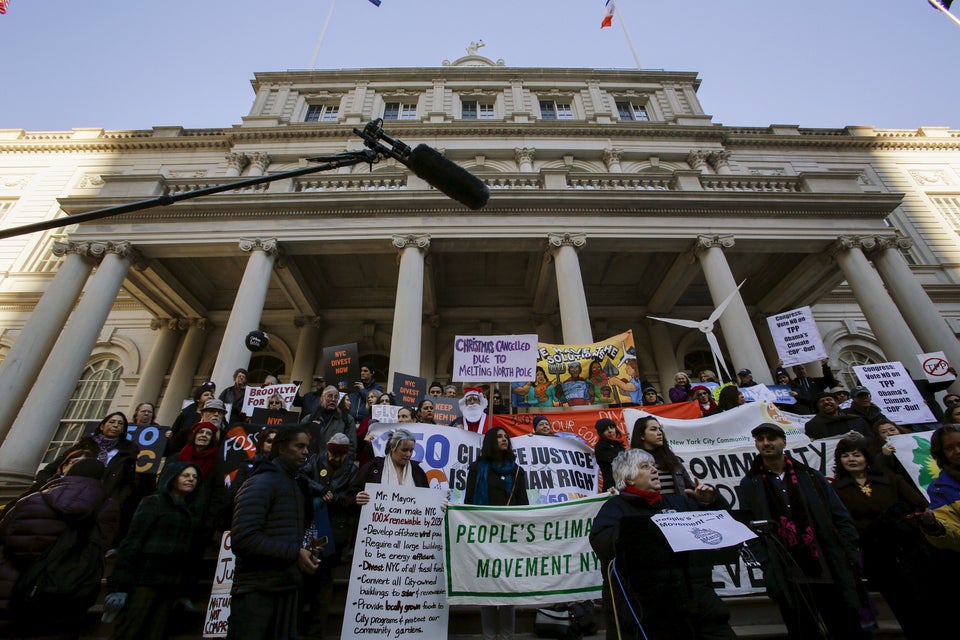 What You Can Do Right Now To Stop Donald Trump's Dangerous Climate Agenda
Popular in the Community