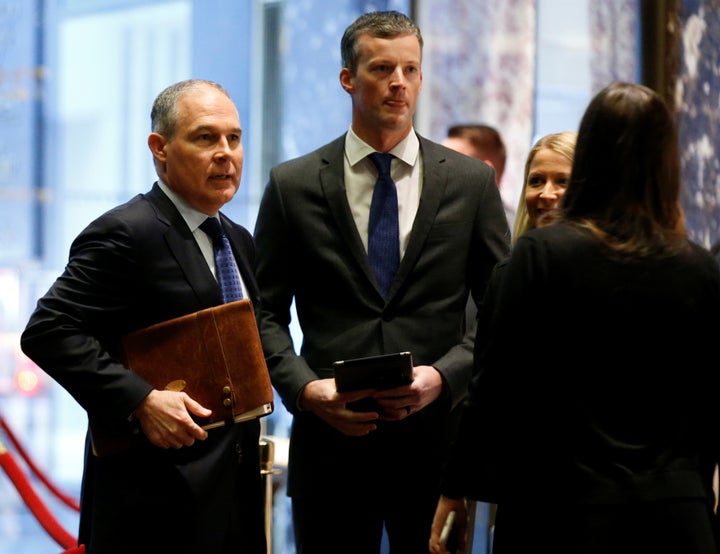 Given his nomination of Oklahoma Attorney General Scott Pruitt to lead the Environmental Protection Agency, it seems President-elect Donald Trump intends to deliver on a campaign promise to destroy a major environmental regulation ― one that's meant to protect waterways that serve as a drinking water source for 1 in 3 Americans.
The likely result of that action, environmentalists fear, would be a U.S. water supply that's dirtier and more prone to public health disasters.
The regulation, the "waters of the U.S." Clean Water Rule, was introduced by the EPA and Army Corps of Engineers in 2015 with the goal of specifically protecting streams and wetlands under the purview of the Clean Water Act.
In one of the few specific water policy positions he offered on the campaign trail, Trump repeatedly blasted the rule as "extreme" and "unconstitutional." He vowed to "eliminate" it, a promise he has reiterated on his campaign transition website.
The rule has not been without controversy. Twenty-seven states moved to join a series of lawsuits against it, alleging that it is an overly burdensome regulation that will hurt farmers and other businesses. But few people have been more vocal in their opposition than Pruitt, who describes himself in his official biography as "a leading advocate against the EPA's activist agenda."
In a 2015 op-ed in The Hill, co-written with Sen. Rand Paul (R-Ky.), Pruitt called the rule "unlawful" and "breathtaking in its overreach." He has also described the rule as a "brazen effort to stifle private property rights."
The matter remains tied up in the 6th U.S. Circuit Court of Appeals with oral arguments set to begin next year.
The current leadership of the EPA sees things much differently.
Speaking before the American Water Summit in Miami Wednesday morning, EPA Administrator Gina McCarthy described the rule as an important mechanism for protecting the quality of the nation's water supplies.
McCarthy added that she is "confident the Clean Water Rule will move forward in the courts."
Environmental groups that support the rule share McCarthy's confidence, though many expressed concern at the news of Pruitt's nomination.
In a Wednesday statement, Bob Irvin, president of the American Rivers advocacy group, said the nomination "raises serious alarms for all Americans who value rivers and the clean water they provide."
"By filing suit to overturn the Clean Water Rule, Scott Pruitt called into question his commitment to protecting clean water for every American," Irvin said.
For many, that concern extends beyond the fate of the controversial rule itself.
Jan Goldman-Carter, director of wetlands and water resources at the National Wildlife Federation, told The Huffington Post that Pruitt's record of staunch opposition to the rule suggests other water-protecting legislation, like the broader Clean Water Act, could be in jeopardy.
Neither Pruitt nor Trump could simply eliminate the Clean Water Rule with the stroke of a pen, however.
If the Trump administration decides to stop defending the rule in court, there are several environmental and conservation groups that have already intervened in the lawsuit and would continue to defend the rule, Environment America senior attorney John Rumpler said.
And if the court sent back the rule to be rewritten, its revision would involve a lengthy rulemaking process, including a public comment period.
That process would somehow need to invalidate the scientific evidence cited in support of the rule during its initial process, something environmentalists say is not possible because that evidence is so thorough.
"They're going to have to confront the overwhelming scientific evidence in factor of these waterways being protected," Rumpler said.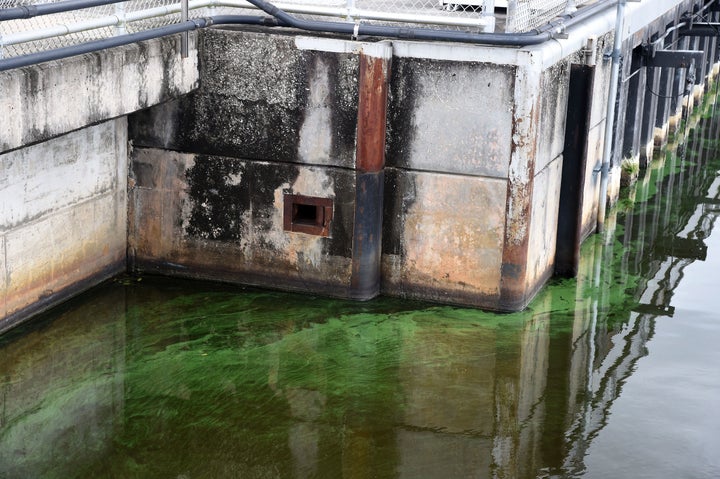 This time around, a presidential veto would almost certainly not be a factor, though Rumpler still believes such action in Congress would ultimately fail.
"The fight for clean water at this point is still very much alive," Rumpler said, "and the fate of this historic rule has not yet been written."
Despite the complicated path to eliminating the rule, it's likely the Trump administration will at least make an effort to do so.
It also seems likely that Pruitt, a longtime defender of fossil fuel interests, would not take action to fight climate change, which is already putting major stress on our nation's water supply.
Nevertheless, some environmentalists are holding on to optimism.
Michael Kelly, spokesman for Clean Water Action, a nonprofit, said he believes Americans are passionate about where their water comes from. National polls have found that drinking water issues are among Americans' top green concerns.
Kelly is confident those people would not take the elimination of the water rule lying down.
"We are not ready to give an inch when it comes to clean water," he said. "We will fight and we are ready to fight. Anyone who cares about this has to get ready to join the movement to stop what it looks like is coming."
Joseph Erbentraut covers promising innovations and challenges in the areas of food and water. In addition, Erbentraut explores the evolving ways Americans are identifying and defining themselves. Follow Erbentraut on Twitter at @robojojo. Tips? Email joseph.erbentraut@huffingtonpost.com.
Before You Go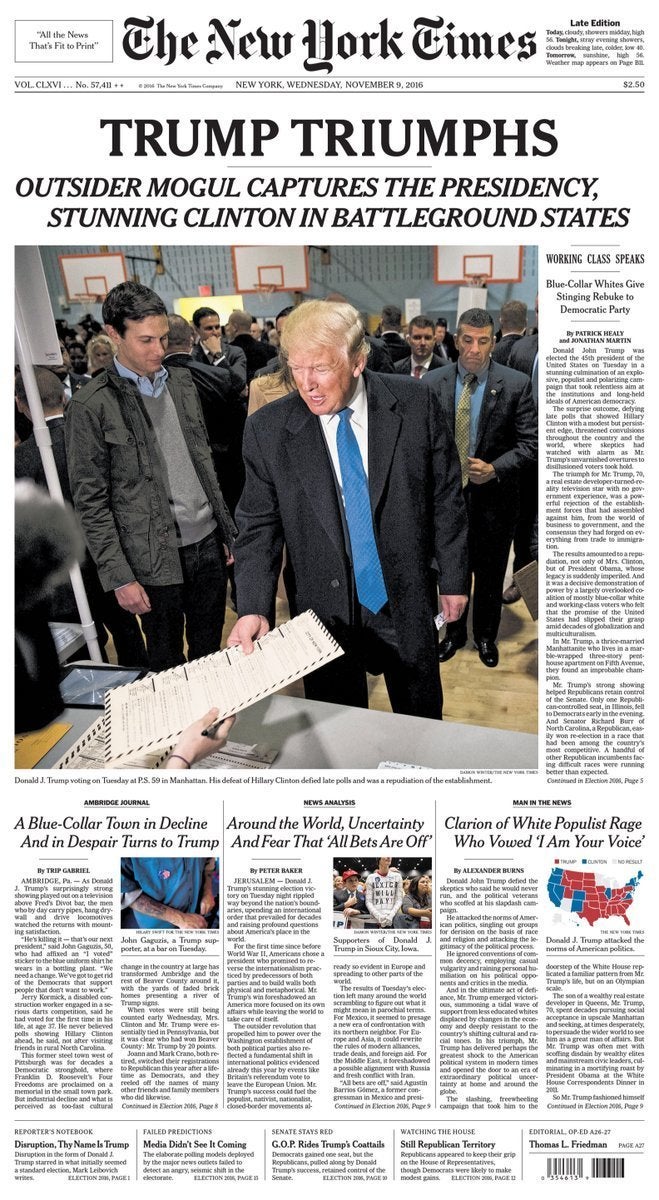 Newspapers React To President Trump
Popular in the Community