Hoping to solidify his standing with a slightly ill-fitting constituency, Donald Trump announced on Tuesday the creation of an executive council of evangelical leaders to advise his presidential campaign.
Made up of mostly conservative political and religious figures, the council, on the surface, seemed like an attempt to help sand down the rough edges of a candidate known more for for appearances in the tabloids than in the pew. But Tuesday's announcement also exposed deep philosophical rifts with the evangelical community that Trump must contend with as he transitions to the general election campaign.
Members of the council made clear, repeatedly, that they were not endorsing Trump's campaign, and were merely advising the candidate. Many of them remain at odds with Trump on some of his defining issues and on his rhetoric. One member of the group, in fact, had written in November that it was embarrassing to watch fellow clergy members support Trump -- a Facebook post that was quickly unearthed after the advisory board announcement.
The author of that passage, the Rev. Tony Suarez, told HuffPost he probably did it out of desperation (it's now deleted). Suarez, an executive vice president of the National Hispanic Christian Leadership Conference, supported Sen. Marco Rubio (R-Fla.) for president.
Like others who gathered in New York on Wednesday, Suarez said he remained uncommitted to Trump, even after meeting with the candidate. But he said he saw the creation of the board as a positive step, if only for providing him and others a chance to urge Trump to think and talk differently about certain issues.
"I was very frustrated with Mr. Trump in the fall," Suarez said. "But in the spirit of reconciliation and believing that everyone deserves a second chance, I'm giving Mr. Trump that opportunity. Okay, you're talking about building bridges, you say you love Latinos, you want us to love you -- then okay, let's come to the table."
Trump presents one of more uncomfortable tables for the Christian conservative movement to come to in recent politics. It's not only his personal story that poses problems, filled as it is with unscrupulous business practices, two tumultuous divorces, and prior liberal leanings on topics like abortion. It's his current policy portfolio, too. The two immovable pillars of Trump's presidential campaign are opposition to undocumented immigrants and a fierce rejection of refugees from the Middle East. Those happen to be two of the occasional break points between the religious right and the Republican Party.
These fissures were evident in the composition of Trump's evangelic advisory board. While attendees shared some of Trump's more hard-edged views -- Robert Jeffress, senior pastor at First Baptist Church of Dallas, for example, has made the case it is the Christian position to deny refugees and immigrants entry to the U.S. -- many others had more nuanced takes.
A.R. Bernard, senior pastor and CEO of the Christian Cultural Center, has said that "the Republican Party must develop and pass comprehensive immigration reform." Ronnie Floyd, senior pastor at Cross Church, has talked about need to be humane to children fleeing Central America. He recently finished his term as president of the Southern Baptist Convention, which last week approved a resolution encouraging churches to help refugees. In April, Floyd urged the same.
"We need to love them, meet their needs compassionately, but also be more than faithful to present to them the Good News of the Gospel of Jesus Christ," Floyd said.
Robert Morris, senior pastor at Gateway Church, has spoken about the need for open-mindedness with regard to refugees in the Middle East, a position an aide said "has not changed." Richard Land, president of the Southern Evangelical Seminary, has advocated for comprehensive immigration reform and was even at the announcement of the Senate's 2013 gang of eight bill. Johnnie Moore, president of corporate consultant The Kairos Co., has discussed publicly the need for the U.S. to accept refugees from ISIS-affected regions -- including Syria -- but he encouraged caution in the aftermath of the attacks in Paris.
None of the council members on Tuesday pretended as if these differences didn't exist. Rather, they made the case that dialogue afforded them an opportunity to add more spiritual depth to Trump's point of view.
"I think in the primary season there is a less nuanced way of talking about all kinds of things and as you get to the general election, the nuance of policy develops and you look to the prospect of governance," Moore said. "I do think all of these issues get an additional layer of complexity and understanding."
Hopes for a softer, gentler Trump have become routine for Republicans in the past few months. And it may indeed take a room full of religious leaders for these types of political prayers to be answered. Several attendees left the meeting saying Trump had listened attentively.
Suarez was optimistic that the candidate would change, and said he plans to press Trump to talk more about hard-working Latinos who love America and to respect the humanity of young undocumented immigrants. Moore said there was "amicability" in the room. Bernard, who is black, said that he told Trump there was an opportunity for him to connect with young black voters who don't feel the "love affair with the Clintons" their elders have, and that Trump seemed surprised but serious about wanting advice. The only thing left is to see if Trump actually follows through, Bernard said.
"If this executive advisory committee has some influence, then we should see his tone change over the next several weeks, couple of months," Bernard said. "We should see that. We should see an effect of the existence of this advisory executive committee."
In the end, Trump may not have to change all that much to win over the skeptics. The question facing those evangelical leaders who gathered in New York on Tuesday is as much political as religious. And it is similar to the one facing their congregations: Is it better to end up with a Republican who says things they dislike, or a Democrat whose views on social issues stand in opposition to theirs?
Floyd, for one, seemed to be answering yes to the Republican question when offering his reasons for getting involved with Trump.
"With the following evangelical concern of Supreme Court appointments, the sanctity and dignity of human life from the womb to the tomb, religious liberty at home and abroad, Israel and the Middle East, poverty, crime, violence, lack of opportunity in urban areas, and racial tension being at stake, I believe it is incumbent on me to serve in this advisory capacity," Floyd said in a statement.
Andy Campbell contributed reporting.
Before You Go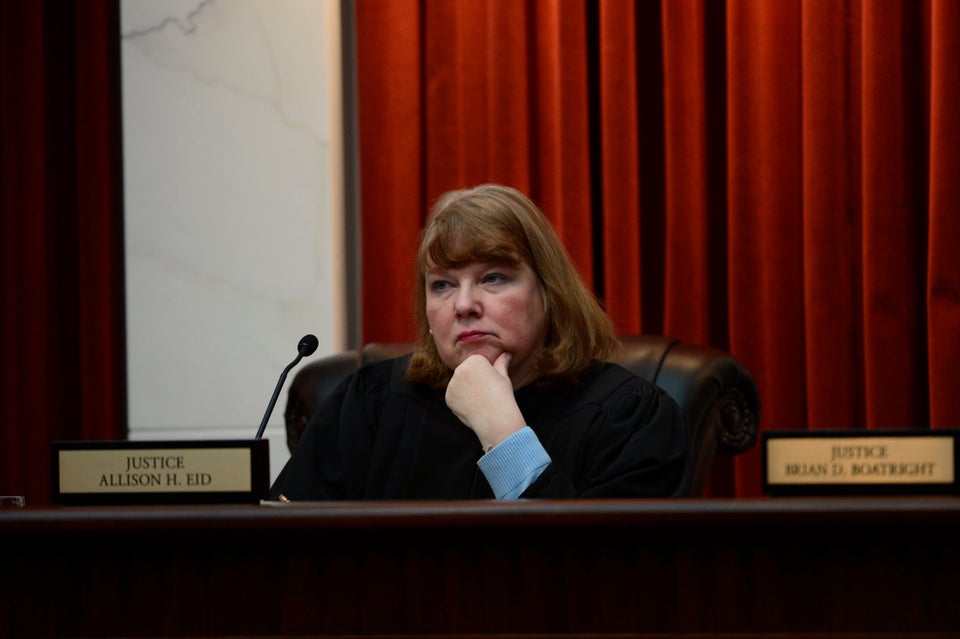 Donald Trump's Potential Supreme Court Justices
Popular in the Community