President Donald Trump will sign two executive orders on Friday aimed at rebalancing the United States' trade deficit, the White House announced on Thursday evening.
One of Trump's orders would instruct the Department of Commerce and the United States Trade Representative to conduct a 90-day review of the countries with which the U.S. has a significant trade deficit.
In preparing a detailed report for Trump, the agencies will try to "identify every form of trade abuse and every non-reciprocal practice that now contributes to the U.S. trade deficit," Commerce Secretary Wilbur Ross said in a Thursday press conference previewing the orders.
A second directive would try to arm federal agencies with greater tools to enforce existing penalties for unfair trade practices. Gaps in enforcement have allowed some $2.8 billion in anti-dumping and countervailing duties against foreign trade partners to go uncollected since 2001, according to an estimate provided by White House National Trade Council director Peter Navarro, who also spoke to reporters on Thursday.
Anti-dumping duties are levied against foreign goods imported at below-market rates in order to undercut a foreign country's manufacturers. Countervailing duties tax imports that were found to be subsidized by foreign governments in violation of trade rules.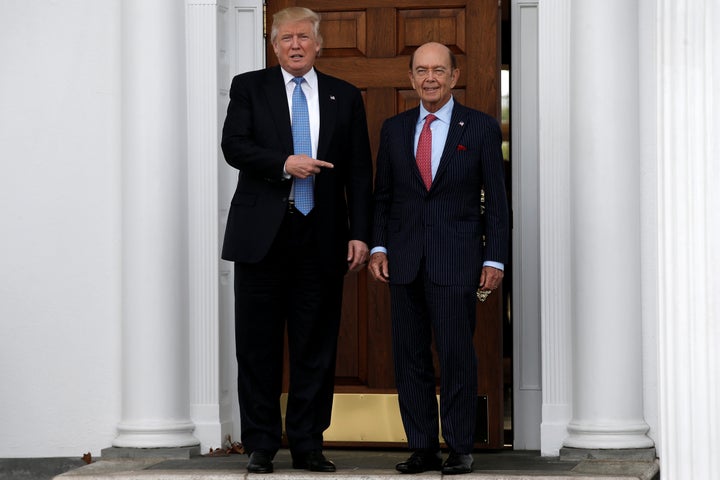 The orders represent an opportunity for Trump to deliver on campaign promises to fight for domestic manufacturing and jobs.
Earlier on Thursday, Trump's acting U.S. Trade Representative Steve Vaughn sent Congress the administration's broad framework for renegotiating the North American Free Trade Agreement with Canada and Mexico. The letter drew mixed reactions, with some progressive trade skeptics claiming it fell short of Trump's promises for tough action, and others claiming it left room for significant change to existing relations.
Trump campaigned heavily on revising trade agreements to make them more favorable to American firms and workers, calling NAFTA in particular "the worst trade deal ever signed." Immediately upon taking office in January, Trump formally withdrew the United States from the Trans-Pacific Partnership, a 12-nation Pacific Rim trade accord negotiated by former President Barack Obama.
Friday's orders also give Trump a chance to show strength on one of his signature issues after the humiliating defeat of the Obamacare replacement bill he backed.
They even open the door for a rare moment of bipartisanship. Many Democrats and labor unions support the idea of revising existing trade relationships and agreements to better serve American workers.
In explaining the timing of the review of existing trade relations, Commerce Secretary Ross claimed that "there never has been this kind of systemic analysis." He denied that the executive orders are intended to send a signal to China ahead of Chinese President Xi Jinping's visit with Trump next week.
The study would focus on over a dozen nations with which the U.S. has its most significant trade deficits. The largest among them by far is China, followed distantly by Japan, Germany, Mexico and Ireland.
In addition to looking at ways countries restrict U.S. access to their markets and inappropriately stack the deck for their exports through techniques like currency devaluation, the study will analyze how trade agreements themselves, past enforcement policies and World Trade Organization rules hamper U.S. companies' competitiveness.
"Undoubtedly with some of the countries we will conclude that there is no real action that should be taken," Ross emphasized.
The Trump administration has in the past caused a stir with loose talk of retaliatory trade tariffs.
White House press secretary Sean Spicer suggested in late January that a 20 percent tariff on foreign imports that Trump was considering levying could be a way of getting Mexico to finance the cost of the border wall. He subsequently walked the comment back.
Without explicitly addressing the incident, Ross made clear that the goal of the review his department would be leading is to avoid such blunders.
The assessment "will demonstrate the depth of the administration's intention not to hip-shoot, not to do anything casual, not to do anything abruptly, but to take a very measured and analytical approach both to analyzing the problem and therefore to developing the solutions for it," he said.
Popular in the Community