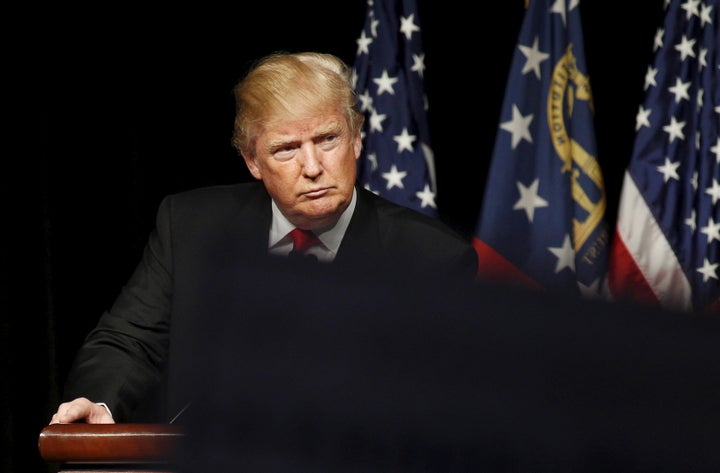 WASHINGTON -- Republicans in Congress have made no secret of their opposition to, what they call, President Barack Obama's "executive overreach." But with presumptive GOP nominee Donald Trump campaigning on a similar I-can-do-this-with-or-without-Congress message, Republicans are finding themselves in the now-familiar position of supporting Trump while also decrying a major component of his platform.
"If he is an authoritarian where he wants to use executive orders to get his way, he's going to run into the exact same problem as President Obama did when he tried to do it," Rep. Reid Ribble (R-Wis.) said last week. Ribble, who is retiring after this term, isn't supporting Trump. But even members who jumped on the #TrumpTrain early are uncomfortable with Trump's attitude toward executive actions.
"He's been watching Obama too much," Rep. Scott DesJarlais (R-Tenn.), one of the first members of Congress to endorse Trump, told The Huffington Post.
Republicans love to knock Obama for his use of executive actions to accomplish policy priorities on immigration, health care or labor laws. But now, with Trump suggesting he can ban Muslims from entering the country unilaterally, or rip up trade deals on Day One of his presidency, Republicans are trying to maintain consistency while also not directly knocking their thin-skinned nominee.
For House Speaker Paul Ryan (R-Wis.), that means announcing that he would "sue any president that exceeds his or her powers." For other Republicans, that means vague platitudes about Congress' Article I dominance in the Constitution.
"I want to respect the constitutional equilibrium regardless of which party is in power," Benghazi Committee Chairman Trey Gowdy (R-S.C.) told HuffPost last week.
But is it concerning that the Republican nominee has this belief that he can enact policies without Congress?
"I want to respect the constitutional equilibrium no matter who's in power," Gowdy said.
And pressed again on the subject, Gowdy, with a smile, said once more that, "I want to respect the constitutional equilibrium no matter who's in power."
Some Republicans supporting Trump were a bit more direct, insisting that this was more of a constitutional issue than a partisan one.
"It doesn't matter to me what the letter is beside the president's name," Rep. Gary Palmer (R-Ala.) told HuffPost. "What matters to me is do they abide by the Constitution that they swore to uphold and defend?"
Conservative Rep. Thomas Massie (R-Ky.), who, when the topic of his Trump endorsement came up, joked that "the weight on the chain gets heavier every day," said every time he's stood up to call out Obama, he's offered that "whether this is a Republican or a Democrat, it's a bad idea to give the executive branch more power."
"I'll push back just as hard on anything a Republican president" does, Massie said.
Some Republicans suggested that a president from their party trying to overstep the bounds of the Constitution could actually help restore the balance of power.
"The good thing about a Trump presidency is going to be that the Democratic party will actually stand up for something once again," Rep. Raul Labrador (R-Idaho) said. "They've been unwilling to stand up against their president. We are going to be willing to stand up and check our own president, and obviously the Democrats will do it as well."
Still, Labrador is concerned to hear the Republican presidential nominee sound so indifferent about abiding by the Constitution.
"It's always concerning," Labrador said, "but that's why we have checks and balances in the Constitution."
Rep. Dave Brat (R-Va.), the former economics professor who took down former Majority Leader Eric Cantor, offered a similar sentiment about Republicans and Democrats potentially working together to push back against Trump if he were to become president. 
"The good news is, if this conversation does become full-fledged, it'll be good to see the Democrats reaching for pocket Constitutions finally," Brat said. "And that'll make me happy."
Brat claimed Trump's proposed ban on Muslims entering the country would be unconstitutional, but he said he wouldn't necessarily try to impeach him over it. "It depends how he does it. I don't think he can do that," Brat said.
When told that Trump said he could enact a ban through executive action, Brat suggested that Trump would change his tone.
"He'll walk that back by the time it comes policy time, right, I would hope," Brat said. "Otherwise I'll share with him my Madisonian quotes, right, and all that kind of thing."
And if he doesn't respond to the Madisonian quotes, would Brat vote to impeach him?
"Well, I think based on what I just said on President Obama, and I'm not there on Obama ... I don't think that's an impeachable offense," he said.
Calling all HuffPost superfans!
Sign up for membership to become a founding member and help shape HuffPost's next chapter