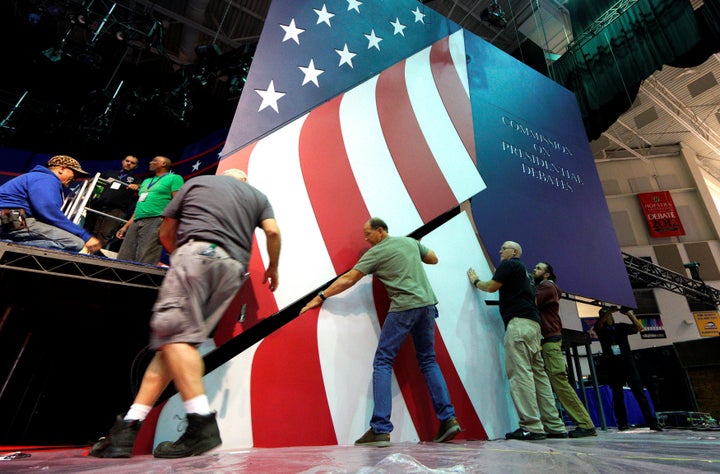 The GOP presidential nominee's advisers have repeatedly stressed his lack of preparation, lowering the bar so far that, as The Huffington Post's Amanda Terkel put it, "if he doesn't vomit, he's exceeding expectations."
Yet the American public's expectations for Trump's performance don't seem to be historically, or even unusually, low.
By a 10-point margin ― 53 percent to 43 percent ― likely voters say they expect Democratic nominee Hillary Clinton to do better than Trump in the debates, according to a September CNN/ORC poll. But that's a relatively small gap compared to past election cycles.
In four of the previous six presidential elections, pre-debate polling from CNN and Gallup found a wider gap in expectations, YouGov's Will Jordan noted on Friday. In two elections, 2000 and 1992, the "expectations gap" between candidates was only a couple of points smaller than it is this year.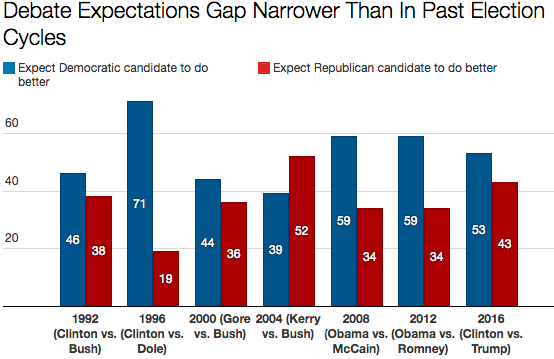 This year's relatively close margin may be because neither Trump nor Clinton has the advantage of presidential incumbency.
Although Bill Clinton was seen as a somewhat stronger debater than incumbent George H.W. Bush in 1992, recent sitting presidents have otherwise been perceived to hold a wide advantage in debates. The open election in 2000 saw a relatively modest expectations gap between candidates, although Barack Obama was seen as a much stronger debater than John McCain in 2008.
Polarization may also play a role, with expectations lining up broadly along party lines. According to CNN's most recent poll, 88 percent of Democratic likely voters and 75 percent of Republican likely voters expect their party's nominee to be the better debater. In contrast, four years ago, only two-thirds of Republicans expected Romney to do a better job than Obama.
Trump also has to contend with higher expectations from independent voters. Forty-eight percent of independent voters expect him to do a better job than Clinton in the debates. When Romney and McCain debated Obama, only one-third or fewer independents expected the Republican candidates to prevail.
CNN's survey was conducted at the beginning of September, so it's possible that expectations for Trump have since taken a slide ― but given his increasing strength in horserace polling over the same time period, that seems somewhat unlikely.
Research shows that media coverage of the debates often matters at least as much as the public's reaction to them, so the conventional wisdom that Trump will do poorly certainly gives him some advantage.
Going into Monday night, however, the electorate's expectations for Trump don't seem to be exceptionally forgiving.
Popular in the Community