Facts are not Donald Trump's strong suit, according to an independent analysis of the billionaire reality TV show host's most controversial statements.
That conclusion might not exactly surprise anyone who's followed the narrative of Trump's campaign, which has kept him atop the polls with a heavy dose of anti-immigrant flame-throwing and overt xenophobia. But over at PolitiFact, a project run by the Tampa Bay Times, Trump's rhetoric looks more than just a bit dishonest.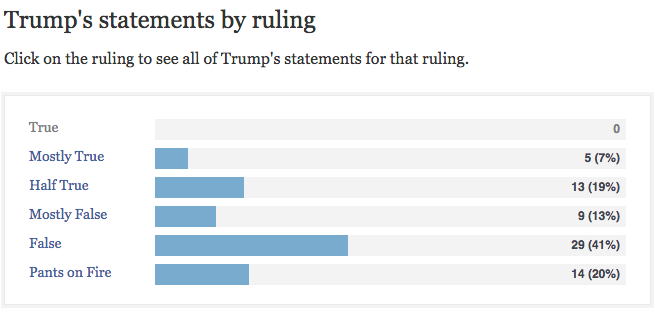 With zero "true" rulings, Trump's most accurate statements have been those rated "mostly true" -- like the time he attacked GOP primary rival and Florida Sen. Marco Rubio for having "the worst voting record there is today." Rubio has missed a large number of Senate votes since announcing his presidential run and has faced criticism from other GOP candidates over his absenteeism.
Trump's most absurd statements have been rated "pants on fire," and include his recent claim that he watched "thousands and thousands" of people in New Jersey -- mostly Arabs, he said -- cheering as the Twin Towers collapsed on Sept. 11. There is no evidence that this ever happened, but Trump has used this supposed account to support his calls for shutting down certain mosques and even possibly registering American Muslims in a database.
Over the weekend, Trump also shared a conservative meme about crime rates in the black community, which incorrectly suggested that black perpetrators were responsible for 81 percent of homicides of white victims. The Federal Bureau of Investigation puts that number at closer to 15 percent. The Crime Statistics Bureau, cited as the source of graphic's data, doesn't actually exist. Another "pants on fire" for Trump.
In total, 21 percent of the Trump statements judged by PolitiFact have earned "pants on fire" grades. On Monday, Trump's habit of just making stuff up led NBC News to call him "the post-truth 2016 candidate." Of course, this doesn't mean that Trump has literally never told the truth. But when he says something that sounds like it needs a fact check, it almost always does.
Despite Trump's mendacity, another GOP candidate actually takes the top prize for playing fast and loose with the facts, according to PolitiFact. Neurosurgeon Ben Carson similarly has a grand total of zero "true" statements checked by PolitiFact. And while 25 percent of Trump's statements are at least "half true" or "mostly true," just 17 percent of Carson's meet that mark. PolitiFact has reviewed fewer total statements by Carson, and only three -- or 13 percent -- have been been ruled "pants on fire."
Democratic candidates also sometimes struggle to tell the truth, according to PolitiFact. Former Secretary of State Hillary Clinton, whose record goes back much further, has earned two "pants on fire" ratings, including for her notorious 2008 claim that she came "under sniper fire" in Bosnia in 1996. But 71 percent of the Clinton statements checked by PolitiFact have earned ratings of at least "half true." Twenty-eight percent have been deemed "true."
Meanwhile, Clinton's primary opponent, independent Vermont Sen. Bernie Sanders, has zero "pants on fire" ratings from PolitiFact. Seventy-two percent of his statements have gotten ratings of at least "half true" -- and 17 percent have been deemed "true" -- while 28 percent have been ranked "mostly false" or "false."
PHOTO GALLERY
9 Outrageous Things Donald Trump Has Said About Latinos
Calling all HuffPost superfans!
Sign up for membership to become a founding member and help shape HuffPost's next chapter