NEW YORK ― On Sunday afternoon, Politico editorial director for digital Blake Hounshell rightly pointed out that President-elect Donald Trump's claim that he actually won the popular vote, because "millions" of Americans had voted illegally, isn't true.
"Trump claims, falsely, that millions voted illegally," Hounshell tweeted, along with a Politico story on the matter.
The headline for the Politico story, however, lacked a key word: "falsely."
This isn't to pick on Politico, which was one of several news organizations to quickly publish stories Sunday based on Trump's Twitter claim without clarifying in the headline that it was false. And Politico, unlike some others, later updated its headline.

But the rush of stories on the president-elect's "millions" claims highlights the media's tendency ― now on show for nearly 18 months ― to immediately churn out articles based on Trump's latest unsubstantiated claims or unwarranted attacks on Twitter.
Too often, news organizations amplify Trump's assertions in headlines with some variation of "Trump tweets" or "Trump claims" or "Trump says" ― whether or not those assertions are true. This seems to be the default in many newsrooms heading into Trump's presidency, even after he proved to be a historically dishonest candidate known for frequently spouting falsehoods and pushing conspiracy theories.
The president-elect's questioning of the election process is inherently newsworthy. But such a clearly false claim needs to be immediately put into context before being circulated online and on social media. News stories that don't adequately address Trump's assertion as being without merit run the risk of creating a "he said, she said" situation ― when the president-elect's claim is a conspiracy theory with no basis in fact.
CBS News, too, uncritically repeated Trump's claim.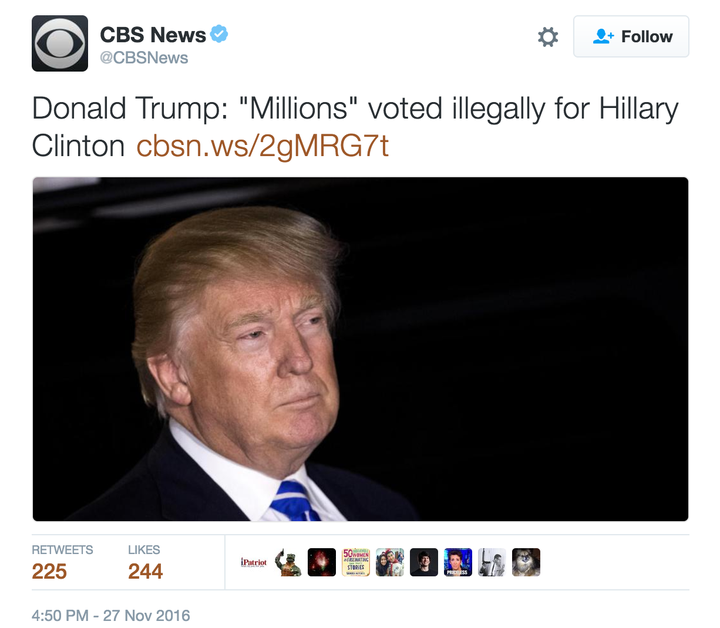 The network drew criticism for not challenging Trump's false claim in its widely circulated tweet, which originally linked to a story with a similar headline.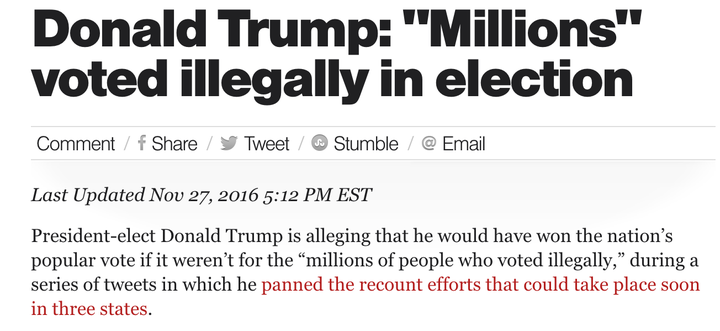 The outlet later changed the headline to one that characterized the claim as baseless.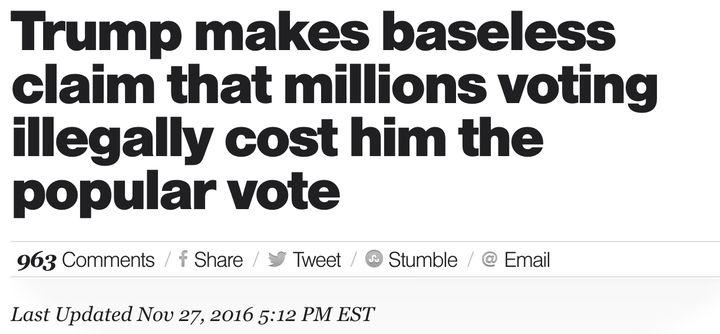 CNN published a breaking news tweet noting that "Trump alleges" he won he popular vote without clarifying that the "allegation" was unfounded.
The actual CNN article it linked to made clear in the headline that Trump's claim was false.

The Washington Post published Trump's false claim on Twitter as a headline, which, Gizmodo Media Group CEO Raju Narisetti noted, doesn't make the headline remotely accurate.
The media is still coming to grips with how to handle a soon-to-be president who injects himself into the news cycle with controversy-generating tweets that have the potential to distract from serious, critical stories.
"Like Pavlov's dog, too many of us leap to object or correct the president-elect whenever he composes a deliberately provocative tweet," Politico media critic Jack Shafer wrote on Nov. 19.
That morning, the media pounced on Trump's Twitter tirade against the Broadway hit "Hamilton" after some in the audience booed Vice President-elect Mike Pence the night before. But just hours before the "Hamilton" performance, Trump had agreed to pay $25 million to settle fraud lawsuits brought by over 6,000 people who said they were swindled by his Trump University real estate seminars.
While the unprecedented settlement for a president-elect is presumably a bigger deal, the "Hamilton" spat got more attention that weekend on cable news.
Trump's latest Twitter outrage comes on the heels of The New York Times' deep investigation into his business conflicts around the world as he prepares to take office.
Related
Popular in the Community