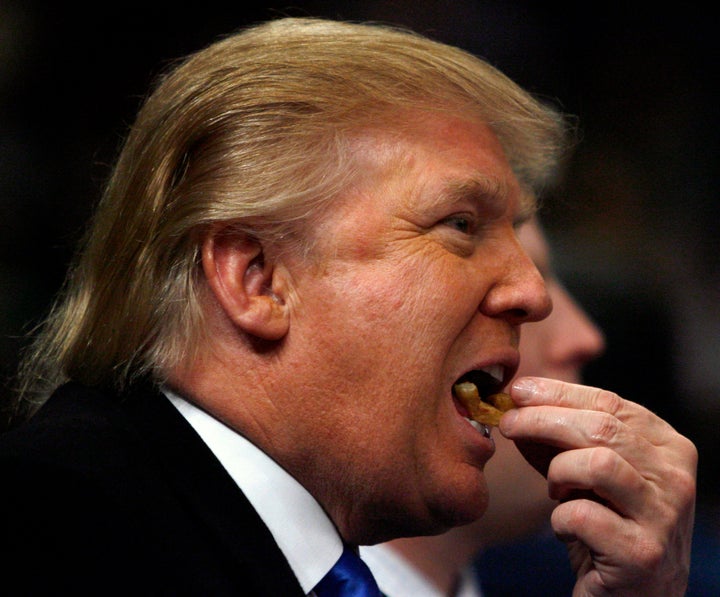 Unfortunately for Trump, his love for fast food appears to be unrequited.
That stands in stark contrast to four years ago, when Republican nominee Mitt Romney was essentially the fast-food candidate. The food-and-beverage industry donated heavily to the former Massachusetts governor, giving him and his affiliated political action committees $2.5 million. That's more than twice the amount the industry steered to President Barack Obama's re-election campaign, according to data from the Center for Responsive Politics.
Some fast-food executives also personally helped Romney raise money. In 2012, John Schnatter, the founder and namesake of Papa John's pizza and the face of the brand, hosted a fundraiser for Romney at his Kentucky mansion, where tickets went for $1,000 a head. Jimmy John Liautaud, the founder of the Jimmy John's sandwich chain and a noted Republican, also threw a fundraiser for Romney in 2011.
But this year, the restaurant industry has so far been more generous to Trump's Democratic rival, Hillary Clinton.
The former secretary of state's campaign has raked in over $1 million from food-and-beverage companies this election cycle, whereas Trump has hauled in just $152,000, according to the Center for Responsive Politics. Even Sen. Bernie Sanders (I-Vt.), a self-described democratic socialist and at one point Clinton's foremost rival for the Democratic nomination, did better than Trump with the food-and-beverage crowd, bringing in $400,000 from people in the industry. (That may well include rank-and-file fast-food employees whose multiple, small-dollar donations added up to a reportable contribution.)
A caveat: That data likely does not include the most recent contributions for the campaign cycle. It's possible that in recent weeks the fast-food industry has come out heavily for the Republican nominee, and that it's just not reflected in the aggregate numbers yet. Still, a review of the newest filings with the Federal Election Commission, covering the month of August, indicates that fast-food executives by and large are not lining up behind Trump.
The biggest outlier is Andy Puzder, the CEO of CKE Restaurants, which includes the Carl's Jr. and Hardee's hamburger chains. Puzder has been a bundler for the joint fundraising committee between Trump's campaign and the Republican National Committee. He and his wife, Dee, each gave $75,000 personally to the cause in May. (Puzder, it's worth noting, also supported Romney as the GOP nominee and served as an adviser to his campaign.)
Aside from Puzder, most executives seem to be sitting on the sidelines. The Huffington Post searched for donations to Trump from the chief executives at McDonald's, Burger King, Wendy's, Jimmy John's, Subway, Domino's and Yum Brands, which includes the KFC, Taco Bell and Pizza Hut brands. None of those executives appear to have given to Trump's campaign so far.
One exception, aside from Puzder, is Papa John's Schnatter, who gave $1,000 to the Trump cause in August, according to filings. A Papa John's spokesman didn't respond to an email with questions for Schnatter.
If Trump has built hotels and restaurants and created a global hospitality brand, why is the fast-food industry showing so little love for a candidate who is practically one of their own?
One explanation is that Trump has fundraised poorly with just about every corporate demographic, and many major Republican donors in general have chosen to shun him.
Clinton's superior fundraising apparatus has given her a tremendous advantage in the election. Through August, her campaign brought in $386 million to Trump's $169 million ― well over twice as much ― and those figures do not include the money raised for their victory funds or affiliated super PACs.
Unlike well-oiled Republican fundraising machines of the past, the Trump campaign hardly raised any money before this summer, forcing it to lean heavily on the RNC's infrastructure. Trump, it seems, has been uniquely bad at playing this game. Politico reported that when he was given a list of more than 20 donors to call one day, Trump reached out to three of them before giving up.
It's also possible that the titans of fast food haven't given Trump much money because they think he would make a poor president. And even if they think he'd make a good one, supporting his campaign has its downsides. After all, fast-food companies are highly visible brands. Trump has been a divisive enough candidate that it's possible customers would launch a boycott of a fast-food chain that hitched itself to his campaign. The same rationale likely led many corporations not to fund the Republican National Convention in July.
Aside from diners, there are also workers to worry about. Fast-food employees are disproportionately black and Latino compared to the general population. Trump has polled embarrassingly low among black voters and has made it a hallmark of his campaign to offend and alienate Latino immigrants. Some fast-food workers of color might not appreciate the corporate brass going to bat for a presidential candidate they find revolting.
CKE's Puzder, however, hasn't been afraid to show his allegiance to Trump. Besides advising Trump on economic policies, Puzder has stumped relentlessly for the nominee through his Twitter feed and personal blog, and has also hit the airwaves to make the case for a Trump presidency. In June, he told USA Today that he wasn't too concerned that well-heeled Republican donors hadn't been giving generously to Trump.
"I think donors are going to come around," Puzder said. "The threat to our economy from a Hillary Clinton presidency is substantial."
Before You Go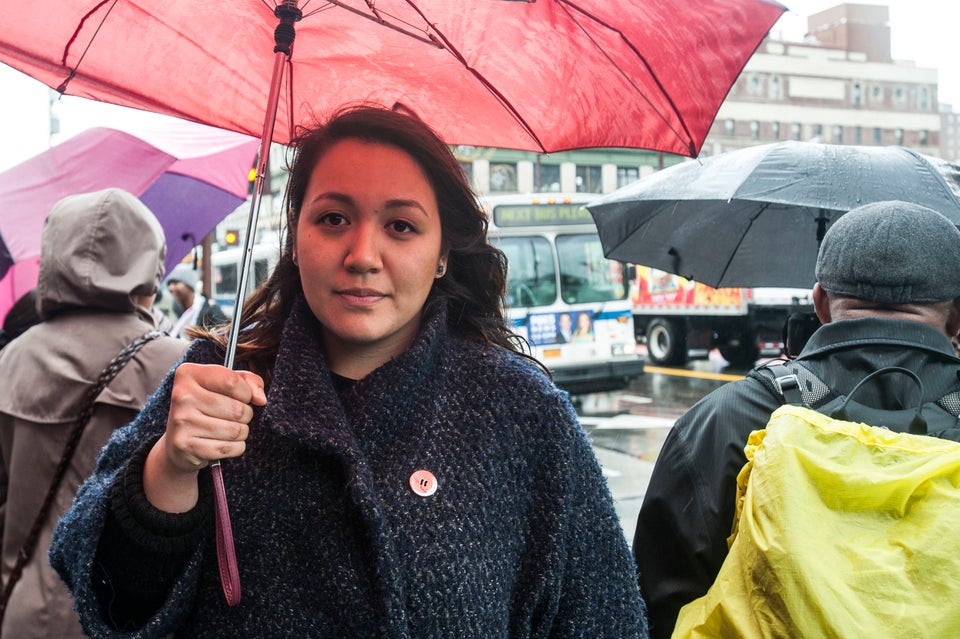 The Faces of the Fight for 15 Movement
Popular in the Community