President Donald Trump will nominate Christopher A. Wray to be the next director of the FBI, he announced on Wednesday.
"During his previous service at the Department of Justice, Christopher was the leader of major fraud investigations, and was a key part of the team overseeing the Justice Department's actions in the war on terrorism following the 9/11 attacks," Trump said in a statement. "He is an impeccably qualified individual, and I know that he will again serve his country as a fierce guardian of the law and model of integrity once the Senate confirms him to lead the FBI."
Wray represented New Jersey Gov. Chris Christie (R) in the wake of the "Bridgegate" scandal. Christie told NorthJersey.com that he had "the utmost confidence in Chris."
"He's an outstanding lawyer," Christie said. "He has absolute integrity and honesty, and I think that the president certainly would not be making a mistake if he asked Chris Wray to be FBI director."
Trump's critics on both sides of the aisle ― including Matthew Miller, who served as Justice Department spokesman under former Attorney General Eric Holder, and Jack Goldsmith, who served alongside Wray in the Justice Department during the Bush administration ― praised the president's decision to tap Wray.
"Wray is smart, serious, and professional. He doesn't have quite the range of experiences that his two predecessors did. But he has deep experience with federal criminal law and the FBI," Goldsmith wrote. "I think Trump's firing of [former FBI Director] James Comey was a travesty. But Wray is a good choice, a much better choice than any name I previously saw floated, and a much better choice than I expected Trump to make. Without prejudging what will surely be a probing confirmation process, I think Wray is qualified to be Director of the FBI."
Wray called the nomination "a great honor" in a statement.
"I look forward to serving the American people with integrity as the leader of what I know firsthand to be an extraordinary group of men and women who have dedicated their careers to protecting this country," he said.
Wray's name came up in a 2008 Justice Department Inspector General report on allegations of politicized hiring in the Attorney General's Honors Program and Summer Law Intern Program. The hiring process, the report concluded, was "fundamentally changed" to give political appointees more input. Data showed that applicants with Democratic or liberal affiliations were "deselected at a significantly higher rate" than candidates with conservative or neutral affiliations. Wray told the IG that politics and ideology only came up as part of an effort to make the programs more inclusive.
He said there was a perception that in past administrations the career employees doing the screening may have weeded out candidates because the selecting officials were not 'comfortable with their political persuasion.' He said the political persuasion he was referring to pertained to candidates who had been in the military or law enforcement, 'whether you call that conservative or not.'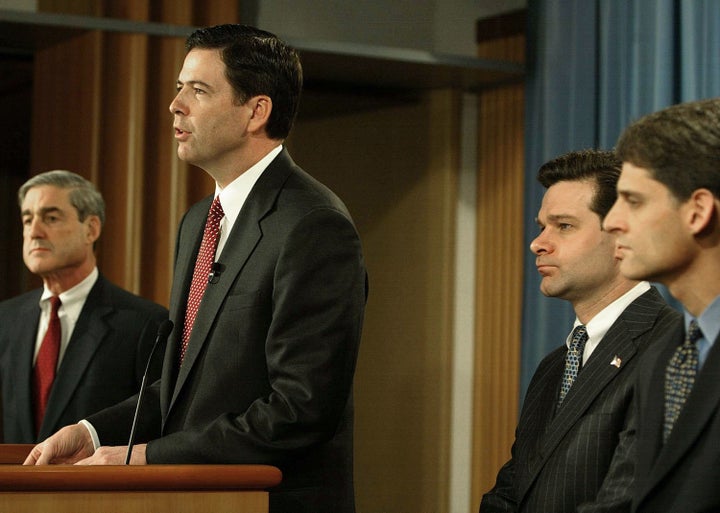 Former FBI Director Robert Mueller took over the bureau's investigation of the Trump campaign's ties to Russia after Comey was fired. Comey is set to testify in front of the Senate on Thursday and is expected to be probed about the White House's handling of the investigation.
Wray was reportedly among the Justice Department officials who threatened to resign after Alberto Gonzales and Andrew Card, then working at the White House, tried to force a bedridden Attorney General John Ashcroft to sign off on a warrantless domestic surveillance effort in 2004. Comey was serving as acting attorney general at the time, and refused to sign off on the program over concerns about its legality. Comey's story of his confrontation with the White House officials at Ashcroft's hospital bedside was some of the most compelling congressional testimony in modern history. Or it was, at least ― that could change when Comey testifies this week.
This article has been updated with comments from Trump and Wray.
Before You Go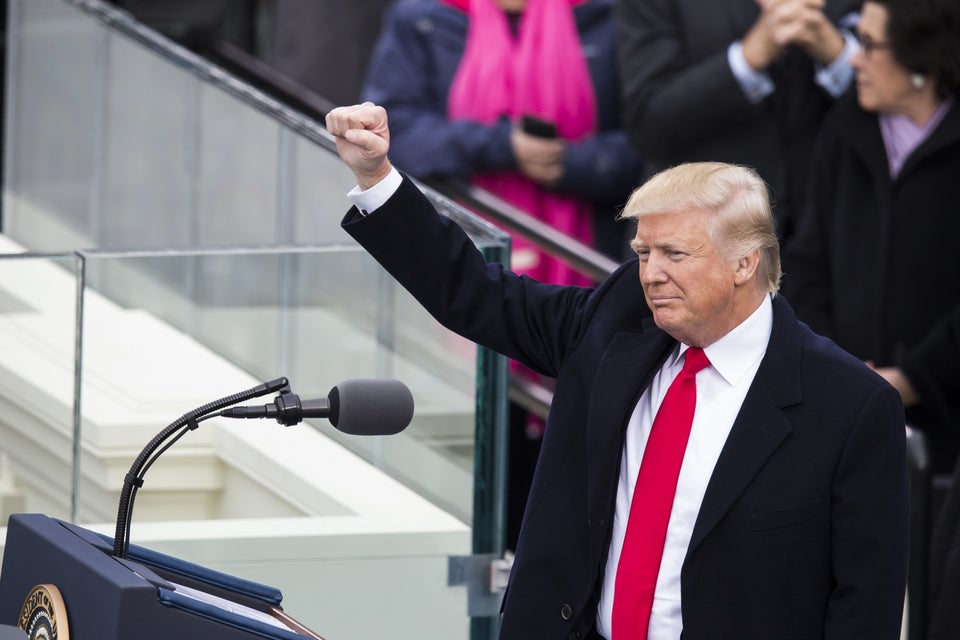 Best Photos From Trump's First 100 Days
Popular in the Community