WASHINGTON ― President Donald Trump's first lower court appointment, Amul Thapar, got his Senate hearing on Wednesday and was asked what he thinks about Trump routinely condemning federal judges who rule against him.
"What I will say about me and my colleagues is, we don't pay ― it doesn't matter to us," Thapar told the Senate Judiciary Committee.
Perhaps it shouldn't be surprising that Thapar, Trump's pick for a seat on the U.S. Court of Appeals for the 6th Circuit, would be so dismissive of the president's attacks on courts. He is counting on Trump, after all, to help him get confirmed. But considering he is currently a U.S. district judge in Kentucky, his decision not to defend the integrity of his livelihood was, at best, awkward.
Pressed by Sen. Richard Blumenthal (D-Conn.) on whether it matters to him that federal courts have credibility in the eyes of the public, and told it weakens people's faith in democracy when the president degrades an entire branch of government, Thapar pivoted.
"When the founders gave us lifetime tenure, senator, they did so to protect us from those types of attacks," he said. "What we have is neither the purse nor the sword, but our reasoning. Our reasoning protects us, in a way."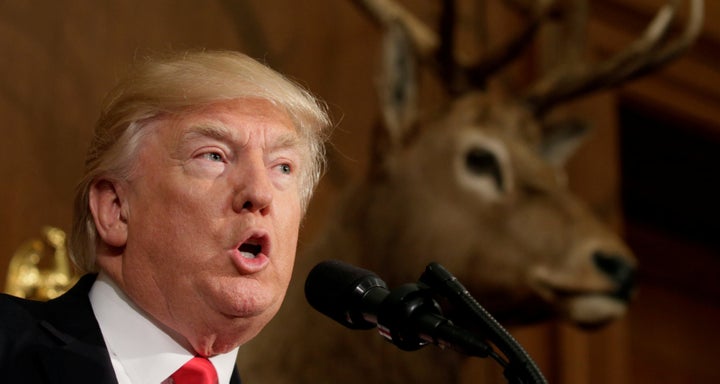 "This case is yet one more example of egregious overreach by a single, unelected district judge," White House press secretary Sean Spicer said in a Tuesday statement.
It's part of a disturbing pattern of Trump personally attacking judges who don't rule in his favor. In February, he lashed out at U.S. District Judge James Robart for halting his executive order banning travel from seven majority-Muslim countries. Trump referred to Robart as "this so-called judge" and said to blame him if terrorists flooded into the country.
That came after Trump drew widespread condemnation in June 2016 for criticizing U.S. District Judge Gonzalo Curiel, claiming this judge couldn't fairly rule on lawsuits against Trump University because of Curiel's "Mexican heritage." (Curiel is from Indiana; his parents are Mexican immigrants.)
Some others in his administration have started doing it, too. Last week, U.S. Attorney General Jeff Sessions managed to insult the entire state of Hawaii by denouncing a federal judge there who blocked Trump's revised travel ban in March. "I really am amazed that a judge sitting on an island in the Pacific can issue an order that stops the president of the United States from what appears to be clearly his statutory and constitutional power," he said.
Carl Tobias, a University of Richmond law professor and expert on federal judicial nominations, told HuffPost it matters to plenty of judges that the president would try to discredit the federal court system.
"The larger issue is undermining public confidence in an independent judiciary and separation of powers," Tobias said.
REAL LIFE. REAL NEWS. REAL VOICES.
Help us tell more of the stories that matter from voices that too often remain unheard.
BEFORE YOU GO
PHOTO GALLERY
Supreme Court Justices Get Out Of The Office