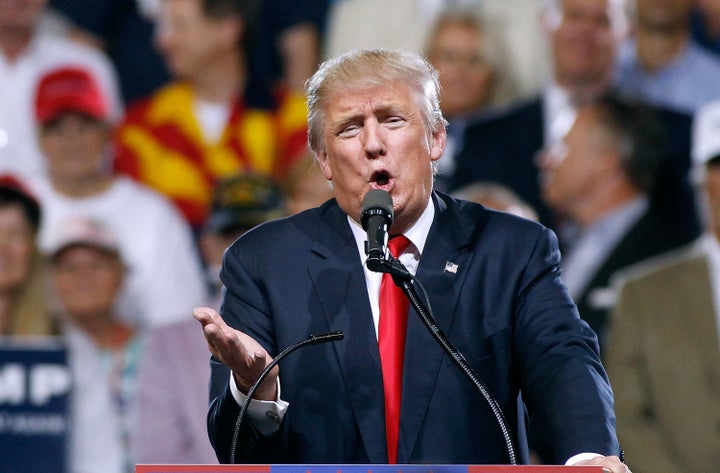 On Monday, Donald Trump finally did what he should have done a long time ago: He fired his campaign manager Corey Lewandowski.
Lewandowski had been with the Trump campaign since its start, and faced a number of controversies because of his temper. Most politicians would fire a top aide for far less. But until now, Trump had stood by Lewandowski through it all.
In March, Politico reported that Lewandowski made sexually suggestive comments toward female reporters covering Trump and, according to many sources, veiled threats against Fox News anchor Megyn Kelly in a conference call with Fox News executives in January. In March, Lewandowski pushed CNN reporter Noah Gray for asking Trump a question. A few months prior, Lewandowski got in Gray's face after he tried filming protesters at Trump's rally.
Lewandowski's attacks on journalists and women was something I experienced firsthand. In March, when I was working as a reporter for Breitbart News, Lewandowski manhandled me.
Trump had finished giving his speech at Trump National Golf Club in Jupiter and was walking around the venue space, signing books and fielding questions from reporters, when I asked him about his position on affirmative action. Before I could finish my question, Lewandowski grabbed me from behind and pulled me away hard enough to leave bruises on my arm.
Instead of apologizing, Lewandowski took to Twitter to deny the entire episode, despite the fact that there was overwhelming evidence, including a Washington Post reporter who witnessed the incident.
"You are totally delusional," Lewandowski tweeted. "I never touched you. As a matter of fact. I have never even met you."
The incident would spark a political firestorm. After Lewandowski and Trump lied about the incident and defamed me on national television, I filed a criminal complaint against Lewandowski with the Jupiter Police, who found probable cause to charge him with simple battery. Although Palm Beach County prosecutors decided not to prosecute the case, the investigation unearthed security video backing up my story.
Lewandowski's tendency to physically manhandle people at Trump rallies didn't stop with me. Within a few weeks of my incident, Lewandowski was caught grabbing a protester by the shirt collar. Grabbing reporters and protesters is not a normal responsibility for a presidential campaign manager.
Lewandowski also clashed with his coworkers, especially with Trump's senior advisor (and now campaign chairman) Paul Manafort. Manafort, a seasoned political operative, was brought on in March to make the campaign run more professionally ahead of the general election. According to reports, Lewandowski and Manafort engaged in a power struggle from the moment Manafort was hired, undermining each other at every turn.
That Lewandowski survived a series of moments that would have spelled doom for any other aide on any other campaign was remarkable. But so, too, was the fact that he was atop the campaign of a presumptive nominee in the first place.
Lewandowski was a little-known political operative before Trump plucked him out of obscurity to "run" his campaign. But his bad temper and combativeness were well known among those who worked alongside him for years.
Before his job on the campaign, Lewandowski worked for the Koch brothers organization Americans for Prosperity. During his time there, Lewandowski reportedly threatened to blow up his boss' car and called a female coworker a "c**t" in front of coworkers.
It was at an Americans for Prosperity event in New Hampshire that Lewandowski crossed paths with Trump. Trump was impressed with Lewandowski, despite him never having run a national campaign, and ultimately hired him.
What Trump seemed to like most about Lewandowski is that he didn't really try to control Trump or change his persona. The campaign strategy Lewandowski set was described as, "Let Trump be Trump."
On Monday, Trump fired him. And in the days ahead, we will learn in greater detail what exactly was the final straw. One initial report suggests Lewandowski was fired to allay the concerns campaign allies and donors had over his competence and behavior. NBC reports Trump's daughter Ivanka has been pushing for Lewandowski's firing for some time for a number of reasons, including his attack on me.
After it was all done, Lewandowski continued to play good soldier, going on cable news to praise the man who had just axed his job. Perhaps he was gunning for a triumphant return to Trump's campaign sometime down the road. Perhaps he was just paying Trump back for standing by his side through the prior controversies.
"Folks, look, I'm a loyal person," Trump had said after those violent incidents. "It's so important ... and it's one of the traits that I most respect in people. You don't see it enough, you don't see it enough."
Whatever the reason, Lewandowski learned a lesson on Monday that he probably knew already: Trump embellishes many things about himself -- including the extent of his loyalty.