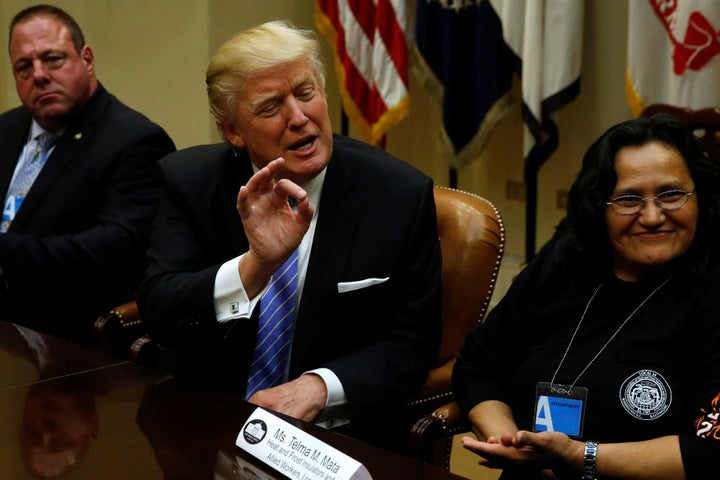 Sean McGarvey joined other labor union leaders Monday in a visit with President Donald Trump at his new digs in the White House. As head of North America's Building Trades Unions, McGarvey wasn't accustomed to such meetings, least of all during a president's first full weekday in office. Neither he nor his predecessor had ever received such an invitation from President Barack Obama.
"Never in eight years," said Tom Owens, a spokesman for the NABTU, a powerful contingent of the AFL-CIO.
Trump's overture went over exceedingly well. Indeed, judging from the unions' reports, one would think they had met with Hillary Clinton, the Democratic candidate whom labor had overwhelmingly endorsed during the general election, not the guy they spent much of 2016 attacking. Terry O'Sullivan, general president of the Laborers' International Union of North America (LiUNA), said afterward that the meeting showed Trump's "remarkable courtesy and his commitment to creating hundreds of thousands of working-class jobs."
Trump is not the president organized labor wanted. But now that he's in office, filling out his Cabinet and signing executive orders, individual unions and their leaders have been forced to decide whether to play ball or join the burgeoning resistance.
Trump's very first actions inside the White House ― including ordering the completion of the Keystone XL and Dakota Access pipelines, which will bring work to the building trades ― were a perfect example of how he has courted some unions while alienating others. Leaders and activists are growing increasingly concerned that the new president could form allies within union ranks even as he sets back the wider cause for years.
It's a playbook that Larry Cohen, the former longtime president of the Communications Workers of America, says he's seen before. New Jersey Gov. Chris Christie and Wisconsin Gov. Scott Walker, both Republicans, pitted unions against each other as they sought to roll back collective bargaining.
"If people abandon mutual aid, look out," said Cohen. "The lesson is clear: A party and a president that opposes collective bargaining rights will come for you. Either you stand together and build a resistance ... or you're likely to lose out one day yourself."
On Monday alone, Trump demonstrated how he can play both ways. He signed an executive order withdrawing the U.S. from the Trans-Pacific Partnership, the mammoth trade deal championed by Obama and bitterly opposed by unions. Though Trump's order was largely symbolic ― the deal has been effectively dead for months now ― it was a reminder that the new president shares quite a bit of common ground with organized labor when it comes to trade deals and their effect on American manufacturing workers.
On that same day, Trump announced a federal hiring freeze that would forbid agencies from filling many of their vacancies and thin the ranks of the government workforce. The move was denounced by unions representing not just federal workers but also public-sector workers at large, who could be hurt by any austerity measures pursued by the Trump administration.
In back-to-back tweets, Richard Trumka, president of the AFL-CIO labor federation, which includes 55 unions, praised the withdrawal from TPP, calling it a "good first step forward," while condemning the hiring freeze, deeming it a "veiled attack on those who make our government work." Trumka said he was having to "call balls and strikes" on the new president:
Trumka, whose federation backed Clinton, spent the presidential campaign roasting Trump as a liar and a bigot who cheats his workers. After the election, however, Trumka had his own meeting with the president-elect at Manhattan's Trump Tower, saying later that the two had "a very honest and productive conversation," without going into details.
A lot of people wrongly think of organized labor as a monolithic body. Unions within the AFL-CIO don't always agree with one another on major issues, and a leader like Trumka has to answer to different factions. The building trades, for one, stand apart from many other member unions, having supported the Keystone XL and Dakota Access pipelines. Put simply, they want their members to have jobs. Several other, more progressive unions under the same tent opposed those projects on environmental grounds.
If Trump can put together a solid infrastructure bill ― and if he doesn't go along with the many Republicans who want to gut prevailing wage laws ― he could turn out to be a decent deal for the building trades unions and their members. That, in turn, could further splinter the wider labor community if other unions feel under attack. Andy Stern, the former head of the Service Employees International Union, said such a split could hamper the Democratic Party's appeal among working-class voters.
"I think it is trouble ― it always has been ― to hold together a federation," said Stern. "My sense is there is not much you can do other than to keep talking to everybody. It's like Reince Priebus in the primaries…. He was trying to keep a level of civility and conversation without any belief he would get Donald Trump or Ted Cruz as his nominee. Trumka is now in that position. The question becomes, how does he try to keep it together and not split?"
Stern sees Trump as uniquely positioned to court some unions, not least because he spent decades dealing with them in his real estate business. Not so long ago, Stern noted, there was a class of New England Republicans who directly appealed to organized labor with their focus on working-class issues. Trump has echoed that message and done so successfully by winning more union households in key swing states than Republican candidates typically do. The fear among Democrats is that he can amplify that appeal with the powers of the presidency.
"There are many things [Trump] is an idiot on," said Eddie Vale, an official at the firm New Partners, who previously worked for the AFL-CIO. "But he's not bumbling through this accidentally. He is intentionally trying to pit unions and progressives against each other."
Most unions expect Trump to be disastrous for them, particularly those representing public-sector and service workers. Between Trump and a Republican-controlled Congress, they are braced for endless fights and political setbacks over the coming years, not open doors at 1600 Pennsylvania Ave.
Trump has already nominated a fast-food executive to be the nation's labor secretary. He will probably roll back Obama's executive orders that were supported by unions and appoint members to the National Labor Relations Board who will make it much harder for unions to organize workers. Trump has said he supports right-to-work measures, and a federal right-to-work law could be disastrous for the labor movement.
Amid this all, Trump still delivered for the building trades on the pipeline front. And LiUNA ― which says the building of Keystone will mean 4,000 jobs for its members, albeit temporary ones ― issued a statement that, at least indirectly, rebuked Obama in its praise of the White House's new occupant.
"It is finally beginning to feel like a new day for America's working class," it read.
How will Trump's first 100 days impact you? Sign up for our weekly newsletter and get breaking updates on Trump's presidency by messaging us here.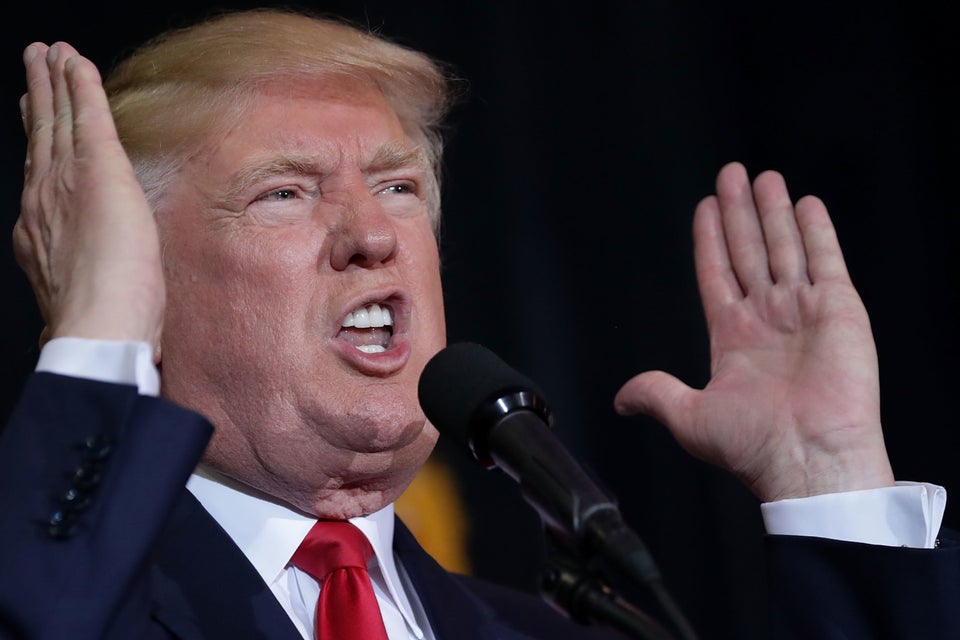 Trump strange moments
Popular in the Community