WASHINGTON ― Dr. Mona Hanna-Attisha was doing a live TV interview from the U.S. Capitol last month when she noticed that Scott Pruitt, the new administrator of the Environmental Protection Agency, was doing a TV hit right next to her.
Rep. Dan Kildee (D-Mich.) had invited Hanna-Attisha, a pediatrician who helped expose the water crisis in Flint, Michigan, to the Capitol to hear President Donald Trump address a joint session of Congress. Pruitt's EPA is the main federal agency working to mitigate the crisis in Flint, so Hanna-Attisha waited for his interview to wrap up and then introduced herself.
"He spoke quite a bit about infrastructure, saying that money would also go to pipes," Hanna-Attisha recalled in an email. "I said that [replacing America's lead pipes] will take decades, and until then we need to tighten regulations. He went back to infrastructure."
Trump's administration is much more interested in investing in new infrastructure than in regulations. While decaying pipes are what poisoned Flint's water, it was a failure to follow federal regulations that accelerated the corrosion of the pipes. So Hanna-Attisha wasn't thrilled to hear Pruitt's emphasis on infrastructure.
"We will only see more Flints to come with the Trump administration," she said, noting also the administration's general aversion to scientific consensus and proposed cuts to anti-poverty programs. As a pediatrician, Hanna-Attisha has been working with Flint families, many of them poor, to mitigate the effects of lead poisoning caused by the government.
The Trump administration's budget proposal would slash overall EPA funding by a third and would cut the budget for the agency's enforcement division by a fifth. Echoing comments that Pruitt has made over the years, the budget proposal said the EPA should focus its enforcement work on federal laws for which states aren't primary enforcers. One regulation for which states have primary responsibility is the federal Lead and Copper Rule ― the regulation that Michigan's Department of Environmental Quality admitted it failed to enforce in Flint, leading to the water crisis.
Flint changed its water source in 2014 and the Michigan government failed to make sure the city treated the water to prevent it from dissolving excessive amounts of lead from the city's pipes ― a key requirement of the Lead and Copper Rule. The EPA became aware of the problem in 2015, through the work of one of its own investigators, but hesitated to intervene out of deference to the state.
The Michigan government and the EPA assured the public everything was OK ― until Hanna-Attisha, a pediatrician at the Hurley Medical Center in Flint, used the hospital's blood data to prove in the fall of 2015 that Flint children had experienced a spike in lead levels.
Michigan finally told Flint residents to stop drinking the water in response to Hanna-Attisha's expose, and the EPA followed through on its enforcement division's earlier recommendation to issue an emergency order that gave the agency more control of the situation. The agency's inspector general later said it should have intervened sooner.
"We will only see more Flints to come with the Trump administration."
David Goldston, director of government affairs at the Natural Resources Defense Council, said Trump's proposed budget would hamper the EPA's ability to make sure water utilities keep drinking water as lead-free as possible. "It's hard to see how that wouldn't affect the Lead and Copper Rule ― both enforcement of the existing one and the promulgation of a long-overdue updated one that EPA is working on," Goldston said.
The EPA has been working on an update to the Lead and Copper Rule for years, as critics of the regulation have long said its weaknesses can contribute to situations like the one in Flint. Trump may have created a new obstacle to updating the rule, however, by signing an executive order that requires agencies to strike two regulations for every new one they create. Goldston said the order "could make it much more difficult to move forward with an updated rule because of the size of the compliance costs that would have to be offset."
Trump's budget proposal is "all but guaranteeing more American children will be drinking water contaminated with lead and other dangerous pollutants," Ken Cook, co-founder of the Environmental Working Group, said in a statement.
Flint is just one of dozens of American cities that use lead pipes for drinking water. Most estimates suggest it would cost tens of billions of dollars to dig up and replace the old pipes, which is basically why the Lead and Copper Rule exists ― it's cheaper to add chemicals to drinking water that cause it to form a protective coating on the interior of the pipes. The rule dictates how water system utilities carry out the treatment and monitor its effectiveness.
Of course, Trump's budget proposal won't necessarily become law. While the administration lays out its priorities, Congress actually appropriates funding. Lawmakers have been skeptical of much of the budget.
Republicans have strayed from their general dislike of regulators to bash the EPA for not being more aggressive in Flint. Pruitt, a former Oklahoma attorney general who has repeatedly sued the EPA for enforcing its regulations, said during his confirmation hearing that he believed the agency should have acted faster.
Trump promised during the campaign that he would fix Flint's problems "quickly and effectively." Hanna-Attisha and her congressman, Rep. Kildee, said they were disappointed Trump didn't mention Flint in his address to Congress at the end of February.
"One way to fix Flint is to make sure there's not another Flint," Kildee said in an interview. "If they have to concentrate all of their enforcement on those enforcement matters that are not delegated to states, how are they going to make sure this doesn't happen again to Flint or somewhere else?"
Kildee, who represents Flint in Congress, said he used to have weekly and sometimes daily contact with administration officials on the federal response to the water crisis. Since Trump took office, he said, he hasn't heard a thing.
Flint residents are still using bottled water, as samples from the city's taps only recently showed that lead had declined to levels that are generally tolerated in other cities (no amount of lead is actually safe). Last year, Congress provided $100 million in additional funds that the city could use to replace its lead pipes. The EPA announced last week that Michigan would be getting the funds; Flint is one of only a handful of cities where lead pipes are currently being replaced en masse.
Flint Mayor Karen Weaver met with Trump for about two minutes when he visited Michigan last week. She said she was grateful for the meeting and thanked the president for not delaying the infrastructure funds Congress had allocated. She said she hoped she would be able to have a more substantive meeting with the president sometime soon.
"It was more like an introduction meeting," Weaver told reporters afterward. "So, we're in contact and we're trying to get another meeting set up. We'll find out how serious he is then."
Before You Go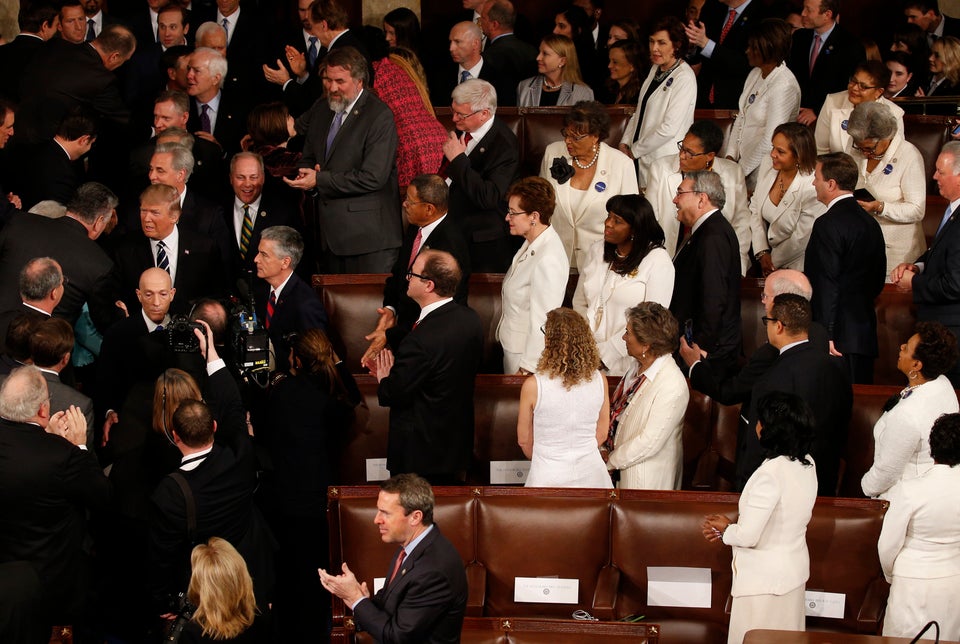 Trump's First Speech To Congress
Popular in the Community