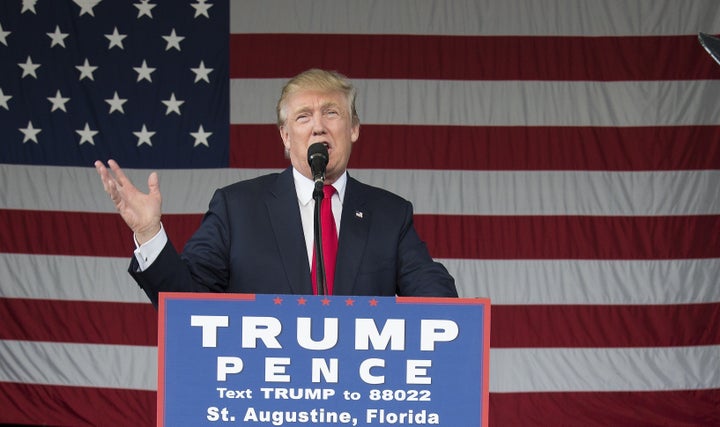 A journalist in Florida says her Monday interview with GOP presidential nominee Donald Trump fell through after she refused to provide his campaign with questions in advance. 
Jenna Bourne, a reporter at CBS47/Fox30 in Jacksonville, told The Huffington Post the Trump campaign contacted her station last week to set up an interview for the candidate when he came to town for a rally. 
She said David Chiokadze, who serves as Florida deputy communications director for Trump, spoke to her about logistics for the interview and later asked for a list of questions, a request that goes against standard journalistic protocol. Bourne told Chiokadze she'd have to check with management about what information she could provide in advance.
On Monday, she sent Chiokadze an email that listed general interview topics like Sen. Marco Rubio (R-Fla.), Hispanic Florida voters, diplomacy in the White House and refugees.
Bourne didn't get a response to this email, but assumed the interview was still on. When she arrived at the rally venue in St. Augustine, however, a Trump staffer told her she did not have an interview. When she called Chiokadze, she said, he told her that no interview was ever confirmed. 
The journalist acknowledged she'd lost the interview on Monday evening's newscast and shared her email to Chiokadze on Twitter.
"I know this tweet has gone viral, but I would have rather just had the interview," she told HuffPost on Tuesday. "I'd rather get my questions answered for viewers."
Bourne said she still hasn't received an explanation from the campaign. 
Neither Chiokadze nor Trump press secretary Hope Hicks responded to a request for comment from HuffPost.
Bourne's experience with the Trump campaign comes just days after the candidate walked out of two interviews with local Ohio television reporters.
In one instance, Colleen Marshall of Columbus' WCMH-TV asked Trump about being labeled racist and sexist, which prompted him to leave. "I am the least racist person you've ever met," he said as he exited. 
It's troubling that the Trump campaign may have required a journalist to provide questions in advance to receive access to the candidate. But so far, Bourne's experience appears to be an isolated incident. Some Florida reporters who spoke to Trump say they weren't bound by such onerous restrictions. 
Mal Redington, assistant news director for WJXT in Jacksonville, told HuffPost that the campaign wanted to know generally what Kent Justice, a reporter and anchor for the station, planned to ask Trump.
Justice only provided topic areas and not specific questions, Redington said, but he was granted an interview with Trump before the rally in St. Augustine.
The Palm Beach Post's George Bennett, who interviewed Trump earlier on Monday, did not immediately provide comment on his dealings with the campaign.
One day earlier, Jim DeFede of CBS's Miami affiliate, WFOR, interviewed Trump at the candidate's resort in Doral, Florida. DeFede told HuffPost he did not provide questions in advance. 
Still, that interview included a distressing moment for journalists. 
REAL LIFE. REAL NEWS. REAL VOICES.
Help us tell more of the stories that matter from voices that too often remain unheard.
BEFORE YOU GO