Pro-immigration protesters and Donald Trump supporters clashed at a rally in Miami on Friday, leading to one protester being forcefully dragged out by his collar to chants of "USA! USA!"
At least three separate protest groups showed up to the Republican presidential candidate's rally at his Trump National Doral Miami resort, with some bearing signs reading "Dignity" and "Equality."
Ariel Rojas, one of eight student protesters from Florida International University, was seen on video being forcefully dragged to the ground by his collar and then kicked as rally-goers cheered.
The Trump campaign did not immediately respond to calls or emails about the scene, but NBC Miami reported that the campaign said the man who dragged the protester was neither a Trump campaign staffer nor an employee of the resort, but "merely an attendee" at the rally.
Trump acknowledged the protesters several times during his hour-long speech. At one point, he encouraged people to remove the protesters and noted, "You can get 'em out, but don't hurt 'em."
"See the first group, I was nice: 'Oh, take your time,'" Trump said from the lectern. "The second group, I was pretty nice. The third group, I'll be pretty more violent. And the fourth group, I'll say, 'Get the hell out of here!'"
Trump's Friday appearance marked his first official campaign rally in Florida. Trump was warmly greeted by supporters and delivered a familiar speech that included shots at his party rivals, Jeb Bush and Ben Carson, and promises to build a wall on the U.S.-Mexico border.
A litany of extreme statements about immigration -- which particularly target Latino immigrants -- have drawn the ire of several social justice groups like those that demonstrated at Friday's rally.
Now that protesters are as expected as Trump's anti-immigration remarks, the candidate predicted how the event would be reported in the coming days.
'There's a total of maybe three over there and five over there and they'll be the story tomorrow, not the thousands of people that love our country," Trump said. "It's a shame."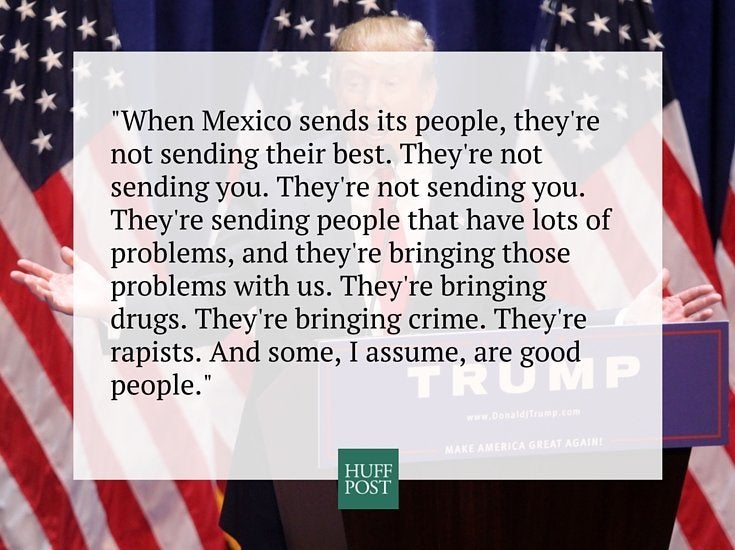 9 Outrageous Things Donald Trump Has Said About Latinos
Popular in the Community