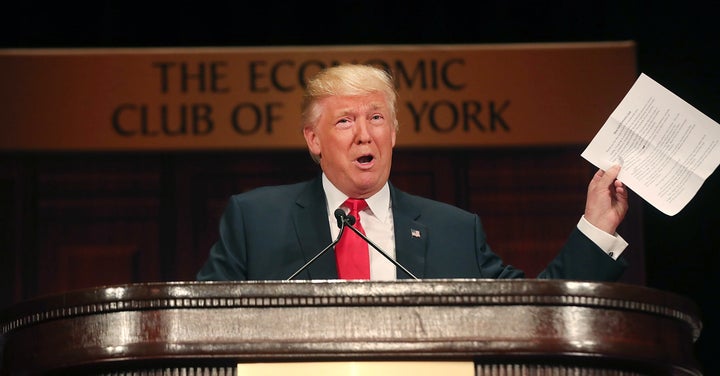 The Ford Motor Company's announcement this week that it would shift some auto manufacturing from the U.S. to Mexico has played perfectly into Donald Trump's argument that many trade deals hurt American workers.
"It's disgraceful," Trump said Thursday. "It's disgraceful our politicians let them get away with it. It really is. It used to be cars were made in Flint and you couldn't drink the water in Mexico. Now, cars are made in Mexico and you can't drink the water in Flint."
Decades ago, Flint, Michigan, boasted a plethora of car manufacturing jobs, but the withering of U.S. auto production has contributed to the city's 41 percent poverty rate and currently undrinkable water. Flint's water has been contaminated with toxic lead since the state tried to save money by switching the broke city's water source in 2014.
"They'll make their cars, they'll employ thousands and thousands of people not from this country," Trump said Wednesday during a trip to Flint, "and they'll sell their cars right through a very weak border, no tax, no nothing, and we'll have nothing but more unemployment in Flint and in Michigan."
Ford first announced it would build a small-car assembly plant in Mexico in April, prompting criticism from Trump, who said that he would impose a tariff on the automaker's imports.
"These ridiculous, job-crushing transactions will not happen when I am president," Trump said at the time.
Ford CEO Mark Fields said in a statement that the company's Mexico investment will not cost U.S. jobs.
"It is really unfortunate the politics get in the way of the facts," Fields said, adding that the company has created 28,000 jobs in the U.S. in the last five years. "Our investment here in the U.S. has never been stronger."
Last year, in its most recent round of labor negotiations, the autoworkers union said Ford had committed to enough U.S. investment to cover as many as 8,500 new or saved American jobs. Still, union chief Dennis Williams criticized the company's Mexico investment in essentially the same way Trump did.
"For every investment in Mexico it means jobs that could have and should have been available right here in the USA," Williams said in an April statement. "This is another example of what's wrong with NAFTA and why the TPP would be a disaster for the citizens of the United States. Companies continue to run to low-wage countries and import back into the United States. This is a broken system that needs to be fixed."
Trump habitually bashes the North American Free Trade Agreement and the unfinished Trans-Pacific Partnership, and he has pointed out ― accurately! ― that Democratic nominee Hillary Clinton has spoken in favor of those deals, although she now says she's against the TPP.
"Over the next two to three years, we will have migrated all of our small-car production to Mexico and out of the United States," the CEO said.
Ford isn't alone in moving more manufacturing to Mexico. In April, Fiat Chrysler announced plans to shift production of a Jeep SUV to Toluca, Mexico, from a plant in Belvidere, Illinois. In May, General Motors said it would build some of its light-duty pickup trucks in Silao, Mexico, rather than at its Flint assembly plant. Last year, Volkswagen vowed to expand its assembly plant in Mexico's Puebla state, where it plans to produce its new Tiguan compact crossover SUV. A handful of other automakers are opening or expanding operations in Mexico, too.
HuffPost readers: Did your job get shipped to another country? Tell us about it ― email arthur@huffingtonpost.com. Please include your phone number if you're willing to be interviewed.
Ford, for its part, is at a crossroads. The company is scrambling to compete against new rivals from Silicon Valley, as Uber, Tesla and Google roll out self-driving technology that could reshape the auto industry. Last month, Ford announced plans to launch a fleet of autonomous vehicles by 2021 that could be summoned through an app. The iconic American car company is also now dabbling in bike-sharing and bus shuttle services.
Ironically, Ford also opposes the TPP. In July, Fields said the company feared the trade deal would give an unfair advantage to Japanese automakers, who rank among Ford's biggest competitors. Toyota is the second-largest automaker in the world, behind scandal-struck Volkswagen. Fields said Japan's long history of currency manipulation could give its companies a leg up.
"We're against TPP not because we're against free trade," Fields told Bloomberg TV. "We've been free traders forever. But when you look at some of the countries, like Japan, who want to be in there, they have done that in the past. We just want to make sure we're competing on a level playing field."
Part of that competitive strategy, it seems, involves following the rest of the U.S. auto industry across the southern border.
This story has been updated with comment from Ford CEO Mark Fields.
Popular in the Community