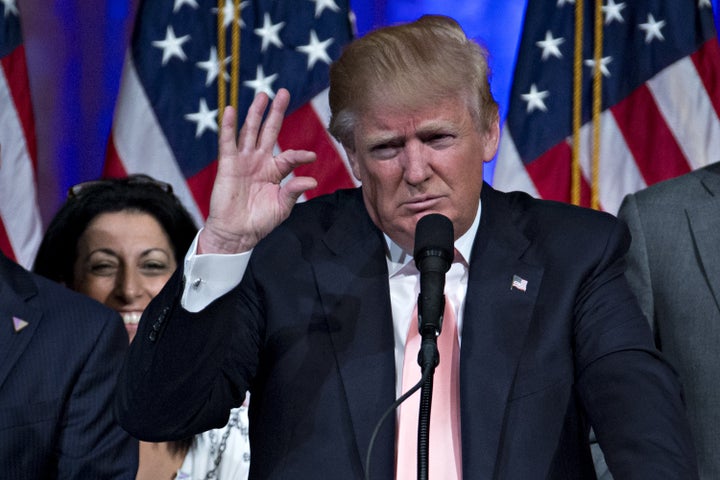 WASHINGTON -- Donald Trump, already a real estate legend, reality TV star and front-runner for the 2016 Republican presidential nomination, suggested on Wednesday that he wants to grant himself another title: foreign policy whiz.
The GOP hopeful told MSNBC "Morning Joe" host Mika Brzezinski that he considers himself his own top adviser on foreign affairs.
"I'm speaking with myself, number one, because I have a very good brain," Trump said in a call to the show, inviting viewers to picture two poorly coiffed Trumps in deep conversation. "I've said a lot of things ... I speak to a lot of people, but my primary consultant is myself, and I have a good instinct for this stuff."
Brzezinski had asked Trump whom he consulted with regularly on foreign policy. The "Morning Joe" host is the daughter of noted international relations expert Zbigniew Brzezinski, who advised Presidents Lyndon B. Johnson and Jimmy Carter.
The Republican front-runner has been cagey about naming any advisers, and said last year that he learned much of what he knows about the world from television.
"At the appropriate time, I'll tell you who the people are," Trump assured Brzezinski.
With Rubio out of the running, those heavyweights aren't guaranteed to turn to Trump now. Many of them said in a letter earlier this month that they wanted to prevent the self-proclaimed billionaire from securing the party's nomination because his comments on global affairs -- his suggestion that reliable U.S. allies like Japan pay for military protection, hateful statements about the world's Muslims and endorsement of policies like waterboarding and bullying Mexico into paying for a U.S. border wall -- show that he would torpedo U.S. national security.
Trump has suggested he was prescient on a number of foreign policy challenges. On Wednesday morning, he claimed that he foresaw the threat Osama bin Laden posed to the U.S. a year before the Sept. 11 attacks.
Of course, President Bill Clinton had already declared bin Laden "Public Enemy No. 1" in 1998 after he was linked to attacks on U.S. embassies in East Africa.
Even so, evidence of Trump's deception has not undercut his popularity so far, and his continued support for limiting U.S. action abroad -- for instance, by refraining from helping millions of people facing massacres by dictators like Bashar Assad of Syria and Moammar Gadhafi of Libya -- is likely to continue to resonate with war-weary Americans. So too is Trump's talk of pressuring U.S. allies do more to share the burden of global security and of admonishing nations like China and Mexico for what he describes as attempts to weaken the American economy.
Sen. Jeff Sessions (R-Ala.), who's heading Trump's fledgling national security advisory committee, and former Pentagon spokesman Cmdr. J.D. Gordon, who showed an affinity for counseling under-informed businessmen in his previous work for tea party activist Herman Cain, appear to be the next options for Trump if he chooses to seek counsel from anyone but himself.
Before You Go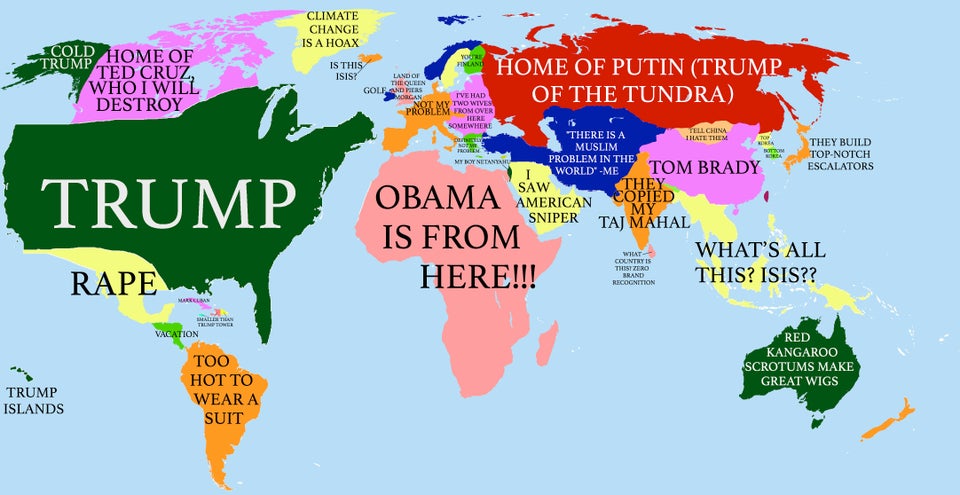 The World As Seen By Donald Trump
Popular in the Community