Republican presidential front-runner Donald Trump markets himself as the rare politician who can't be bought. He says he's the only candidate who's immune to the kind of backdoor access and palm-greasing that infects official Washington.
But the story of his charity, the Donald J. Trump Foundation, illustrates a different side of Trump. Donors give money to the foundation; the billionaire scratches their backs and uses their money to burnish his ego and, more recently, his political reputation.
Initially, the charitable foundation gave mostly to nonpolitical causes. But since 2010, when Trump began considering a run for president as a Republican, his foundation has donated hundreds of thousands of dollars to conservative political groups, including the Citizens United Foundation, the Iowa-based Family Leader Foundation and Liberty Central, the advocacy group led by Virginia Thomas, wife of Supreme Court Justice Clarence Thomas.
The Trump Foundation, which was founded in 1987, received more than $12 million in contributions from 2001 to 2014, the years for which federal tax records are publicly available. Trump provided less than a quarter of that -- and since 2008, he hasn't given the Trump Foundation a dime.
Instead, the foundation's money has come from people and companies that do business with Trump or want something from him. In 2006, People magazine gave the foundation $150,000. Trump gave the magazine exclusive photos of his newborn son, Barron, in April of that year. NBC Universal gave the foundation $10,000 in 2007 and another $500,000 in 2012. Trump's popular reality shows "The Apprentice" and "The Celebrity Apprentice" aired on NBC from 2004 to 2015. And in 2011, Comedy Central gave the foundation $400,000 as an appearance fee for the billionaire's participation in The Comedy Central Roast of Donald Trump.
Most of the Trump Foundation donors made only one contribution between 2001 and 2014 -- and most of them don't want to talk about it. Of the more than two dozen donors who have contributed since 2001, just four responded to questions from The Huffington Post about their donations. But like People, NBC and Comedy Central, most were working with Trump or received something from him around the same time they donated:
In 2005, Norwegian Cruise Lines gave the Trump Foundation $100,000. A spokeswoman said the money was in lieu of paying an appearance fee to Trump's third wife. Melania Trump attended the christening of Norwegian's newest cruise ship in November of that year, and the company was featured prominently on an episode of "The Apprentice."

In 2007, Donald Trump participated in

Wrestlemania 23

, and the WWE gave his foundation $4 million, according to tax records. The WWE contributed another $1 million when Trump reprised his role in 2009. Reached for comment, the WWE said the tax records weren't quite right.

"During this period of time, WWE paid Donald Trump appearance fees separately," a WWE spokeswoman told HuffPost. "Separately, [WWE chief executives] Vince and Linda McMahon made personal donations to Donald Trump's foundation."

The foundation's most loyal donor is Stark Carpets, a company that has

supplied carpeting

for some of Trump's luxury apartment buildings. Stark has donated to the foundation six times in 14 years, more than any other contributor except for Trump himself. A financial executive at Stark declined to explain the gifts.

In 2012, a for-profit called the New York Real Estate Institute gave Trump's foundation $10,000 just as it was launching a seminar taught by a Trump Entrepreneur Initiative teacher, Stephen Gilpin. Trump himself plugs Gilpin in a quote on

the course's webpage

. Two of his children, Ivanka Trump and Donald Trump Jr., also provide the institute with glowing "testimonials" atop

its homepage

. A year after its first donation, the institute's president, Richard Levine, appears to have personally donated another $10,000 to Trump's foundation. Levine did not reply to multiple emails seeking confirmation of the donation details and a comment about the gifts.

In 2013, Trump's foundation received $100,000 from the small family law firm of Donna Clancy, who rents space from Trump in his 40 Wall Street building in Manhattan. Clancy did not return calls seeking comment about the gift.

Cooper-Horowitz, a real estate financing company that helped Trump secure

more than $1.5 billion in loans

for hotel developments, also gave to his foundation. During 2004 and 2005, while Cooper-Horowitz was working for Trump, the company and its employees gave his foundation more than $20,000. When asked about it by HuffPost, a senior manager at Cooper-Horowitz declined to comment.

Maury Povich, best known for hosting an eponymous daytime talk show, also appears on Trump's donor list, with a $5,000 contribution in 2002. Povich could not be reached for comment.

A New York-based ticket broker named Richard Ebers has given more than $1.8 million to Trump's foundation since 2011. When asked by phone what prompted the donations, Ebers, who's been

described as a high-end scalper

, said he had "no comment." Representatives for the Trump Organization also declined to answer any questions about the money from Ebers.
Although many of the donors to the Trump Foundation were companies that stood to profit from a relationship with the billionaire and his other enterprises, the foundation has also collected more than $600,000 from other charities.
One such group, the Celebrity Fight Night Foundation, hosts a splashy annual fundraiser in Phoenix to benefit the Muhammad Ali Parkinson's Center. In 2007, Trump attended the black-tie event and donated a New York-based dinner with himself for a charitable auction, according to Sean Curry, the foundation's executive director. Part of the deal, however, was that the Parkinson's charity would share the auction proceeds with Trump's foundation.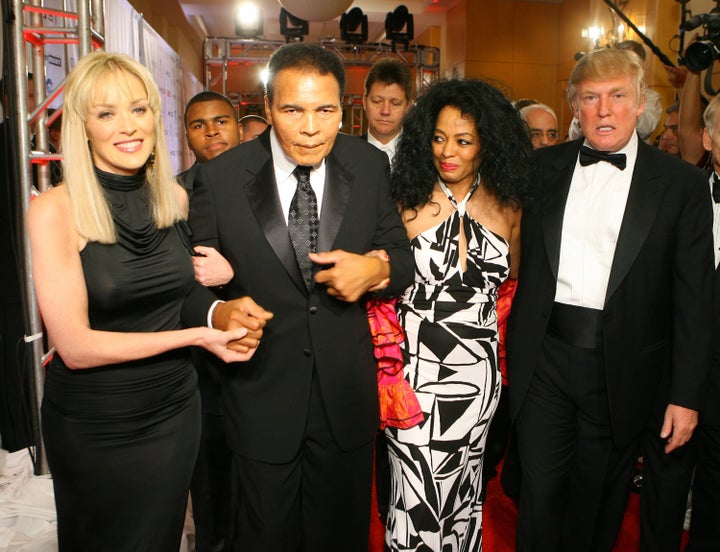 "Mr. Trump donated his time to do a dinner in New York with a winning bidder in our auction," Curry told HuffPost. "We agreed with him prior to the event that we would share some of the proceeds of the winning bid with his foundation."
The Celebrity Fight Night Foundation eventually gave Trump's foundation $150,000.
A spokeswoman for the Willard T.C. Johnson Foundation, which gave Trump $250,000 in 2008, declined to comment about it. Representatives of the David Foster Foundation, which gave $45,000 that same year, and the John F. Scarpa Foundation, which gave $5,000 in 2013, also declined to comment.
Money Well Spent?
Given the broad range of mainstream charities to which the Trump Foundation used to pass along its donors' money, it's hard to imagine that they were particularly concerned with what happened after their money hit the charity's account. For the bulk of its existence, the foundation's money went to to nonprofits that steered well clear of politics -- think Meals on Wheels, Salvation Army and United Way.
But more recently, Trump began using his foundation to support conservative political groups well-positioned to aid his presidential campaign. (This past December, Jeffrey McConney, controller of the Trump Organization, told the New York Post that Trump personally makes all decisions about how the charity spends its money.)
The shift started in 2010, when Trump first began to toy with the idea of a Republican presidential bid. That year, he used his foundation to give $5,000 to Liberty Central, the advocacy group founded by Justice Thomas' wife. The following year, he gave $10,000 to the Palmetto Family Council, a group that opposes divorce, same-sex marriage and abortion in the early-primary state of South Carolina.
As Trump tested the waters, he initially took care to keep the scales balanced, giving $100,000 to the Clinton Foundation in 2009 and another $10,000 the following year. Starting in 2012, however, he began in earnest to use his foundation to grease the wheels of the conservative political machine.
One of his first big gifts was $100,000 to the Billy Graham Evangelistic Association, a grass-roots Christian advocacy group run by Franklin Graham. He also donated $35,000 to Samaritan's Purse, another of Graham's evangelical nonprofits.
In 2013, nearly half a dozen conservative and religious groups were grantees of the Trump Foundation, including Samaritan's Purse, the American Conservative Union, the anti-abortion group Justice for All, the Family Leader Foundation and a Texas-based evangelical ministry.
Trump has also donated at least $40,000 to the Drumthwacket Foundation, a charity that preserves the historic New Jersey governor's mansion and whose other donors have close ties to the state's current governor, Chris Christie -- who happens to be Trump's rival in the GOP presidential primary.
In 2014, the Trump Foundation gave first-time donations to two groups that surprised political insiders. The first was the Moran Eye Center, a hospital in Utah that sponsors medical trips by another one of Trump's political rivals, Sen. Rand Paul (R-Ky.). An ophthalmologist by trade, Paul makes regular trips to Central America to perform eye surgery in poor and rural communities. Trump sponsored one such trip to Guatemala.
Another eyebrow-raising recipient was the Citizens United Foundation, a conservative group best known as the petitioner in the 2010 Supreme Court case that permitted corporations to spend unlimited amounts of money backing political candidates. In 2014, Trump's charity gave that foundation $100,000, even though he has railed for years against super PACs and the influence of big money in politics.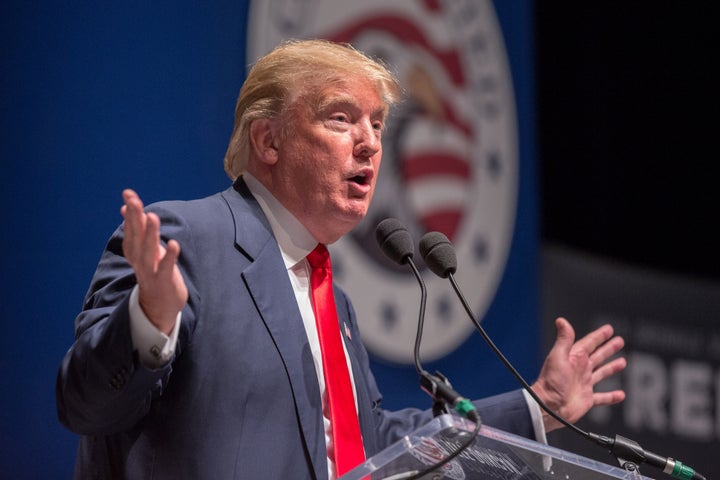 The Huffington Post asked a few of the Trump Foundation's more recent donors if they minded that their money was being spent to support conservative political groups. None responded.
One of the biggest questions in the Trump Foundation's tax filings is whether some of the donations it gave to other groups actually cost the foundation any money. Many of them appear to be non-cash gifts, like golf foursomes at Trump's resorts or lunches with the man himself, which groups then auctioned off to raise money. A spokesperson for the Trump Organization declined to say how many of those donations were non-cash or in-kind, and how many were cash.
Why It Matters
As Trump and overall Democratic front-runner Hillary Clinton are both sprinting toward next Monday's Iowa caucuses, the nonprofit founded by Clinton's husband offers an interesting counterpoint to Trump's.
Like the Trump Foundation, the Clinton Foundation is funded largely by outside donors, many of whom see it as an opportunity to rub elbows with the global elite and potentially ingratiate themselves with one of America's most powerful families. Like Trump, Bill and Hillary Clinton have lucrative personal ties to some of the biggest donors to the foundation.
But unlike Trump's charity, reporters and watchdog groups have been poring over the Clinton Foundation's books for years. And unlike the Trump Foundation, which has relied on fewer than 35 donors in the past decade -- and just two donors last year -- the Clinton Foundation has received contributions from more than 65,000 individual donors. With a staff of more than 350, the Clinton Foundation also holds scores of events and meetings every year, partnering on projects with corporations and other foundations around the world.
By contrast, the Trump Foundation holds no fundraising events, has no dedicated phone number and is registered at the address of an accountant in Woodbury, New York. The board consists of Chairman Donald Trump; his longtime chief financial officer, Allen Weisselberg; and his three eldest children, Ivanka, Donald Jr. and Eric Trump. No outsiders, no employees and no outreach.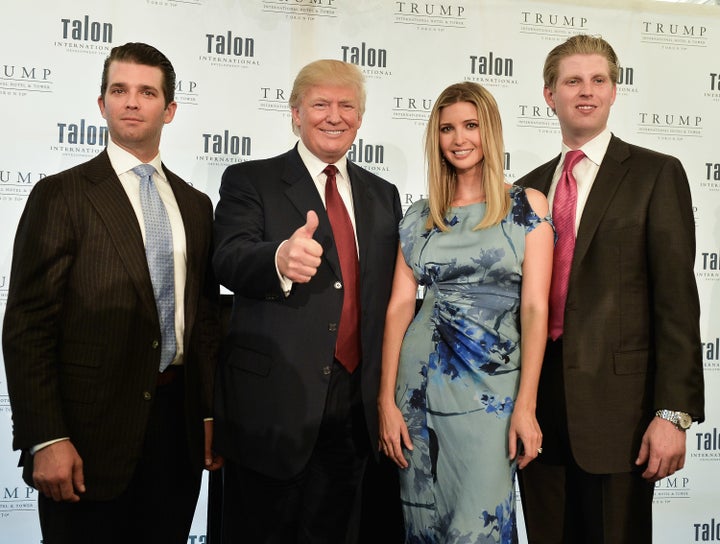 Despite several requests, representatives of the Trump Organization were unwilling or unable to provide HuffPost with federal tax forms for the foundation's first 14 years in operation. Nor were they willing to discuss the emergence of Ebers, the elite ticket broker, as the chief funder of the Trump Foundation in recent years.
On Thursday, Trump launched a fundraising page seeking contributions for the Trump Foundation -- mere hours before he was set to skip that night's GOP presidential debate and hold a rally to "support our veterans." Prior to this, the foundation had no website, no expenses (save for the accountant who files its tax forms) and no portals for making donations.
As a candidate for president of the United States, Donald Trump has an obligation to the voters to be honest and transparent about his financial ties. That means explaining clearly the relationships between his foundation's donors, his business interests and his political ambitions. Anything less leaves the impression that Trump, his foundation and its donors have something to hide.
Support HuffPost
The Stakes Have Never Been Higher
Popular in the Community