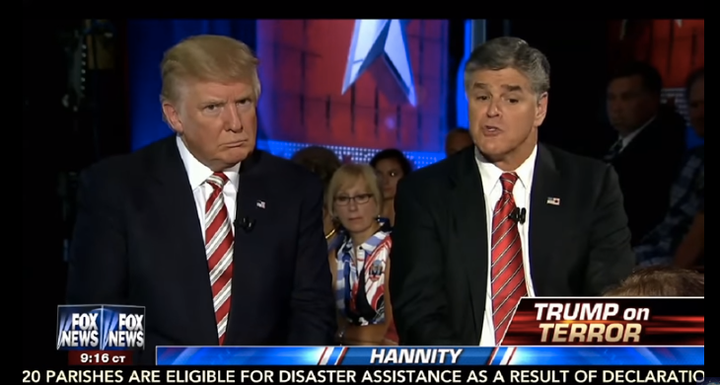 Donald Trump, who never seemed to meet a camera he didn't like, became a constant TV presence throughout the Republican primary, a bonafide celebrity crowding out a field of more conventional senators and governors. He understood the power of the medium, knocking out one TV interview after another before most politicians finished their morning coffee.
As Republican standard-bearer, however, Trump has mostly retreated to the relatively cozy confines of Fox News. And it seems to be in response to having badly damaged his own candidacy during a high-profile sit down on another network.
On July 31, Trump spoke with ABC's George Stephanopoulos for an interview on "This Week," during which he publicly questioned whether the Gold Star mother of a Muslim army officer had been forced into silence because of her religion. Since that attack on the Khan family, Trump hasn't appeared on the network. Nor has he appeared on any others except Fox News and Fox Business (save for a phone interview with CNBC on Aug. 11).
Indeed, the last appearance Trump made on CNN was June 13, according to an official with the cable network. The last time he was on NBC News was July 24, three days after officially becoming the party's nominee. He hasn't appeared on MSNBC since a May 20 episode of "Morning Joe," a show he's since repeatedly railed against. And he hasn't been on CBS since July 17, as part of the rollout for vice presidential pick Mike Pence.
Since he sat down with Stephanopoulos, however, Trump has appeared at least 11 times on Fox News. That includes three interviews with Sean Hannity, his top TV booster who has also recently amplified conspiracy theories about Democratic rival Hillary Clinton's health. Hannity, who admits to privately advising Trump, told The New York Times Sunday that he "never claimed to be a journalist."
Among those 11 interviews was a sit down on Aug. 12 with former Arkansas Gov. Mike Huckabee, who was filling in for Hannity and who mentioned at the beginning of the interview that he was "not pretending or even playing the role of a journalist."
"Well, that's good," Trump responded. "I like that."
Once on Fox News, Trump seems to get easy set-ups about his fitness for office. Take Huckabee, for example, who told the Republican nominee that his "stamina is pretty amazing."
"You're doing events starting early in the morning. Wednesday night, we didn't finish dinner until well after midnight. And I've watched you through this process. Where do you get that stamina to do this?" the former Arkansas governor asked.
Days later, Fox News host Judge Jeanine Pirro ― apparently unsatisfied with Trump's first two replies ― began an interview in similar fashion.
"You have had a banner week," she told the candidate. "I don't know how you do it. But you have given at least four or five major speeches, you have been to Louisiana, you just gave a speech this afternoon."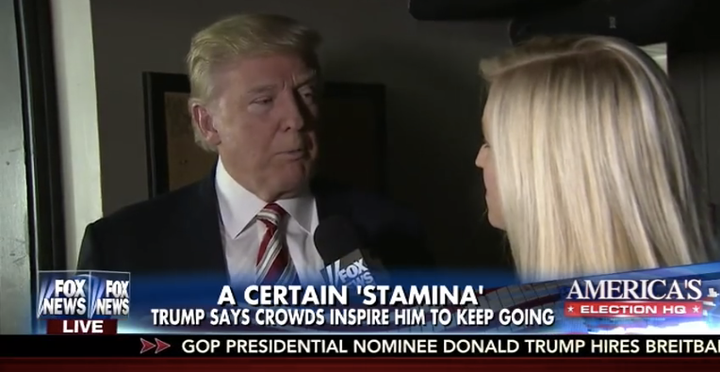 Trump didn't offer up any meaningful tips as to how he has so much stamina to keep up a busy campaign schedule, though perhaps cutting down on cable news appearances is one of them.
Either way, his retreat to Fox News is a remarkable change in strategic focus, having earlier pledged to win the election based on his skill at generating free media coverage. Trump, of course, has long been a fixture on the conservative-leaning network, having spent three hours and 20 minutes there in June, according to progressive watchdog Media Matters, which was more than he appeared on the other major networks combined.
But it appears that he's now calculated that the risk of venturing too far from the conservative-leaning network is too great. In June, 18 of Trump's 29 interviews across six networks were on Fox News, according to additional research provided by Media Matters. In July, he did nine interviews on Fox News and just six combined across ABC, CBS, NBC, CNN and MSNBC. None of these networks have had him on in August.
For Trump's supporters, this might be received as good news ― an illustration of a candidate finally recognizing that his freewheeling style carries risk. Ironically, it puts him closer in line to the mindset of the Clinton campaign, which has heavily managed and restricted the former secretary of state's media availability.
Related
Popular in the Community