WASHINGTON ― Donald Trump's yearslong obsession with President Barack Obama's birth is an insult to all African-Americans, top black lawmakers said Friday afternoon, as they bristled at the continued questions about the legitimacy of the first black president.
"This is a disgusting day," said Rep. G.K. Butterfield (D-N.C.), head of the Congressional Black Caucus. "Donald Trump is a disgusting fraud. By any definition, Donald Trump is a disgusting fraud! He started this silliness years ago by saying President Obama is not an American citizen. He had no proof of it. ... He would not have done that to a Mitt Romney. He would not have done that to a John McCain or any other white who was running for president of the United States."
Members of the Congressional Black Caucus held a press conference Friday afternoon, shortly after Trump said he finally believes Obama was born in the United States and was therefore constitutionally qualified to be president. The admittance came after Trump has fanned the flames of the birther movement for years.
Trump's comments came as he and his campaign try to reach out to African-American voters. But it's unlikely his latest remarks will do anything to put to rest his birther past. Even Friday, he claimed that Democratic nominee Hillary Clinton was the one who started the birther controversy and he was simply doing everyone a favor by putting it to rest. And Trump didn't apologize for his past statements.
Many African-Americans take the birther controversy personally; it's an insult not only to Obama but to a whole community that helped elect the first black president.
"It's a dog whistle to all Americans, especially African-Americans," Rep. Gwen Moore (D-Wis.) said Friday. "If indeed Barack Obama is not intelligent, if indeed Barack Obama is not legitimate, then you striving up the corporate ladder, or striving to achieve something ... how can you feel good about yourself as a sixth-grader if you're an African-American.
"I have been doing a lot of thinking recently about where we are as a country, where we have been as a country and what we can expect in the future as a country," added Rep. Jim Clyburn (D-S.C.), the assistant leader of the Democratic caucus. "One of the things that we all are used to in this business is dog whistles. But the thing that we are not used to and I'm finding it very difficult to get used to are the howls of wolves. These are howls. These are not whistles."
Trump has record low support from black voters, with just 1 percent. He recently pitched himself to African-Americans by telling them that their lives are about as terrible as can be and they can't go down any further, so they should vote for him.
"Look at how much African-American communities are suffering from Democratic control," he said in August. "To those I say the following: What do you have to lose by trying something new like Trump? What do you have to lose? You live in your poverty, your schools are no good, you have no jobs, 58 percent of your youth is unemployed. What the hell do you have to lose?"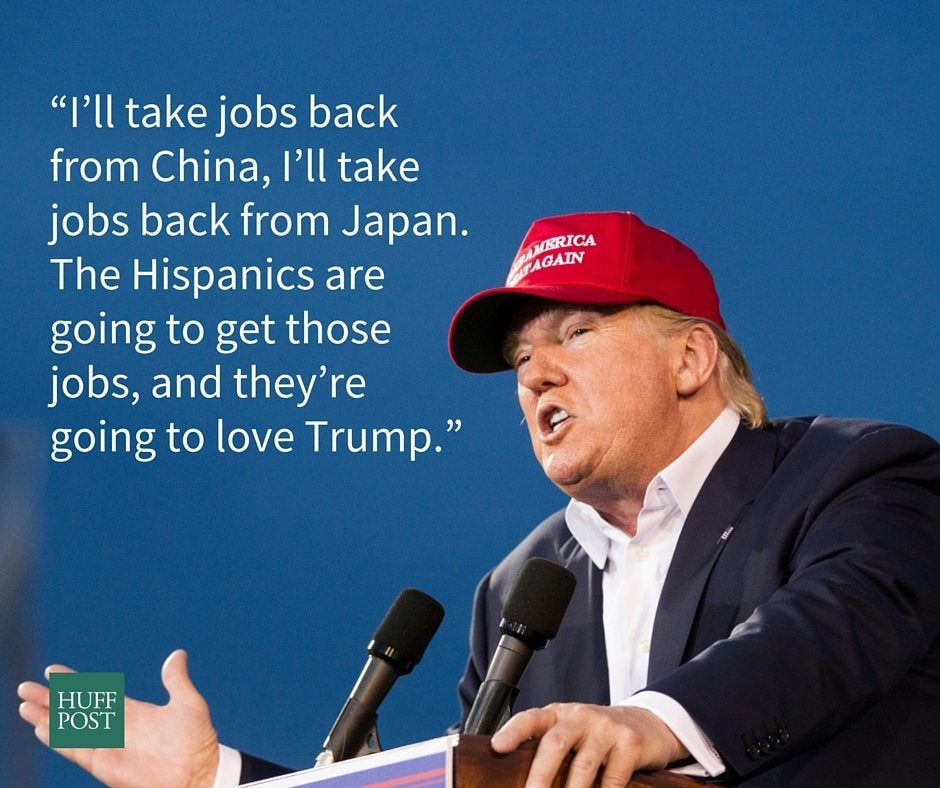 9 Other Absurd Things Donald Trump Has Said About Latinos