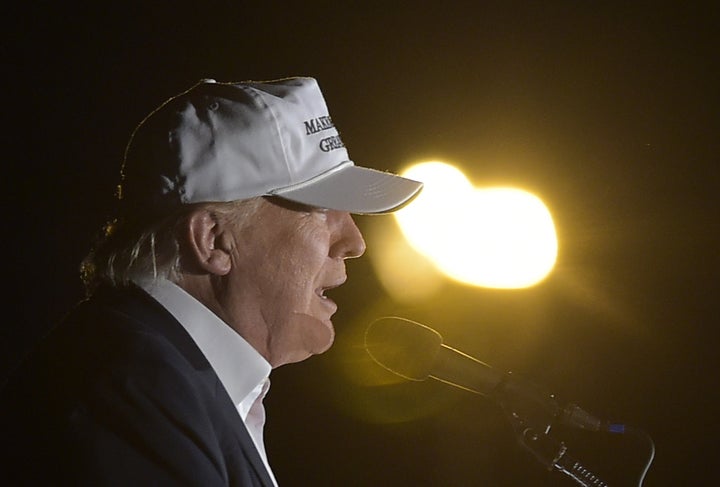 NEW YORK ― Republican nominee Donald Trump cited "freedom of expression" Monday as a potential roadblock in the fight against terrorism, remarks that set a troubling precedent if he's elected president in November.
While speaking about the recent bombings in New York and New Jersey, Trump suggested that press freedom is preventing law enforcement from arresting the publishers of bomb-making instructions.
"I see the other day, and they're all talking about it so wonderfully, because, you know, it's called freedom of the press, where you buy magazines and they tell you how to make these same bombs that I saw," Trump said in an interview on on "Fox & Friends." "Now people will go crazy, they'll say, 'Oh Trump is against freedom of the press.' I'm not against. I'm totally in favor of freedom of the press. But how do you allow magazines to be sold?"
Trump didn't mention any specific titles, but he's presumably referring to Al Qaeda's English-language propaganda magazine Inspire or jihadi websites that publish bomb-making instructions. However, publications such as Inspire are not sold at any mainstream U.S. bookstores or newsstands, as Trump suggests, but can be found on the internet. It's also unclear who is supposedly speaking "wonderfully" about jihadi propaganda in the context of press freedom, as Trump contends.
"We should arrest the people that do that because they're participating in crime," Trump continued. "We should arrest them. Instead they say, 'Oh no, you can't do anything, that's freedom of expression.'"
He added that "we don't want to touch them because of freedom of speech."
What's chilling about Trump's remarks isn't his criticism of jihadi propaganda ― which is clearly awful ― but his casual dismissal of "freedom of expression" and "freedom of speech," bedrocks of American democracy, as potentially disposable in fighting terrorism. He presented an ominous scenario on Fox News in which U.S. counterterrorism is being stymied by the First Amendment, though didn't provide evidence to support his assertion. Meanwhile, Trump has repeatedly expressed unwavering support for the Second Amendment and against restrictions on guns.
Monday's comments also follow actions by Trump which have already invited comparison to autocrats like Russian President Vladimir Putin and Turkish President Recep Tayyip Erdoğan, each of whom severely clamped down on free expression and the press in their respective countries. Over the past year, the Republican nominee has blacklisted, ejected, restricted, and mocked journalists covering his campaign and suggested libel laws should be opened up to make it easier to sue news organizations.
"Somebody will say, 'Oh freedom of speech, freedom of speech,'" Trump said. "These are foolish people. We have a lot of foolish people."
Popular in the Community