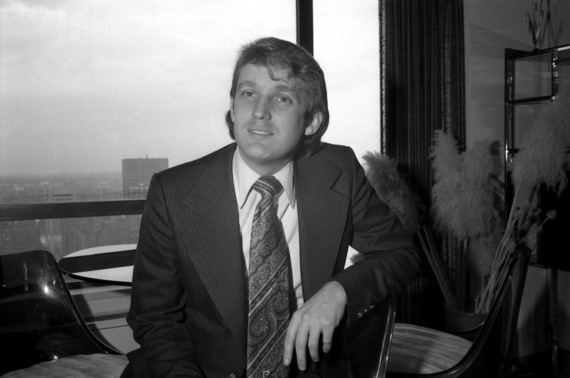 By Helaine Feldman, ZEALnyc Contributing Writer, February 14, 2017
He was 23 years old, had a degree from the prestigious Wharton School at the University of Pennsylvania and had an extremely profitable family business waiting for him.
But Donald Trump thought he would like to be a Broadway producer. He met with David Black, a successful producer (George M! with Joel Grey and Bernadette Peters; The Impossible Years with Alan King; and Ready When You Are, CB! with Julie Harris, among others) and they joined together--Black providing the experience and know-how and Trump putting up a sizeable chunk of the money--for a new comedy, Paris Is Out, slated for the 1969-70 season.
The play starred Molly Picon, who in 1962 received a Tony nomination for her appearance in the Jerry Herman musical, Milk and Honey and was a popular performer who began her career in the Yiddish theatre, and Sam Levene, a Broadway veteran, the original Nathan Detroit in Guys and Dolls and star of the classic, Three Men on a Horse. The playwright was Richard Seff, who was adding a new credit to an already impressive resume.
Richard remembers: "I did not actually meet young Trump, except briefly and informally, for he was an investor and I didn't even know he was involved until after we opened. I do recall standing next to him on two occasions during our 13 week run, at the back of the orchestra, where we both stood, watching the play. He had arrived on his own, in his white convertible, stayed awhile, then drove off."
The play had a modest run, but ran into some bad luck along the way. Variety had a headline around the ninth week of the run which read: "Broadway down, Paris Up." "For each week that we ran," says Seff, "despite mixed reviews, our gross was creeping up to the point where the house manager told me, 'If we get through Easter and Passover (traditionally bad for business), we'll be here all summer.' Alas, on Easter Sunday, there was a blizzard in New York and three 'nervous hits,' (Broadway talk for a production that was always on the edge of closing), were forced to shut down the next week. They were Noel Coward's Private Lives with Tammy Grimes and Brian Bedford; Sheep on the Runway by Art Buchwald, and my Paris is Out!"
All of us had about three months. We ran for 104 performances (including previews); audiences loved the play, and Brooks Atkinson, the dean of American critics (for whom a theatre is named), offered us a great quote: 'A delightful family comedy in which Molly Picon and Sam Levene are in top form.' Only we couldn't use it because Mr. Atkinson had retired as New York Times critic and he did not want to undermine his replacement. Not a good break for us."
The play did, however, have an afterlife. With original star Molly Picon in it, it broke house records at the Philadelphia Playhouse in the Park after closing on Broadway. Film star Pat O'Brien somehow was sent the play, loved it and toured for 48 weeks in dinner theatres around the country. "People thought it was a Jewish play because of Sam and Molly," Seff told an interviewer, "but it had a 48 week tour with Pat O'Brien and his wife. Suddenly it was about an Irish family--without one line changed" Ann B. Davis (from TV's The Brady Bunch), toured it, too. And, Seff adds, "A couple of years ago, 40-odd years after we closed on Broadway, a dinner theatre in Paradise, Pennsylvania played it for 11 weeks with great success."
Today, of course, Donald Trump has gone on to other things...
But, what about Richard Seff? Now 89, he has been the quintessential hyphenate: an actor, agent, playwright, librettist, novelist, memoirist and critic. His book, Supporting Player: My Life Upon the Wicked Stage, catalogues his long career. "I have done everything in theatre," he says, "but sell tickets." His apartment reflects this and is filled with memorabilia: books, records, CDs and photos, lots of photos, of his friends and former clients including Chita Rivera and lyricist Fred Ebb (Chicago and Cabaret, to name a few). His latest gig is writing reviews of New York theatre for the website DC Metro Theater Arts.
In 2004, he created an award, the Richard Seff Award, presented by the Actors' Equity Foundation each year to a character actor and actress, supporting players, who have devoted at least 25 years to their profession, have not achieved "stardom," but continue to work as featured players--like he was--and is!
Cover: Donald Trump in 1976; photo: Bettmann Archive.
_________________________
Helaine Feldman, a Contributing Writer for ZEALnyc, writes about theater performance and related features.
For more features from ZEALnyc read:
REAL LIFE. REAL NEWS. REAL VOICES.
Help us tell more of the stories that matter from voices that too often remain unheard.