The "issue page" on Donald Trump's presidential campaign website is not a traditional "issue page," in that several of the issues listed aren't actually issues.
There is a section called "The Establishment," for example, which is a group of politicians and political institutions and not an issue. There is a section called "First Day In Office," which is a period of time; one called "Competent Leadership," which is a subjective opinion; and one called "Live Free Or Die," which the website acknowledges is a motto.
There are actual policies listed too ― involving the 2nd Amendment, Israel and the drug epidemic ― but even so, there is something altogether curious about this particular page on this particular site.
On his issue page, Donald Trump says that he is "totally" self-funding his campaign so that he doesn't "owe anything to lobbyists and special interests." This is simply not true. It hasn't been for a while, if ever.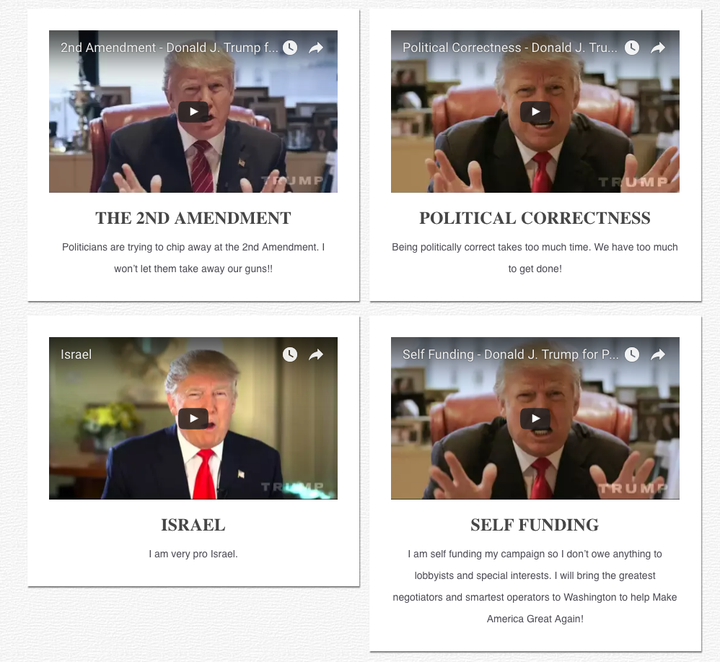 During the primary, Trump did provide plenty of his own money to his campaign. But he also raised cash from ― predominantly ― small donors. Since then, he's begun wooing the big fish in addition to spending his own dough.
To date, his campaign has raised $91.2 million. Of that total, $50 million has been his own money. Of the $39.2 million he has raised from contributors, $24.6 million could be classified as having come from small-dollar donations, while $5.58 million is from maxed-out donors.
The latest example of how inapplicable the title of "self funder" is to Donald Trump will come on Saturday, Aug. 6. On that day, Trump will travel to Nantucket to attend a high-end fundraiser with his finance chairman and RNC Chair Reince Priebus. The event will be held at the home of Ron Weinberg, who runs the private equity firm Weinberg Capital Group, and his wife.
According to an invitation ― a copy of which was obtained by The Huffington Post ― other attendees will include Christopher Vincze, who runs a firm that does energy-saving construction, and Guy Snowden, who ran the lottery company Gtech.
It costs $50,000 per couple to co-chair the event, $25,000 per couple to host, $10,000 per person for a photo op, and $2,700 per person for a general reception ticket. The proceeds will be shared among the Trump campaign, the RNC and state parties in Arkansas, Connecticut, Louisiana, Mississippi, New Jersey, New York, South Carolina, Tennessee, Virginia, West Virginia and Wyoming.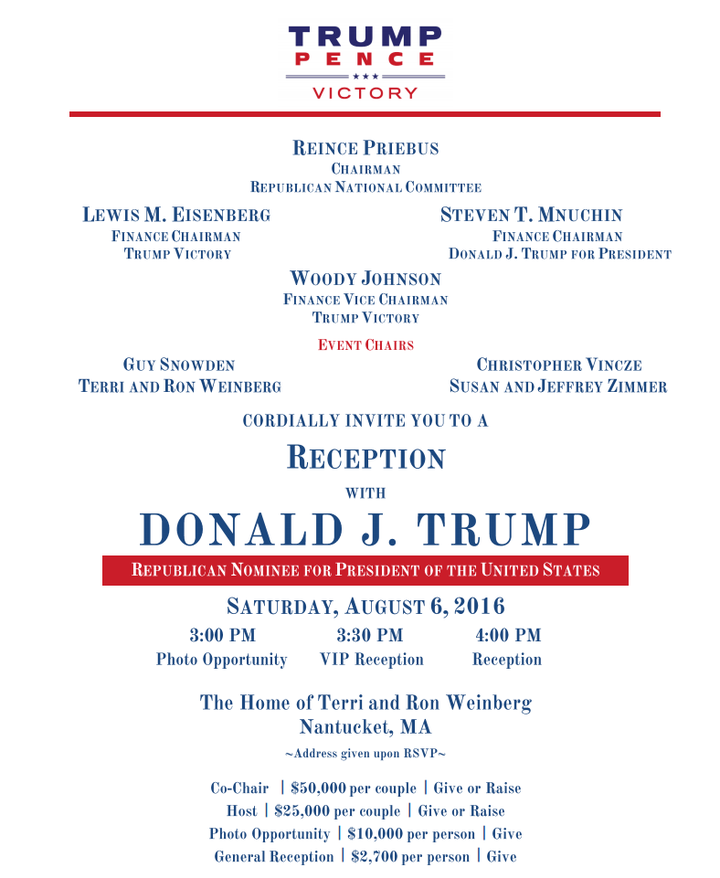 Paul Blumenthal contributed reporting.
Popular in the Community