WASHINGTON -- Presumptive Republican Party presidential nominee Donald Trump entered June with just $1.3 million cash on hand in his campaign account, according to a campaign finance report filed on Monday. The tiny sum is the result of Trump's poor first month of fundraising from donors that netted just $3.1 million.
The total is unbelievably paltry for a major party nominee, and places him further behind his opponent in terms of funds and campaign infrastructure than any other modern presidential candidate. In 2012, the collected efforts of the candidates, parties and super PACs of both Barack Obama and Mitt Romney spent more than $1 billion each.
Clinton, by comparison, raised $26.4 million for her campaign in the same time period as Trump's $3.1 million. In May 2012, when Romney was the presumptive Republican nominee, he raised $23.4 million.
When party committees and supportive super PACs are factored in, the disparity between Clinton and Trump becomes astronomical.
Aside from the $26.4 million raised for Clinton's campaign, Priorities USA Action (the super PAC endorsed by her campaign) pulled in an additional $12.4 million. The Democratic National Committee also raised $12.3 million. In total, these three committees comprising Team Clinton entered June with $103.4 million cash on hand.
Team Trump -- his campaign, the Republican National Committee and the super PAC Great America -- had a combined $21.7 million cash on hand. That is five times less than what Team Clinton has available to spend.
Team Clinton and Team Trump Cash on Hand (May 31, 2016)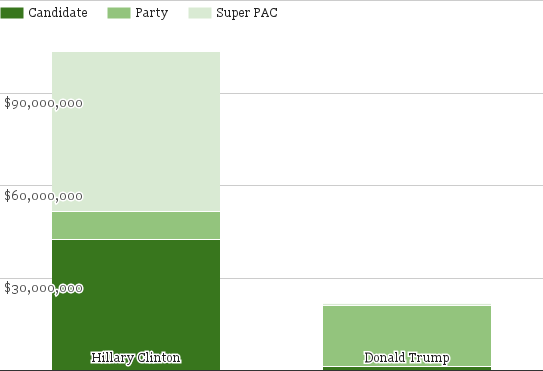 The astonishing gap in funding has produced massive disparities in both television advertising and staff on the ground.
Priorities USA Action just launched a $20 million ad buy across swing states and has already spent $10.5 million attacking Trump and another $5 million boosting Clinton on air. The Clinton campaign just reserved television air time across eight states.
The Clinton campaign boasts a massive staff of 685 people, while the Trump campaign's payroll sits at 69. Both numbers are down from April, but the presumptive Democratic nominee also has already begun to farm out her campaign staff to the DNC and state parties to begin to organize in key swing states and beyond. She has further promised to place staff in all 50 states to help get out the vote for her campaign and down-ballot Democrats.
Trump effectively became the party nominee on May 4 after defeating Texas Sen. Ted Cruz in the Indiana primary. He quickly stated that he would cease self-funding his campaign and start raising money for both his own committee and the Republican Party.
"I'm not looking for myself, I'm looking out for the party, so the party can compete in Senate races and House races. I want to raise money for the party," he said on Fox at the time.
And he did raise $3 million through a joint fundraising committee called Trump Victory, formed in the waning weeks of May, for the Republican National Committee. That is about a quarter of the $13 million the RNC raised last month. The problem, though, is that Trump's fundraising totals are both little and late, especially compared to both Clinton's current total and the 2012 total of Romney, who became his party's leader nine days earlier in the election year than Trump did.
The majority of Trump's available cash is housed at the RNC, but the central party committee may have expected much more. In 2012, with the help Romney's formidable network of wealthy donors, the RNC raised $34 million in May -- $21 million more than this year. Romney, meanwhile, raised $23.4 million in May 2012, his best fundraising month of the cycle and $20 million more than Trump.
Overall, the RNC has raised $163 million through May, or $6 million less than in 2012 at the same point. But the RNC's fundraising strength is centered on the large contributions it has received in special accounts that cannot be used to pay for election expenses. The committee has pulled in $33.4 million for its convention, building and recount accounts from donors who can give up to $100,200 to each one. That leaves just $129 million in their main campaign account to help Republican get elected this fall -- far less than they had in 2012 at this juncture.
The DNC trails the RNC, with $108 million raised overall and $100 million raised when not including the convention, building and recount accounts.
This will not help make up the astronomical gap between Clinton's $42 million cash on hand and Trump's $1.3 million cash on hand. Candidates pay the lowest unit price for advertising, while parties and outside groups pay the expensive going rate. This means that candidate money goes much, much further -- as Romney, who leaned too hard on super PACs in 2012, learned the hard way.
UPDATE: June 21 -- In a press release sent out Tuesday, the Trump campaign deflected any criticism of the candidate's precarious fundraising position by stating, "the campaign's fundraising has been incredible." It went on to state that the campaign continues "to see a tremendous outpouring of support for Mr. Trump and money to the Republican Party."
In the statement, Trump boasted that he doesn't really need to fundraise even though he's doing it now: "If need be, there could be unlimited 'cash on hand' as I would put up my own money, as I have already done through the primaries, spending over $50 million dollars. Our campaign is leaner and more efficient, like our government should be."
Popular in the Community