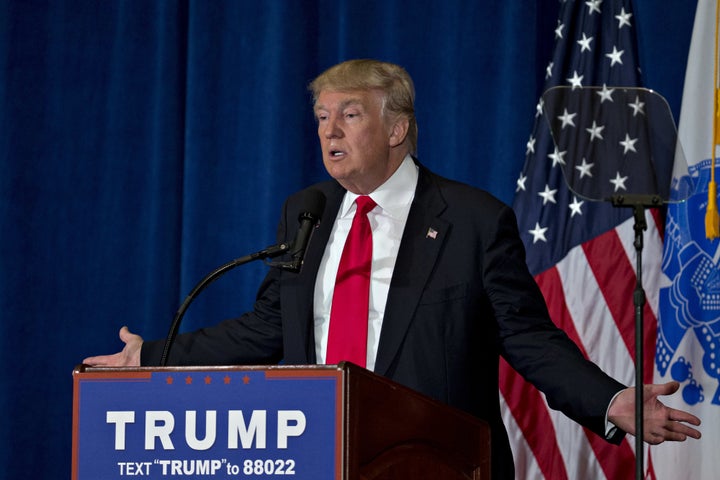 WASHINGTON ― Presumptive Republican presidential nominee Donald Trump says he raised $51 million in conjunction with the Republican National Committee and state party organizations in June, his first full month of fundraising from donors.
Unknown when he announced this haul last week was how it would be split between his campaign, the RNC, and special RNC accounts that can't be used for the 2016 election.
Thanks to two campaign finance filings on Friday, the breakdown of the funds is becoming clearer.
Trump Victory, the joint fundraising committee linking the Trump campaign, the RNC and 11 state parties, raised $25.7 million in June and the final week of May. The Trump Make America Great Again Committee, a joint fundraising committee linking the Trump campaign and the RNC, raised $6.7 million over the same time period.
So far, the Trump Victory campaign has transferred only $2.2 million to the Trump campaign. Another $10.1 million was transferred to the RNC, but only $4.3 million of that is available for the RNC's general election fund. The rest is split between three special party accounts ― convention, building and legal ― that were created by the Republican-controlled Congress in the 2014 omnibus budget bill. The convention account got $3.3 million, the building account got $1.5 million, and the legal account got $1 million. The committee ended the month with $12 million in undistributed funds.
The Trump Make America Great Again Committee has not yet distributed its funds to either the Trump campaign or the RNC. It appears that nearly all, if not all, of its $6.7 million in contributions will wind up in the Trump campaign's coffers. This is because the largest contributions are $5,400, the maximum a donor can give to the Trump campaign. Every dollar over $5,400 would rebound to the RNC. The Trump Make America Great Again Committee was one vehicle the Trump campaign used to raise small-donor funds online, and it shows. The majority of its funds ― $4.3 million ― were raised from donors giving under $200.
Overall, the two joint fundraising committees raised $32.6 million ― $18.4 million short of Trump's announced $51 million. That difference could have all been raised by Trump's campaign. Or not.
Calling all HuffPost superfans!
Sign up for membership to become a founding member and help shape HuffPost's next chapter
BEFORE YOU GO