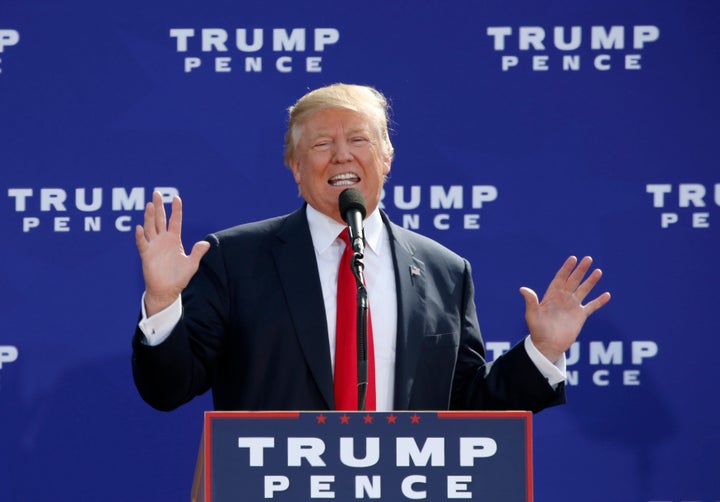 WASHINGTON ― In recent appearances before his adoring crowds, Republican presidential candidate Donald Trump has declared that he is using his wealth to self-fund his campaign. He promises the total will exceed $100 million before all is over.
However, not only is Trump not self-funding his campaign, but he only contributed $2 million to his own campaign in September, according to a press release sent out on Saturday. The press release further stated that the Trump campaign, including its fundraising committees connected to the Republican National Committee, pulled in $100 million in September. He would have to give $44 million in the remaining weeks to reach this total of $100 million.
Trump's September haul is about 50 percent less than the $154 million the campaign of Democratic Party candidate Hillary Clinton announced she had raised for her campaign and fundraising committees linked to the party. It is also wildly lower than the $174 million Mitt Romney raised as the GOP presidential candidate in September 2012.
Steven Mnuchin, the former Goldman Sachs banker now serving as Trump's finance director, nonetheless touted the haul in a statement. "These numbers show that Donald Trump continues to have incredible broad based support from across America," he said. "We want to thank our many volunteers and contributors that are clearly committed to electing Donald J. Trump as President in November."
The low fundraising totals Trump posted for September put him a precarious position in relation to Clinton. He entered the final month of the campaign with $75 million cash on hand while she had $150 million. His campaign has spent far less on advertising than previous candidates, while Clinton has buried him with tens of thousands of ads in key swing states. Trump's campaign never invested money in building a ground game to get voters to the polls while she has hired thousands of staffers, invested in significant data infrastructure and targeted advertising to mobilize the Obama coalition.
And there are questions about where Trump is spending the money. He has spent lavishly on his own properties, including flying practically solo on his very own 757. Much of his expenses have gone toward digital fundraising advertisements. This means that he is spending big sums to rake in his small contributions.
HUFFPOST READERS: What's happening in your state or district? The Huffington Post wants to know about all the campaign ads, mailers, robocalls, candidate appearances and other interesting campaign news happening by you. Email any tips, videos, audio files or photos to scoops@huffingtonpost.com.
Calling all HuffPost superfans!
Sign up for membership to become a founding member and help shape HuffPost's next chapter
BEFORE YOU GO