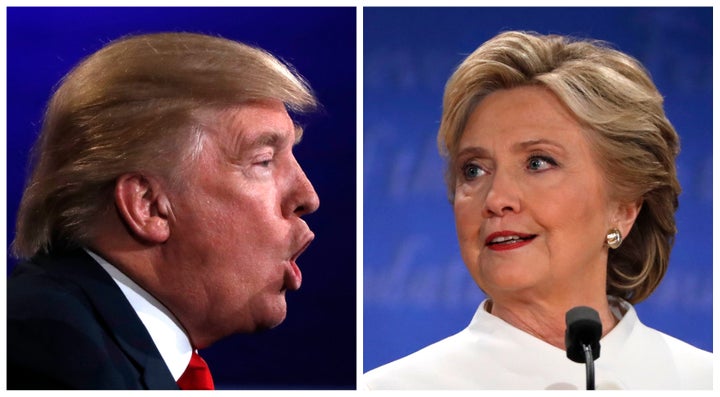 Donald Trump's standing is improving in some polls, but he still faces a large Electoral College deficit.
The ABC News/Washington Post national tracking poll shows Trump within 1 point of Hillary Clinton in a four-way race that includes Libertarian candidate Gary Johnson and Green Party nominee Jill Stein ― a drastic cut in her lead since the tracker debuted last week with Clinton up by 12 points. A new Florida poll from The Upshot/Siena College shows Trump leading by 4 points, a significant increase for Trump since their September poll that showed the race tied.
The next nine days will be a wild ride in the polls, and there will be enough of them to make even a polling expert go a little nutty.
The HuffPost Pollster team has a saying: "Keep calm and look at the polling aggregate." That's not to minimize individual polls ― it's just to remind everyone (including ourselves) that individual polls will differ and have error. In the absence of knowing the truth of where the race stands, often the best option for reconciling competing numbers among respected polls is to aggregate them. The HuffPost Pollster model still shows Clinton leading by 7 points in a two-way race and about 6 points when third party candidates are included.
Let's take a closer look at the ABC/Washington Post tracker. Taken in literal terms, it shows that the electorate has moved 11 points in the past week ― which is really unlikely. When the candidates are considered individually, Trump has improved by 7 points, up from 38 percent to 45 percent, and Clinton has dropped by 4 points, from 50 to 46 percent.
More importantly, the pollsters say the change is due to "a tale of two electorates," as Gary Langer, who oversees the tracking polls from ABC's side, referred to it on Saturday. He said much of the movement is due to Trump supporters becoming more likely to vote again as the nominee's controversies from earlier in the month fade, and less enthusiastic Clinton supporters showing a decreased likelihood to participate, possibly because they assume she can win without them. If that's indeed the cause, the effect should reverse in coming days.
What we don't know yet is whether polls will be affected by FBI Director James Comey's announcement on Friday that the bureau is looking into newly discovered emails related to the saga-that-won't-die of Clinton's private email server use while she was Secretary of State. The ABC/Washington Post tracker has some data collected on Friday night and Saturday, and about a third of voters said the news makes them less likely to vote for Clinton ― but most of those are Republicans or Republican-leaning independents who probably weren't voting for her anyway. The CBS battleground poll also found limited effects of Comey's announcement on vote choices.
Of course, those effects could change as more information becomes available and as Clinton's email use dominates news cycles yet again. Nearly every pollster was probably planning to be in the field this week anyway ― and you can guarantee that any pollster worth paying attention to is asking about the FBI email news. We'll have a lot more information soon.
The other factor is that millions of people have already voted ― over 21 million ― and those votes clearly won't be affected by the new FBI revelations.
Despite fluctuations in national polling numbers, state polls indicate that Trump has no plausible path to winning 270 electoral votes at this point. Clinton's electoral college advantage remains strong. The Huffington Post presidential forecast currently shows a 98 percent chance that Clinton will be elected (although it has not incorporated the Sunday morning polls as of this publication). Trump's 2 percent chance of becoming president represents the possibility that all of the polls could be wrong in the same direction. Clearly we don't expect that to happen, but it is a possibility.
The only state that looks like it might be shifting, based on the new polls, is Florida: The Upshot/Siena poll shows Trump leading by 4 points while the NBC/Wall Street Journal/Marist has Clinton up by 1 point. The HuffPost Pollster chart has Clinton up by 3 points, though, since most earlier polls give her substantial leads. If more polls confirm the tightening trend, that gap will narrow.
Clinton can easily win the presidency without the Sunshine State, though. But the race could continue to tighten over the next nine days.
The Clinton campaign is wise to take vice presidential nominee Tim Kaine's approach. "We've always assumed it would be close. And we're working like it's close," Kaine told George Stephanopoulos on ABC's This Week. State polls are generally slower to come in than national polls, and if Clinton's lead shrinks in key states, as it has in national polls, her Electoral College advantage will shrink a bit.
Still, Kaine also said that "we like where we are in the states that are the keys." And Clinton's lead shrinking a bit would likely only mean going from an anticipated 341 electoral votes in the HuffPost forecast model today to somewhere between 300 and 320 electoral votes. Unless Trump can sweep all the states he leads in now plus Ohio, Nevada, North Carolina, Florida and at least one other state (likely among Colorado, Wisconsin, Pennsylvania or New Hampshire), he won't win the presidency.
When considering polls over the coming days, keep calm and look at aggregates and the full Electoral College map.
Popular in the Community