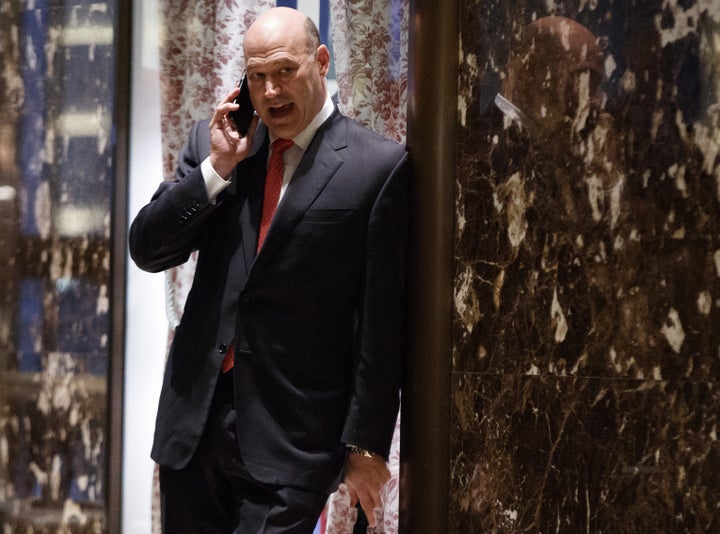 The 26-year Goldman Sachs veteran brings with him the investment bank's longstanding acknowledgement of climate change, which Trump has referred to as a Chinese hoax, and support for the international agreement to address it, which Trump has said he'll abandon.
Goldman Sachs wrote its first companywide environmental policy in 2005, the year before Cohn took over as president and chief operating officer. In it, the bank said climate change "is a reality and that human activities are largely responsible for increasing concentrations of greenhouse gases in the earth's atmosphere." The bank kept that line when it updated its policy last year.
And three months before negotiations began for the Paris climate accord in 2015, Goldman joined companies like Apple, Google, General Motors and Walmart to write a letter to the White House and call for a "strong" climate deal. The organizations also pledged to deepen their own commitment to clean energy.
And several banks, including Goldman, released a joint statement at the time, asking governments to strike a "strong global climate agreement" and stating that a price on carbon is a critically important government policy for fighting climate change. Goldman followed that statement with a pledge to invest and loan $150 billion in clean energy over the next decade.
Goldman Sachs declined to comment on Cohn's appointment, and the Trump campaign did not respond to a request for comment.
To be clear, Goldman's climate position simply reflects the global scientific consensus, at least outside of the Trump team. It's also not altruistic. As Goldman executives and critics alike will readily admit, the firm exists to make money. When writer Matt Taibbi famously called the bank "a great vampire squid" in the wake of the 2008 mortgage crisis and financial meltdown, he said the institution's next target for its "blood funnel" was a cap-and-trade policy to limit carbon emissions ― which would create a new trading market in which the bank could try to turn a profit. (Legislation creating such a system passed the House but never made it through the Senate.)
A recurring theme in Goldman Sachs' climate statements is that government action on climate ― passing laws, setting regulations, signing treaties ― will send signals to the market and point investments in the right direction.
This is generally true of almost any large-scale, functioning market, and it is particularly true for clean energy ― where trillions of dollars in investment and infrastructure are needed globally over several decades to retrofit entire industries. Still, it's jarring to hear financiers step down from the free-market pedestals they've created to say that they do, in fact, rely on the government to do their work.
During the Obama administration, markets have largely gotten the certainty they've asked for on pricing carbon: There is now an international climate treaty, as well as new domestic regulations on automobile and power plants emissions. The federal government also uses a price for carbon in its internal analysis of rule-makings ― known as the social cost of carbon.
That puts Cohn in a unique position. He will join an administration that has largely denied that climate change is real. And while he won't control the agencies that deal with the issue most directly, such as the Environmental Protection Agency or the Department of Energy, he will report directly to Trump and have the broad prerogative of advising the president's economic policies.
Financiers like Cohn asked the government to give them certainty on climate policy, and they largely got it. The question is whether Cohn will use his power to keep it.
Disclosure: Ben Walsh worked at Goldman Sachs from 2006 to 2011, and was on the bank's environmental team from 2009 to 2011. From 2008 to 2009, he worked with Gary Cohn's chief of staff, among others. 
Calling all HuffPost superfans!
Sign up for membership to become a founding member and help shape HuffPost's next chapter
BEFORE YOU GO
PHOTO GALLERY
Donald Trump's Environment Guy Doesn't Believe In Climate Change