When Donald Trump threatened to invite Gennifer Flowers — a woman who is famous for having sex with Hillary Clinton's husband — to Monday night's presidential debate, he claimed he was trying to get back at Clinton for inviting billionaire Mark Cuban, an outspoken Trump critic. 
The GOP nominee seems to think that Flowers' presence would shame his Democratic rival. That's probably because Trump, a serial adulterer, has long maintained that if a woman's husband is unfaithful, the woman is to blame.
To Trump, a cheating husband merely proves that a woman has failed at her most important job: keeping her husband happy. If a woman can't succeed at her most important job, this means she can't be trusted to do any other job. In this case, the job is president of the United States.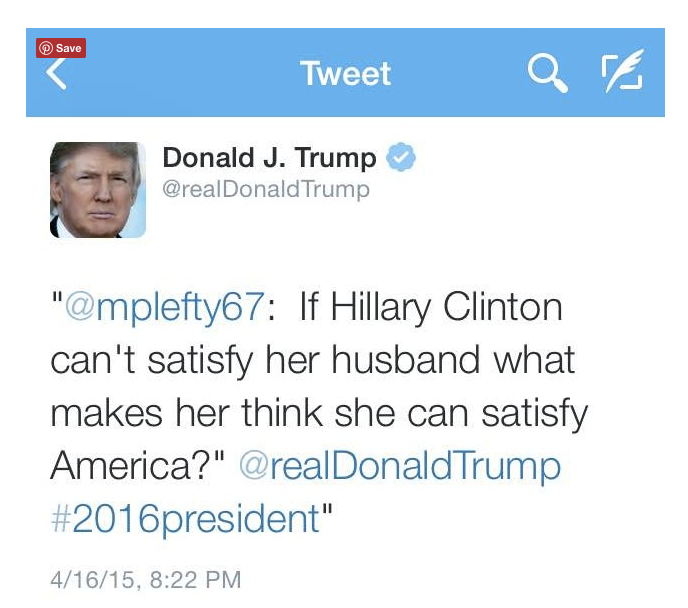 Trump had blamed his first two wives, Ivana Trump and Marla Maples, after he cheated on and then divorced them.
"My big mistake with Ivana was taking her out of the role of wife and allowing her to run one of my casinos in Atlantic City," Trump wrote of his first wife. "I soon began to realize that I was married to a business person rather than a wife."
For Trump, a woman cannot be both a spouse and a professional. Women are either good wives, or they have full-time jobs — which for him means they're bad wives. And if you're a bad wife, he believes, you deserve to be betrayed and divorced. (Yes, he probably makes an exception for the daughter slated to carry on his own legacy.)
Remember Trump's dig at HuffPost founder Arianna Huffington? He called her "unattractive inside and out," adding, "I fully understand why her former husband left her for a man."
Trump also resents the fact that anyone would sympathize with a woman whose husband left her for another woman. As his affair with Maples was playing out in the press in 1990, he expressed his irritation to Vanity Fair. "When a man leaves a woman, especially when it was perceived that he has left for a piece of ass — a good one! — there are 50 percent of the population who will love the woman who was left," he said. 
But Trump's transparent ploy to shame Clinton could backfire with the very group of voters that he needs to win the presidency: white, married, suburban women.
Hillary Clinton is a white, married woman who lives in suburban Chappaqua, New York, and who has stayed with her husband for more than 40 years, through good times and bad. By humiliating her, Trump insults the life choices that many female voters hold dear: keeping their marriages strong, raising their children and pursuing their careers.
For Trump, that is a very bad idea.
Calling all HuffPost superfans!
Sign up for membership to become a founding member and help shape HuffPost's next chapter