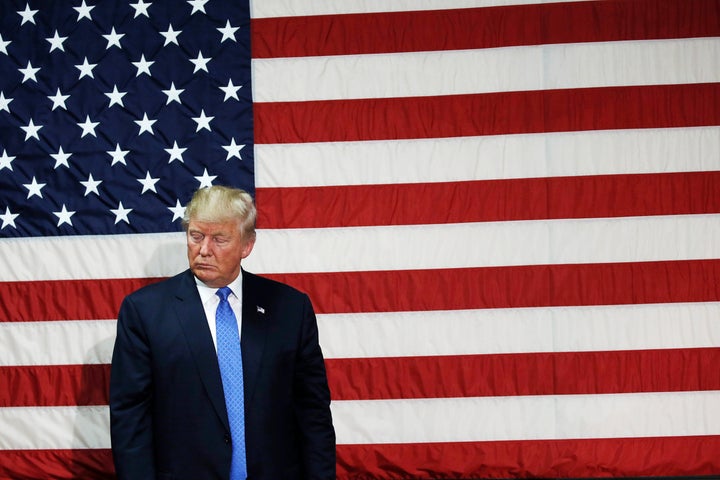 GETTYSBURG, Pa. ― This is the heartland of what should be Donald Trump's America.
In a town where the anti-slavery Republican-led North won the Civil War, where Abraham Lincoln eulogized the dead and Dwight Eisenhower lived, the lifelong GOP faithfuls who dominate local politics are trying hard to stick with Trump.
As a new wave of Republicans across the nation abandon Trump altogether or decline to appear with him at events, local leaders here in Adams County are caught in the maelstrom.
"Well, my first reaction is to say that it's just one alpha male bragging to another alpha male," said Elizabeth Hower, the Republican chair of Adams County and its historic town of Gettysburg. "It's what guys say all the time when they are alone, isn't it?"
But Hower, a feisty 70-year-old part-time school teacher and dedicated conservative, objected to Trump's decision to fire back at his critics on Friday by attacking former President Bill Clinton's history of marital infidelity and Hillary Clinton's responses to it over the years.
"That's not smart," she said. "I don't want him to do that, and hope he doesn't. Bill Clinton is not running for office, and her attitudes about what he did or didn't do are beside the point."
"I wish that Mr. Trump would just concentrate on giving substantive, direct answers the questions and stating his positions," Hower said over lunch the Blue Parrot Bistro near the town square. "He can't get distracted by the emotions and attacks."
And she lamented Trump's late-night Twitter insults about Miss Universe Alicia Machado that had preceded the latest revelations. "That was terrible," Hower said.
"I am 70 years old ― the same age as Mr. Trump," she said. "People can change at that age. I know that I have. He can, too." 
But he is nearly out of time to do so, even by the reckoning of this place.
I am 70 years old ― the same age as Mr. Trump. People can change at that age. I know that I have. He can, too.

Elizabeth Hower, the Republican chair of Adams County
For a century and a half, the GOP tradition here, from Lincoln to "Ike," has been tolerant, globalist and moralistic in a low-key way ― nothing at all like Trump's inflammatory xenophobia and provocations on race, religion, ethnicity and sexual attitudes.
With one month left until Election Day ― and with early voting already underway in several states ― it is hard to determine whether Trump supporters such as Hower really expect him to be the next president, or instead see him as a symbol of what amounts to a separatist movement in the making.
Since Trump's disastrous performance in the first debate and subsequent self-destructive tweets and all-but-incoherent speeches, the GOP nominee has fallen behind in the polls and Electoral College projections.
Hower says Trump has raised some legitimate issues. They include trade agreements, immigration, terrorist attacks on U.S. soil, America's long-running and fruitless military engagement in the Middle East and the fundamental notion that Washington must change.
But it often seems that his real purpose is to stoke the fear and alienation of his supporters ― mostly white, rural and older ― by playing to racial, ethnic and religious concerns at home and proposing to essentially withdraw from diplomacy abroad.
At a rally in a Gettysburg motel on Thursday, Trump's running mate, Indiana Gov. Mike Pence, proudly told the large crowd that he had visited battlefields on the rolling hills near town. He recalled that soldiers from his home state had fought and died to end slavery, preserve the United States and save "freedom."
But he then went on to praise Trump, whose list of nearly violent resentments ― against Muslims, Mexicans, "eating machine" women and others ― is almost too long to summarize.
The virtually all-white crowd cheered when Pence vowed that he and Trump would "make America great again." But what that seemed to mean in that room was a yearning to be left alone.
There were no stories of Trump's great life and achievements. Indeed, he has done what he can to hide the real story (in numbers) of his only claim to achievement ― his business career. There were few, if any, details of grand proposals to build that great America. Resentment was deep; the game plan shallow.
In the end, given its history, Adams County will probably vote for Trump.
But unless Trump can show a deeper and more serious side of himself during the second presidential debate on Sunday, it is doubtful that Pennsylvania ― or the country as a whole ― will want to do the same.
Calling all HuffPost superfans!
Sign up for membership to become a founding member and help shape HuffPost's next chapter
BEFORE YOU GO
PHOTO GALLERY
Trump And Clinton Face Off In First Debate But Whose Face Won?