The rising threat of jihadi terrorism, a military clash over China's expansionism in the South China Sea, and Donald Trump as president -- one of these things is not like the others, and it's not the one you'd expect. 
The EIU's report calculates risk intensity on a 25-point scale, taking into account both the probability that an event will occur and the impact it will have if it comes to pass.
"In the event of a Trump victory, his hostile attitude to free trade, and alienation of Mexico and China in particular, could escalate rapidly into a trade war," the analysis notes. "His militaristic tendencies towards the Middle East (and ban on all Muslim travel to the US) would be a potent recruitment tool for jihadi groups, increasing their threat both within the region and beyond."
The EIU further condemned the presidential candidate for his "exceptionally right-wing stance on the Middle East and jihadi terrorism, including, among other things, advocating the killing of families of terrorists and launching a land incursion into Syria to wipe out IS (and acquire its oil)."
The report says it's doubtful that Trump will defeat his likely Democratic challenger, Hillary Clinton, but concedes that it isn't impossible.
Should Trump win the presidency, the report predicts that "virulent" opposition from Democrats and the Republican establishment would limit his ability to pass more radical policies, but warns that "such internal bickering will also undermine the coherence of domestic and foreign policymaking."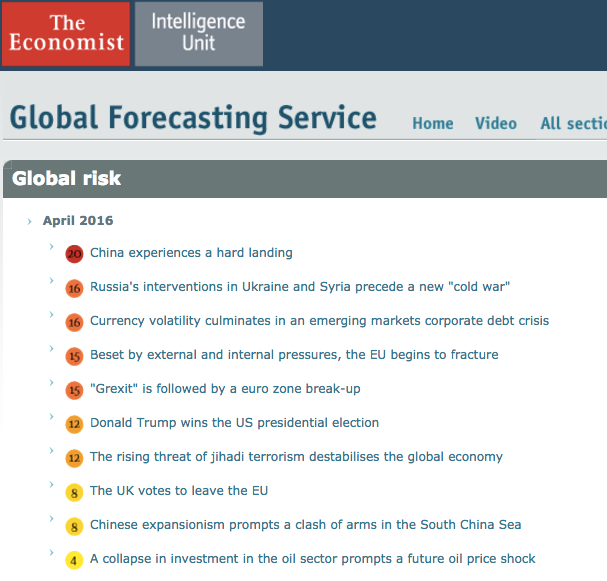 Calling all HuffPost superfans!
Sign up for membership to become a founding member and help shape HuffPost's next chapter
BEFORE YOU GO
PHOTO GALLERY
#TrumpUniversityMascot Is The Hashtag Trump Deserves