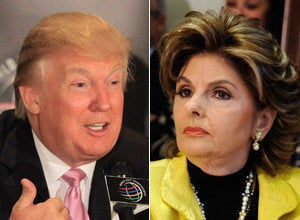 Jenna Talackova, the 23-year-old transgender woman ejected from the Miss Universe Canada pageant on the basis of her gender identity, was represented by lawyer Gloria Allred at a press conference in Los Angeles Tuesday, April 3. Allred fervently steered the press away from inquiry into Ms. Talackova's surgical status and instead raised questions of Donald Trump's legal gender (arguing that nobody has asked for legal proof of his gender) as a tactic to get their message across: Talackova's gender identity should not be an obstacle en route to the Miss Universe crown.
"I am a woman," said Talackova during the conference. She spoke of the Miss Universe pageant's ruling that she would not be allowed to compete on the basis that she was not a "naturally-born" woman. "I was devastated. Excluding me for the reason they gave was unjust. I never asked for any special consideration. I only wanted to compete."
Absurd questions from the press like, "How did her birth status happen?" and, "If a woman still had a penis, would she be able to compete [in the Miss Universe Competition]?" were fielded by Allred, who used Talackova's "F" on identity documents as the basis of their defense.
"[Talackova's] birth certificate reflects she is female, her driver's license reflects she is female, and her [Canadian] passport reflects she is female," said Allred. "There is no question in Canada that she is legally female, and I think for those of us who know her, there is also no question."
While Allred's constant assertion of Talackova's gender as valid and important is reassuring for those of us with a gender-nonconforming identity, the argument that because Talackova has "appropriate" identity documents, her status as a woman is more valid than it would be without them is frustrating, as achieving legal status on identity documents can be extremely challenging for many transgender and gender-variant people.
In a statement released Monday, April 2, the Miss Universe pageant invited Talackova to return to the competition provided these documents are bona fide.
"The Miss Universe Organization will allow Jenna Talackova to compete in the 2012 Miss Universe Canada pageant, provided she meets the legal gender recognition requirements of Canada, and the standards established by other international competitions," it said.
But this response from pageant officials does not satisfy Talackova or Allred.
"We are asking [Donald] Trump [head of Miss Universe Organization LLC] to step up and be a leader in the fight against discrimination," said Allred. "Give us a clear answer, not a wimpy, wishy-washy type of answer. Will Jenna be allowed to compete or not? Will this abhorrent rule be eliminated or not?"
Allred continued: "This last-minute statement only confuses the issue. Mr. Trump qualifies it by including conditions that remain ambiguous."
Allred asserted that Ms. Talackova has secured legal representation in New York, California, and Canada, in the event that she is not readmitted into the finals.
"[The] ball is in his court," said Allred of Trump, whom she called on earlier in the conference to eliminate his "trumped-up rule." "Mr. Trump, open your eyes and your heart. See Jenna for who she is: a woman, beautiful, strong, and ready to compete. Do the right thing for Jenna and countless others."
Calling all HuffPost superfans!
Sign up for membership to become a founding member and help shape HuffPost's next chapter