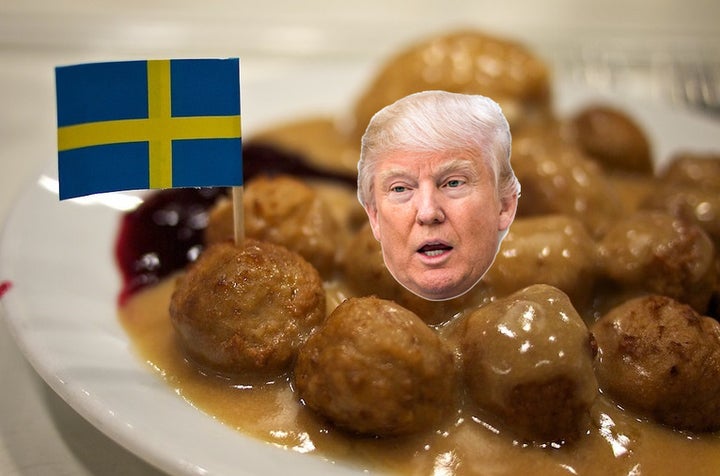 Tired of being confronted by reporters and the job of actually being President, man-child Donald Trump decided he needed a huge ego boost and a chance to talk without being questioned, so he held a creepy rally in Florida at the taxpayers' expense. Air Force One rolled up to a full hanger, but Donald Trump couldn't ignore the miles of protesters he'd flown over, so he tried to trim them down to, "just a handful of protesters." Here's a great video that shows just how big that handful really was.
Donald Trump was in the TV zone and going so totally mental that he actually thought he was hosting 'The Price Is Right', and did a solid, "come on down" for superfan plant Gene Huber.
This nutter salutes a cardboard cutout of Donald Trump and insists Obama is a Muslim. Wow.
Donald Trump declared, "A star is born," but the real star of the show was when he said, "You look at what's happening last night in Sweden, who would believe this? Sweden. They took in large numbers. They're having problems like they never thought possible."
Here's the video of that in case you thought it was fake news.
Sweden went out of their way to respond (in English) with a summary of what happened in their country on Friday night.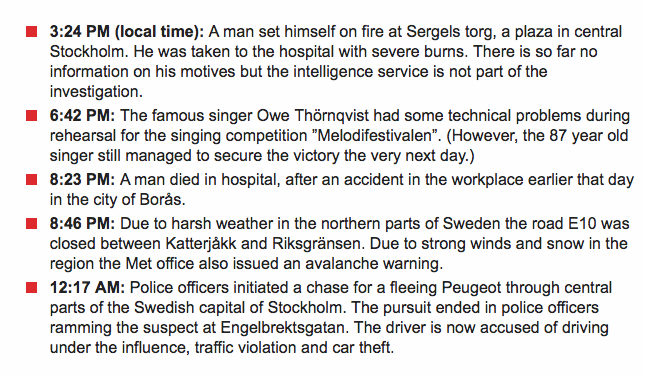 No attacks. Nothing. Zero.
But that didn't stop the wonderful people of the Internet from having a blast with Donald Trump's absurd statement. Chelsea Clinton wasted no time and did this dandy.
Ikea got their fair share of love and hate.
Kris Sanchez summed up Trump's tiny mind quite well with this tweet.
And Tony Posnanski spearheaded a fundraiser.
Hackers even managed to leak the iMessages between Donald Trump and Sean Spicer discussing last night in Sweden.
At 1:57 PM Donald Trump attempted to things on Fox News - one of the only news sources he wants us to trust.
In the last year, Sweden has taken in nearly 200k refugees and Canada has taken in over 40K from Syria alone ― all without incident. In fact, Canada's new immigration minister is Ahmed Hussen, a Somalian refugee.
Thanks for reading. Be sure to follow me on Twitter AND I'm new to facebook, so please add me there as well.
Check out my stand-up album, 'Hamster Pimp' on iTunes, Apple Music and Spotify.
New theater tour dates added with Jim Jefferies for February, March and May 2017.
Full article from Aftonbladet, "What Happened in Sweden last night".
REAL LIFE. REAL NEWS. REAL VOICES.
Help us tell more of the stories that matter from voices that too often remain unheard.
BEFORE YOU GO