WASHINGTON, July 7 (Reuters) - Donald Trump's self-styled "fabulous world of golf" faces the possibility of being a lot less fabulous after his disparaging remarks about undocumented immigrants.
Trump, the billionaire real estate developer and 2016 Republican presidential candidate, has his trademark name on numerous buildings around the world. But he is perhaps proudest of his involvement in golf and is considered a savior in many circles for investing in the industry at a time when many golf courses are closing due to financial pressures.
Trump now has 18 courses, with a string of major tournaments lined up at some. A solid player himself, he boasts a handicap in the single digits. For a while, the Golf Channel ran a regular show called "Donald J. Trump's Fabulous World of Golf."
He renovated the famous Doral course in Miami and played host there in March to a World Golf Championship tournament in which Rory McIlroy, after an errant shot, slung a 3-iron into a pond. Trump sent a scuba diver out to retrieve the club and gave it back to the world No. 1.
"What he's been doing is terrific for the game," legendary golfer Jack Nicklaus was quoted as saying by USA Today around the time of the Doral tournament. "He brought a new life during a time when the game was struggling."
So it has been jarring to the golf world when Trump declared as part of his presidential campaign that Mexico is sending criminals into the United States. It comes as the golf industry is trying to encourage diversity in a white-dominated sport.
The PGA of America and Trump's organization announced on Tuesday that the 2015 Grand Slam of Golf, featuring a handful of top pro golfers in a 36-hole tournament, at Trump National Golf Club in Los Angeles would be moved.
The PGA group said it was also looking at other venues for its junior PGA event this year.
"Going forward, we will continue to make decisions based on a strong commitment to diversity and inclusion," a spokesperson for the PGA of America said.
This came a day after ESPN said it would move the ESPY Celebrity Golf Classic from the Trump course in Los Angeles.
The golf world is almost late to the band wagon in the "dump Trump" move that swelled up after his remarks on Mexico. Broadcasters NBC and Univision were the first to cut the cord, followed by Macy's, mattress maker Serta and the NASCAR stock car racing organization.
Ari Fleischer, who was a press secretary for former President George W. Bush and now a media consultant for a variety of sports organization, said the reaction is understandable.
"One of the reasons people love sports is because it's non-political. And to the degree that Donald Trump puts sports organizations like golf tournaments in difficult positions, they won't want anything to do with him," Fleischer said. "I think all of this is evidence that Donald Trump is finding it a lot harder to be a candidate than he probably anticipated."
In the furor over Trump's remarks, Latino groups are pressuring other pro golf associations.
"I respectfully request that the PGA, the LPGA, the PGA Tour and the USGA (the U.S. Golf Association) swiftly cut all business ties with Donald Trump and his various entities and commit to not holding any further tournaments or events at Trump's courses," Alex Nogales, president of the National Hispanic Media Coalition, said in a letter to the groups.
Trump has dismissed the criticism with his characteristic bombast. He is riding high in some polls of Republican voters and feels like his rhetoric about immigrants is part of the reason why.
"The United States has become a dumping ground for Mexico and, in fact, for many other parts of the world. On the other hand, many fabulous people come in from Mexico and our country is better for it," he said on Monday.
There's a lot at stake for Trump.
Trump National Bedminster (New Jersey) will be hosting the 2017 U.S. Women's Open and 2022 PGA Championship. Trump National Washington, D.C., will be site of the 2017 Senior PGA Championship.
Turnberry, a famous course in Scotland now operated by Trump, is holding the Women's British Open this year.
The LPGA said in a statement on Tuesday that with just three weeks until the Turnberry event, a change in venue is not feasible.
"By no means, however, does this decision suggest support for Mr. Trump's comments," the LPGA said.
"He's certainly getting attention but it's costing him in the wallet," said Bill Whalen, a political expert at the Hoover Institute at Stanford University in Palo Alto, California.
As women pro golfers prepared for this week's U.S. Women's Open in Lancaster, Pennsylvania, 17-year-old qualifier Maria Fassi of Mexico was asked whether she would feel funny about playing the 2017 event at a Trump course.
Fassi, who has committed to attend the University of Arkansas, said she would have no problem with it.
"All I ask from everyone is just a little respect for everyone," she said. "Not only Mexicans, but also other Latin Americans and even Americans."
(Additional reporting by Larry Fine in Lancaster, Pennsylvania; Editing by Leslie Adler)

Before You Go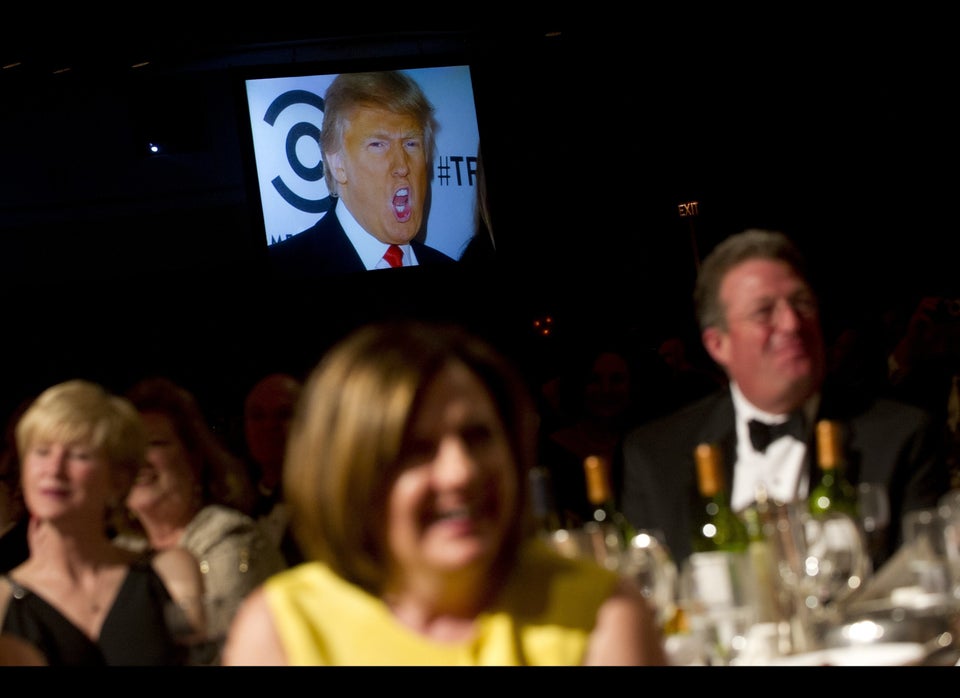 Donald Trump
Popular in the Community