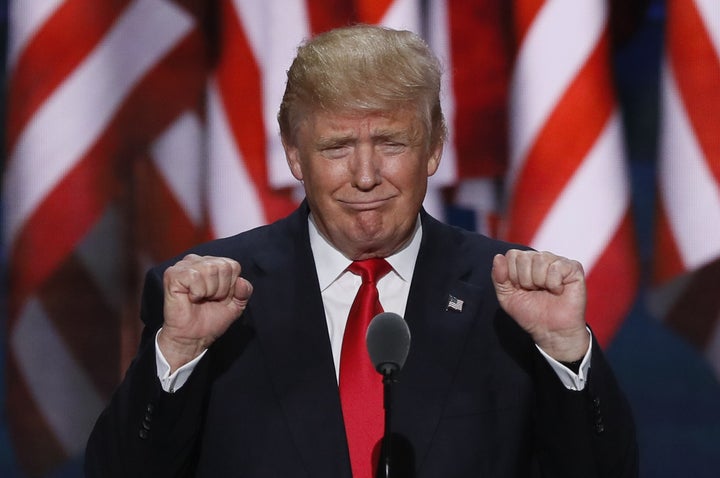 CLEVELAND ― To his biggest critics, Donald Trump is a fearmongering, misogynistic, racist xenophobe. But many GOP voters at the Republican National Convention this week saw the real estate mogul quite differently: as the man who could save the Republican Party by making it more socially liberal and inclusive.
"It's a great thing," said Kris Beach, 63, of Port Charlotte, Florida, referring to Trump moving the party in a more socially liberal direction. "Don't forget the Republicans are the ones that voted for the Civil Rights Act of '64," Beach told The Huffington Post.
Jim Wood, a lifelong Republican, noted that Trump is less focused on social issues than past GOP candidates, but he said, "There's nothing wrong with that."
His wife Cindy wants to see the party welcome more minorities and thinks Trump will make progress in the coming months. "I saw Omarosa yesterday. She's hopeful. I'm hopeful," Cindy Wood said, referring to the former "Apprentice" contestant who is now director of African-American outreach for the Trump campaign.
"I mean there's a lot that still needs to change," Wood said. "We'll see how it goes."
That these hopes don't seem to match with their presidential nominee's much more negative image is something Trump supporters blame on the media.
"They're painting him as the king of all racists," said James Davis, a 46-year-old African-American pastor from Cleveland. But Davis said he knows Trump personally and has never "heard him say one thing that is remotely directly racist." 
Davis and another Cleveland area pastor, Darrell Scott, helped organize the meeting between Trump and 100 or so black religious leaders back in November, and Davis at least came away favorably impressed by Trump's talk of rebuilding inner cities.
Jim Wood doesn't give much weight to some of the extreme things that Trump has said, like his proposal to deport 11 million undocumented people. "It's like how every other politician says things that aren't going to happen," Wood said.
We no longer live in Reagan's America where pot is still bad, gays are still evil and the whole world just goes round and round by Jesus.

Louis Rockefeller, a young Arkansas Republican
Others view Trump's inflammatory remarks as evidence that he's a straight-talker who speaks his mind bluntly ― and then gets misinterpreted.
"This political correctness has got us so messed up," said one supporter.
"Every time a politician [says] something that is interpreted as being wrong, the second they find out, they have to come out and make an apology," said 20-year-old Louis Rockefeller, a scion of the politically active Arkansas branch of the Rockefeller family. "With Trump, he just doubles down. ... He just doesn't give a damn." 
After having lunch and speaking with Trump at an event his family hosted recently, Rockefeller said he now thinks that Trump could steer the party in a positive direction ― pushed along by the younger generation, perhaps.
"We no longer live in Reagan's America where pot is still bad, gays are still evil and the whole world just goes round and round by Jesus," he said.
But not everyone is buying that view. 
Julie Williams, a flutist who performed with the Cleveland Orchestra at a convention event on Monday, doesn't consider Trump to be a positive figure within the GOP and doesn't believe he's moving the party to the left on social issues.
"He's trying to exclude a lot of people. I don't think that's liberal at all," the 42-year-old said.
Though a registered Republican, Williams will not be voting for Trump.
Calling all HuffPost superfans!
Sign up for membership to become a founding member and help shape HuffPost's next chapter