With the coup-attempting former president and 2024 Republican front-runner now at 91 felony counts across four separate indictments, his pack of rivals, with few exceptions, on Tuesday remained unwilling to use that vulnerability against him.
Sen. Tim Scott (R-S.C.), campaigning at the Iowa State Fair in Des Moines, told reporters that the latest indictment from Georgia accusing Trump of creating a "criminal enterprise" to illegally remain in office despite having lost the 2020 election reflected badly not on Trump but on the Fulton County district attorney.
"We see the legal system being weaponized against political opponents. That is un-American and unacceptable. At the end of the day, we need a better system than that," Scott said.
Biotech entrepreneur Vivek Ramaswamy, who has promised to pardon Trump on any federal charges should he become president, was attacking the Georgia indictment even before it was unsealed. "Prosecutors should not be deciding U.S. presidential elections," he said in a statement Monday night.
Former Vice President Mike Pence, who has criticized Trump for putting himself "above the Constitution" but says he prefers that Trump's fate be decided by voters, not criminal courts, said nothing at all about the new indictment after telling ABC News on Monday that he really didn't know much about Trump's efforts in Georgia, including his infamous phone call to election officials demanding that they "find" him enough votes to top Joe Biden's winning total.
And Florida Gov. Ron DeSantis, who many party donors had hoped would surge ahead of Trump only to then steadily sink in the polls since entering the race, repeated the talking points of Trump defenders as he spoke with reporters from New England.
"I think it's an example of this criminalization of politics. I don't think that this is something that's good for the country," DeSantis said.
"I have an idea: Why doesn't Ron DeSantis run against Trump?" joked Rick Tyler, a consultant who worked for Texas Sen. Ted Cruz's run for the GOP nomination in 2016, when Cruz spent months praising Trump in the hopes of someday winning over his supporters.
That strategy failed, but the 2024 cohort apparently has not learned that lesson, Tyler said, adding that he could not explain it. "I don't know. It's blindingly obvious what they have to do to beat Trump."
In reality, neither the federal indictment on Aug. 1 nor the Georgia indictment Monday night charges Trump with pursuing recounts or legal challenges seeking to overturn his election losses or even for lying about a "stolen" election. Rather, both accuse him of conspiring to defraud voters by pressuring his own vice president to accept forged elector slates for Trump from states he had actually lost ― a scheme that morphed into the violent attack on the U.S. Capitol on Jan. 6, 2021, when Pence refused to go along with the original plan.
Only three of the candidates challenging Trump have consistently said his behavior after the election makes him unfit for the White House, and all three criticized him again following the Georgia charges.
Former Texas congressman Will Hurd, who got booed for telling an Iowa audience last month that Trump was only running to stay out of prison, said in a statement: "This is further evidence that Trump knew he lost the 2020 election and was ready to do anything it took to cling to power. He will use this indictment as another opportunity to manipulate Americans into paying his legal bills."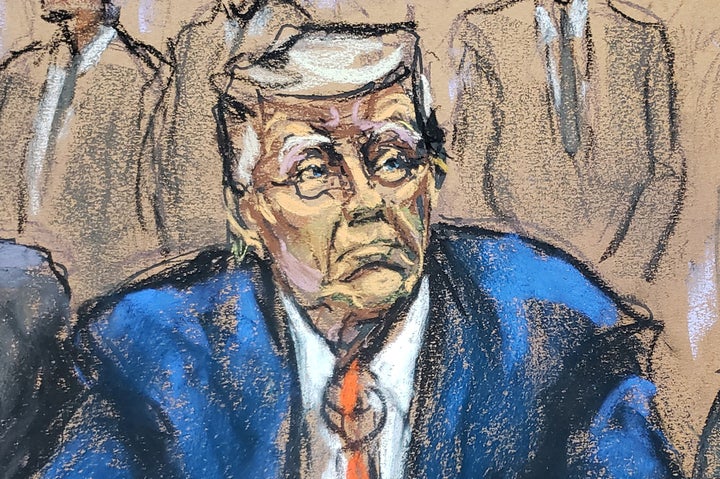 Former Arkansas Gov. Asa Hutchinson said: "Over a year ago, I said that Donald Trump's actions disqualified him from ever serving as president again. Those words are more true today than ever before."
And former New Jersey Gov. Chris Christie, who has made attacking Trump's post-election actions the focus of his campaign, went on Fox News on Tuesday morning and pointed out that, legal questions aside, Trump had behaved terribly.
"We can't normalize this conduct," Christie said. "This has never happened before in this country. Ever. Where you had a candidate for president of the United States conduct himself in this way, to disrespect the election process in this way, to refuse to accept the verdict of the voters."
Yet when a reporter tried to pursue that line of inquiry with Scott in Iowa, asking if he similarly would have demanded that Georgia election officials overturn his election loss for him, Scott quickly looked elsewhere: "Next question!"
Of course, Neither Hurd nor Hutchinson even breaks the 1% mark in national polls, and Christie is at just under 3%, although his focus on New Hampshire may be paying off, with a new poll showing him in second place behind Trump with 9% support to Trump's 49%.
Which is why most Republican consultants, even those who oppose Trump and would prefer the party abandon him and move on, do not expect sustained attacks on him while he remains so popular with a large plurality of the party and why his rivals will continue coming to his defense even as they theoretically run against him.
"They make money win or lose, and it's the path of least resistance," said Tim Miller, a former top staffer at the Republican National Committee.
In addition to the two indictments based on his efforts to remain in power despite his election loss, Trump also faces a 40-count federal indictment in South Florida for retaining top secret documents at his country club there and then allegedly hiding them from authorities seeking to retrieve them, and a 34-count New York State indictment accusing him of falsifying business records to hide a $130,000 hush money payment to a porn star in the days before the 2016 election.
Support HuffPost
The Stakes Have Never Been Higher
Popular in the Community