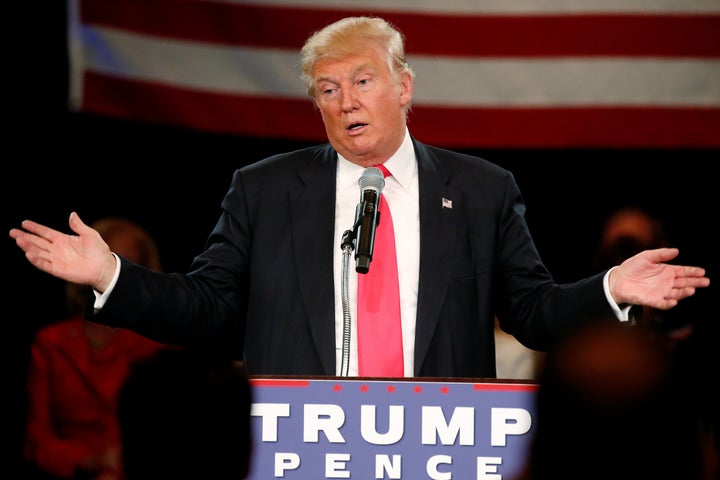 Donald Trump has won the support of his party's base, but a significant portion of the party faithful remains disgruntled, according to a survey of party activists taken in the days before and during the Republican National Convention in Cleveland.
More than 80 percent of GOP activists plan to vote for Trump for president, according to the survey, and most believe he'll win. But far fewer see this year's outcome as ideal. Forty-four percent say Trump was the party's best option for a nominee, while 48 percent believe they could have done better. Forty-four percent say that the primary made them feel worse about the Republican Party. Just 24 percent say it left them feeling better.
While most national polls attempt to provide a snapshot of the full American electorate, The Huffington Post partnered with YouGov to focus on a more specific constituency: Republicans who have run for or held office, served as party officials, worked on campaigns or volunteered their time to the party before elections.
These people don't resemble average voters, and their opinions shouldn't be taken as representative of all Republicans nationwide. They're highly informed about and engaged in the political process ― the kind of activists who play crucial roles in campaigns' get-out-the-vote and fundraising efforts.
According to the "invisible primary" theory espoused by many political scientists, these activists usually follow the cues of top party leaders and insiders during the primary nomination process. This year, though, those cues were largely absent. According to FiveThirtyEight's primary endorsement tracker, Trump went into the convention with far fewer endorsements than any nominee since 1980. And that wasn't because another Republican was getting those endorsements ― many party elites simply didn't endorse any candidate.
In the vacuum left by the Republican establishment, growing enthusiasm for Trump among a segment of the activist base helped him to break through a crowded field of candidates.
Past waves of this survey chart his rise: Last July, Trump attracted significant support among activists, but was seen as incapable of winning either the nomination or the election; last September, he was considered electable, but continued to pull significant opposition. By this January, however, activists considered him their best chance at winning, with only a dwindling group of persistent holdouts saying they could never support him.
The majority of activists, 73 percent, now view Trump favorably, although 27 percent continue to hold a negative image of him. Eighty-two percent plan to vote for him in the general election, with 6 percent saying they'll support Hillary Clinton, 10 percent saying they'll support a third candidate and 2 percent saying they won't vote at all. 
Gaps remain between Trump's core supporters ― those who say he was their first choice to win the nomination ― and the rest of the Republican activists. Trump is viewed very positively by 88 percent of his core supporters, but just 30 percent of those who backed other GOP candidates. Trump's core supporters are also more likely to predict a landslide victory.
Even activists who've come around on supporting Trump aren't necessarily fired up about about helping him get elected. Seventy percent of Trump's core supporters, but just 32 percent of those who supported another primary candidate, say they're very likely to volunteer for or donate money to the Trump campaign this year. In contrast, GOP activists who supported a different candidate were slightly more likely than Trump supporters ― 43 percent to 38 percent ― to say they'd assist with congressional campaigns this year.
Most Republican activists do expect Trump to win, with 65 percent saying he'll prevail over Clinton. Like voters as a whole, they consider Trump's best asset to be Americans' current anger toward Washington. Ninety-two percent of the activists say Trump is helped by the way most Americans currently feel about the government. More than 80 percent also believe Trump benefits from President Obama's record, the current state of the economy and foreign policy ― all of which Republicans largely continue to view negatively.
Trump's support for building a wall between the U.S. and Mexico and his proposal to ban Muslims from traveling to the U.S. were seen as slightly less helpful, with about three quarters seeing them as aids to Trump.
The survey consists of 500 completed interviews of self-identified Republicans selected from YouGov's opt-in online panelists who met the screening criteria for party activism. Interviews were conducted July 15-20, 2016. Full results of the survey are here and crosstabulations are here.
The screening criteria were as follows: Respondents who think of themselves as Republicans, say they would vote in a Republican primary in their state and say they have either run for office, held elected public office, been a paid staffer for a political campaign or elected official, been a party official or substantively contributed time or money to a campaign.
For weighting purposes, a sampling frame was created based on the American National Election Studies using similar measures of political activism. Cases were weighted to the frame using an iterative process known as raking. Weights were based on party identification, age, gender and education.
The Huffington Post has teamed up with YouGov to conduct daily opinion polls. You can learn more about this project and take part in YouGov's nationally representative opinion polling. Data from all HuffPost/YouGov polls can be found here. More details on the poll's methodology are available here.
Most surveys report a margin of error that represents some, but not all, potential survey errors. YouGov's reports include a model-based margin of error, which rests on a specific set of statistical assumptions about the selected sample, rather than the standard methodology for random probability sampling. If these assumptions are wrong, the model-based margin of error may also be inaccurate. Click here for a more detailed explanation of the model-based margin of error.
REAL LIFE. REAL NEWS. REAL VOICES.
Help us tell more of the stories that matter from voices that too often remain unheard.