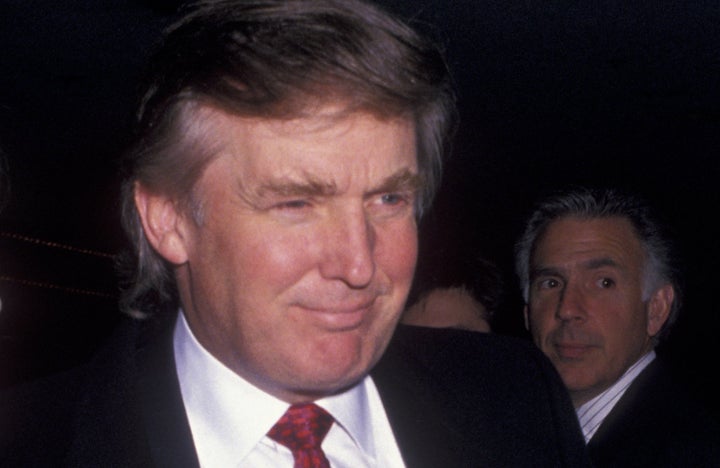 Donald Trump attended the 36th Grammys with then-wife Marla Maples on March 1, 1994, at Radio City Music Hall in New York.
Trump had been pushing to keep the show in the city, telling USA Today a few years earlier that he wished the event would make Manhattan its permanent home. According to multiple reviews published right after this '94 show, Trump made an impression on viewers, as a camera captured his and his wife's reactions to a performance by hip-hop group Digable Planets.
"From their expressions, you'd have thought they were watching the Martian String Quartet," said a Los Angeles Times recap.
The Chicago Tribune wrote, "For every sublime moment, however, there were at least a half-dozen ridiculous ones. Among them: Donald Trump's mystified reaction after Digable Planets' performance of 'Rebirth of Slick (Cool Like Dat)' with jazz master Clark Terry."
A representative for the Grammys declined The Huffington Post's request to review footage of Trump's reaction during the Digable Planets performance.
Digable Planets member Ishmael Butler had this to say about the 1994 moment when contacted by HuffPost via email: "I don't mind DJ Trump not liking our music for he is entitled to his tastes. I've seen some of his performances and had similar reactions to the ones he had to mine."
"Trump, like most lottery winners, is bewildered by and unequipped for the realities of the situation he finds himself in now," Butler said. "I feel Trump is the perfect American leader for where we are as a country but I hope this reflection forces us to realize and choose different desires ― not just money, power, fame, jealousy and fear."
I don't mind DJ Trump not liking our music for he is entitled to his tastes. I've seen some of his performances and had similar reactions to the ones he had to mine.

Ishmael Butler of Digable Planets
As this email exchange occurred just a few days after the Super Bowl, Butler also addressed Trump's interview with Bill O'Reilly, where the president brushed off the recent history of Russian political dissidents turning up dead under suspicious circumstances. "His quotes during that segment were monstrous."
Later in the '90s, Trump would appear to come around to hip-hop ― partying with many notable figures in the scene and even making a brief appearance on Method Man's 1998 album, "Tical 2000: Judgement Day." Many of the acquaintances Trump made at this time have since disowned the association, at least publicly. Russell Simmons, for example, has referred to Trump as an "old friend," but has also chastised the president for inciting hate.
Butler concluded his message with a direct response to Trump's reaction from the '94 ceremony.
"I don't remember that night too much ― I remember performing with Clark Terry tho, it was unreal," he wrote. "So if DJT can sad face Clark Terry he's a fuckin' square."
UPDATE: Ladybug Mecca of Digable Planets gave HuffPost a comment after the Grammys aired. Here it is in full:
It's easy to lose oneself in the frenzy happening around us because of the distractions and solicitation to do so. 

Within this madness largely ignored are poverty and homelessness, two of the most pressing issues facing America. Homeless people go unseen every day and many people don't stop to think, "who's son or daughter is this?"

Perceptions do vary and yes some people are empathetic enough to give spare change or food yet the issue remains. In addition, we have many homeless and poor people that are psychiatrically ill and desperately in need of treatment. The ACA via Medicaid expansion makes treatment for mental health available to millions in this demographic.

Unfortunately we are now having to resist cronyism and fascism where the super rich whom aren't exposed to experiences of being poor operate and react as a result of their distorted world view. Many have a lack of social obligation and are ignorant of certain realities which influences their moves to repealing the ACA instead of fixing the weaknesses.

Yes, the fight for humanity and fairness never ends, may we be inspired by injustice and villainy.
Calling all HuffPost superfans!
Sign up for membership to become a founding member and help shape HuffPost's next chapter
BEFORE YOU GO
PHOTO GALLERY
Donald Trump