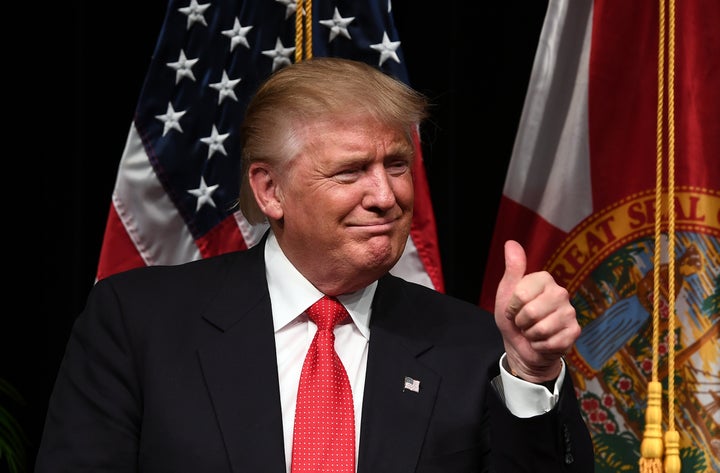 Trump, whose candidacy is backed by the National Rifle Association, said he concurred with Clinton that people on airline terrorist watch lists should not be able to buy guns.
"I agree with you, when a person is on a watch list or a no-fly list," Trump told Clinton, who had just called for such a prohibition. "I have the endorsement of the NRA, which I'm very proud of, these are very, very good people, and they are protecting the Second Amendment. But I think we have to look very strongly at no fly-lists and watch lists."
It's the only time the Republican presidential nominee has advocated gun control. He doesn't support tighter background checks. He's opposed to an assault weapons ban. The NRA is strongly opposed to the so-called "No Fly, No Buy" proposal, which means that Trump, perhaps not surprisingly, went a bit off script in backing it.
Gun control advocates were delighted, albeit a bit confused.
"Frankly, the only rational thing that Trump said last night is dangerous people probably shouldn't have guns," House Minority Whip Steny Hoyer (D-Md.) told reporters Tuesday.
"If they can't fly, they shouldn't have guns," Hoyer said. "I mean, he essentially endorsed Hillary's position on the 'No Fly, No Buy.'"
Mark Kelly, who leads the gun safety group Americans for Responsible Solutions with his wife, former Rep. Gabby Giffords (D-Ariz.), was skeptical.
"We've seen him say a number of things on this issue that people weren't so sure he meant," Kelly told The Huffington Post on a conference call. He noted that after the Orlando nightclub shootings in June, for example, Trump's initial response was to say that everybody in the club should have had a gun. The NRA later "clarified" that the group does not advocate people carrying guns while drinking alcohol.
"But, you're right. He did say that. He said we shouldn't have folks on the terrorist watch list having easy access to firearms," Kelly continued. "If he meant it, that's great."
The problem with the 'No Fly, No Buy' proposal is that people sometimes end up on watch lists who aren't supposed to be on there. Some of the lists are secret, too, which means you wouldn't know if you were on them and could be denied a gun sale without any notice that you were blacklisted in the first place. This raises due process concerns.
But advocates say it's just a matter of doing a better job of keeping people off the lists who don't belong there, and removing their names when they do end up on there. That's the same argument Trump gave Monday night.
"When people are on there, even if they shouldn't be on there, we'll help them. We'll help them legally, we'll help them get off," Trump said. "But I tend to agree with that quite strongly."
NRA spokeswoman Jennifer Baker dismissed the idea that Trump's position is at odds with the group, since he "echoed the NRA's concerns" about denying potential gun buyers their rights.
"The NRA supports prohibiting terrorists from purchasing firearms, while at the same time providing meaningful due process on the front end to innocent Americans who are erroneously placed on government blacklists," Baker said in a statement. "Last night, Donald Trump echoed the NRA's concerns about denying innocent Americans wrongly on these lists their constitutional rights."
The only way to know how Trump really feels about the issue is if he were to become president and take on the gun lobby. That's not something that gun control advocates, at this stage, can imagine.
"He has said over and over again that he's supported by the NRA, that he's the strongest Second Amendment advocate anybody's ever seen," said Kelly. "I'm pretty sure he would not stand up to the gun lobby in any way, shape or form."
But Kelly is hoping it doesn't come to that scenario. His organization endorsed Clinton, who has an "F" rating from the NRA.
"Hillary Clinton has policies that would make us safer and has a record of standing up to very powerful corporate interests," Kelly said.
Support HuffPost
The Stakes Have Never Been Higher
Before You Go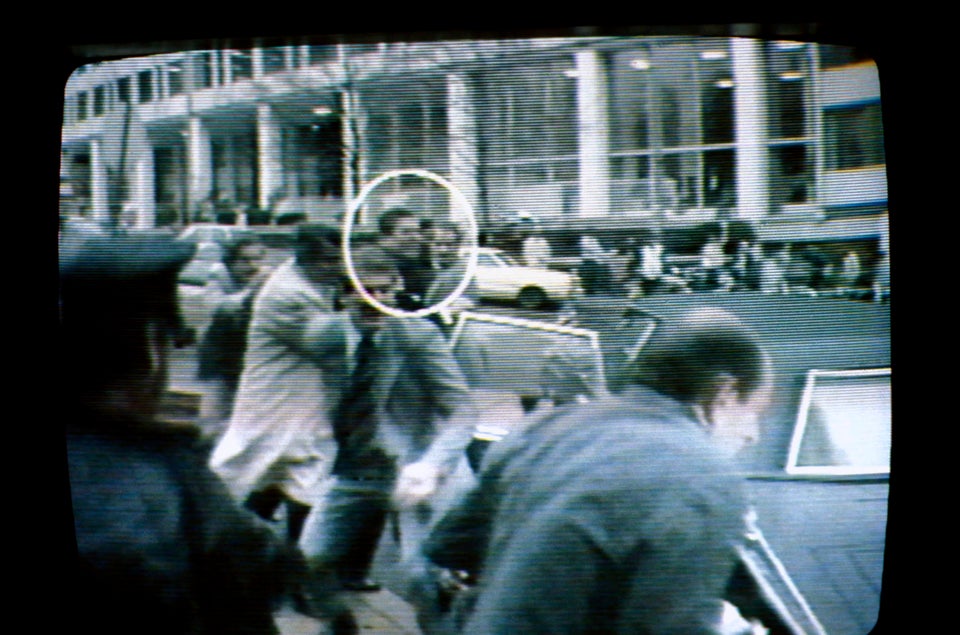 Pivotal Moments In The U.S. Gun Control Debate
Popular in the Community