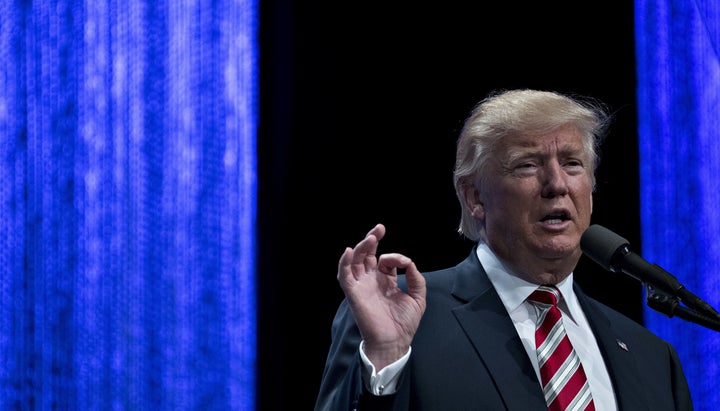 WASHINGTON ― The nation's top gun rights advocates were notably quiet this week after Donald Trump proposed more aggressive stop-and-frisk policing with a focus on taking away people's guns.
"If they see a person possibly with a gun or they think may have a gun, they will see the person and they'll look and they'll take the gun away," Trump said Thursday on Fox News, laying out his vision of how the practice works. "They'll stop, they'll frisk, and they'll take the gun away and they won't have anything to shoot with."
"I mean, how it's not being used in Chicago is ― to be honest with you, it's quite unbelievable, and you know the police, the local police, they know who has a gun who shouldn't be having the gun. They understand that," Trump added.
The Republican presidential nominee was following up on comments he'd made the previous day at a Fox News town hall event on "African American concerns," when he said he "would do stop and frisk" to address violence in black communities. (After Wednesday's interview, Trump's campaign suggested he was only calling for more stop-and-frisk policing in Chicago.)
All that sounds like the kind of initiative that should disturb gun rights advocates.
As Leon H. Wolf, a writer for the conservative website RedState.com, put it on Thursday, "Seems like the sort of thing an organization committed to the preservation of the Second Amendment rights of all citizens should be vigilant against and using its considerable political power to oppose, right?"
But spokespersons for the National Rifle Association, (which has endorsed Trump for president), the National Association for Gun Rights and the Second Amendment Foundation did not answer multiple requests for comment in response to Trump's remarks.
Their silence was not new: Many of the same people arguing for more access to firearms don't stand by that support when it comes to fellow citizens of color.
The NRA was criticized earlier this year for taking two days to comment on the death of Philando Castile, a black man who was shot multiple times by a police officer during a traffic stop in Minnesota. Castile had just informed the officer that he had a gun in the car and a permit to carry it.
Stop-and-frisk tactics have been broadly condemned for disproportionately targeting minorities while only incrementally reducing crime. Such efforts were even found unconstitutional in New York because they amounted to racial profiling. But a vigorous stop-and-frisk policy was championed by then-New York City Mayor Rudy Giuliani, who has endorsed Trump.
Black gun rights activists were, in fact, more willing to speak out against stop-and-frisk policies on Thursday. Philip Smith, founder of the National African American Gun Association, said he's always concerned when people talk about taking away firearms.
"Thinking someone has a gun as opposed to them actually doing something with a gun illegally is two different things," Smith said. As for police stopping and frisking more people, he said, "I think that's the wrong way to go to have any kind of community building and community relations."
Smith said he still wasn't sure whom he'll support for president. Neither is Maj Toure, who founded the group Black Guns Matter.
"That particular thing that he said about trying to add more stop and frisk: no," Toure said. "That is directly adverse toward people's constitutional rights to exist without being harassed."
The Trump campaign did not respond to a request for clarification of his remarks.
Popular in the Community