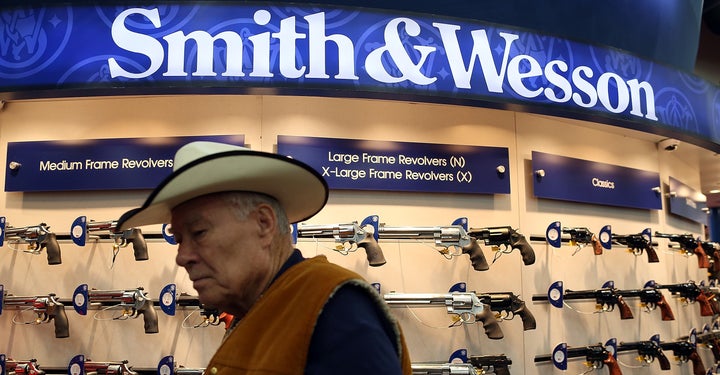 Donald Trump's surprise win on Tuesday brought another (seeming) surprise to the markets on Wednesday: Gun manufacturers' stocks fell off a cliff.
Share prices in Sturm, Ruger & Co., for instance, opened the morning 12 percent lower and then lost yet more ground in morning trading: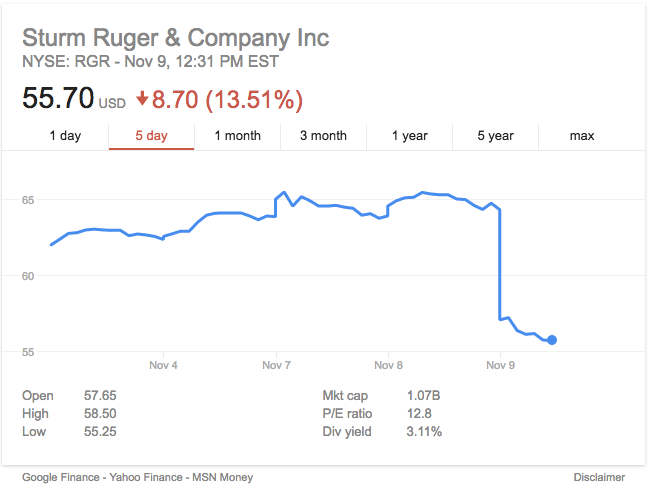 Rival gun manufacturer Smith & Wesson fared little better, also opening the day down about 12 percent and then trading still lower: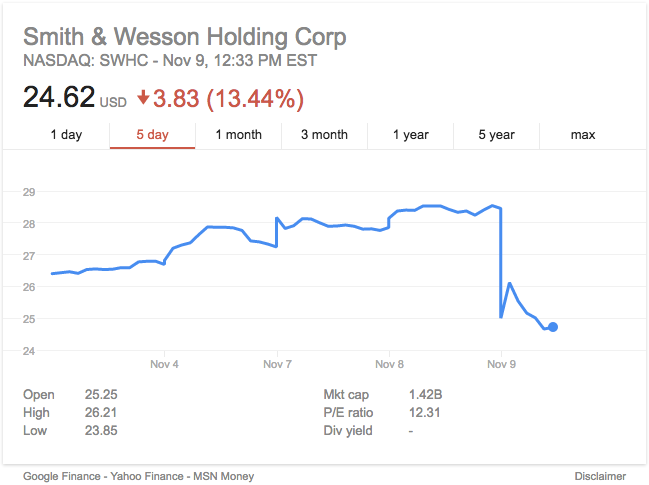 But maybe those drops were predictable. Aside from the initial panic that Trump's win sparked in the global markets (which has since leveled off), it appears that stock traders ― like many others ― were assuming Hillary Clinton would win the election. The traders banked on a reactive rush to buy guns as alarms were raised about hypothetical gun control measures under a Democratic administration.
With the election of a candidate backed by the National Rifle Association, that kind of fear is less likely to be whipped up.
"The stocks are selling off because Donald Trump is a solid gun rights supporter and there are no longer worries about new gun control laws that Hillary Clinton could have pursued," Chris Krueger, an analyst at Lake Street Capital Markets LLC, told HuffPost. "This means that there likely will not be a surge in sales at firearms retailers in the coming months and that the industry can return to a more normalized growth rate."
"Heading into the election, the two stocks were trading up partly on the thought that a Clinton election would lead to several months of increased sales," Krueger said. "Long-term, Trump's election is good for the industry."
Or as gun safety advocate Mark Kelly told HuffPost earlier this year, "[Trump] has said over and over again that he's supported by the NRA, that he's the strongest Second Amendment advocate anybody's ever seen. I'm pretty sure he would not stand up to the gun lobby in any way, shape or form."
Kelly leads Americans for Responsible Solutions along with his wife, former Rep. Gabby Giffords (D-Ariz.).
In the past, gun sales ― and, correspondingly, gun manufacturers' stocks ― have leaped in response to calls for gun control or to events likely to drive calls for gun control.
This past June, gun shares rose sharply after a shooting at a nightclub in Orlando, Florida, killed dozens of people. They had also spiked in January, just before President Barack Obama announced a plan to strengthen background checks.
REAL LIFE. REAL NEWS. REAL VOICES.
Help us tell more of the stories that matter from voices that too often remain unheard.
BEFORE YOU GO
PHOTO GALLERY
Newspapers React To President Trump